BEAU SMITH

SEND THIS TO A FRIEND!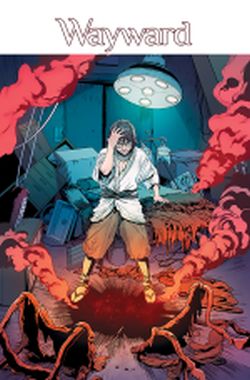 DF Interview: Beau Smith talks Wynonna Earp, collaborating with Melanie Scrofano, the Earp Sisters and the new Season Zero
By Byron Brewer
Wynonna Earp, heir to the Earp legacy and wielder of the legendary gun Peacemaker, has been shouldering her family curse alone -- but that ends here. Waverly Earp, Wynonna's younger sister, shows up to prove that Wynonna isn't the only Earp dealing with the supernatural.
Earp creator Beau Smith teams with actress Melanie Scrofano, who portrays the titular western heroine in the TV series based on Smith's comic, and artist Chris Evenhuis to bring us Wynonna Earp Legends: The Earp Sisters, which features the comics debut of Waverly Earp!
DF wanted to know about this comics/TV writing combo, so we sat down with Beau Smith to dig up the 411.
Dynamic Forces: Beau, tell us what it was like co-writing with the actress who portrays your lead character, Melanie Scrofano. And what was the process?
Beau Smith: It was a creative fiesta, and we were both swattin' the Pinata of dialogue, loads of creative candy was coming out. The process started much the same way her fellow actor, Tim "Doc Holliday" Rozon, and I did it. I would write an overall outline for the story and issue, we would discuss it via Facetime, and then I would write a "My Stuff/Your Stuff Outline" detailing what scenes we both would write and dialogue. Once Melanie turned her stuff in, I would incorporate it into the core script. Getting her stuff was like a Christmas gift every week.
DF: Can you point out some of Melanie's contributions to your collaboration readers might look for in the book?
Beau Smith: I'll tell you what, I'll give the readers one scene, let them read it and then read the rest of the issue and see if they can figure out what she wrote and what I wrote. If Melanie and I are good at what we do, then it should be very hard for the reader to know who wrote what, that's the goal. I wrote pages 1 through 3 and Melanie wrote pages 4 through 5. Now let them figure out the rest. (laughs)
DF: This issue is Waverly Earp's first appearance in the comics. Tell us about this youngest Earp sister as a character.
Beau Smith: She is just like she is on the TV series … EXCEPT … she's not. What I mean is I take what has happened on the TV series and change things slightly, just as showrunner Emily Andras has taken what I've created in the comic book and changed it for TV. That way, both the readers and the viewers never get a rerun with the show or the comic book. They will be getting Waverly, only with a slight change. We hope that they will find it fun, interesting and new, but still familiar. Same cake, different icing.
DF: What can you tell us, in a non-spoilery manner of course, about Waverly's own bout with the supernatural?
Beau Smith: Especially with this first issue, I can't really say anything about the character of Waverly without really giving away major story points and surprises.
DF: Officer Haught is here too?!
Beau Smith: Yes! Yes, she is! Indeed! Again, a little different from what you're used to, but still the same. You'll really have to check this out.
DF: How has your take on Wynonna changed, if at all, from when you first began writing her adventures, to now after she's become the center of a popular TV series?
Beau Smith: Oh, gee, she's changed quite a bit from when I created her in 1996. I no longer have to battle the "Bad Girl" craze of the 1990's, that's a good thing. I always wrote Wynonna Earp at her peak and around 40-45 years of age, now we are looking at the start of her Black Badge career at the age of 27 and how she got to her peak. A very interesting reverse in storytelling. It's neat that the readers/viewers get to see her transformation in reverse. They get to experience what things made her into the character she will eventually become.
DF: How is it working with artist Chris Evenhuis on this series?
Beau Smith: A sheer pleasure. Chris is an artist that draws acting. He can not only do action with the best of them, but where he really excels over other artists is his ability to make the characters breathe. He is a master at expressions, not stock expressions, REAL, personal expressions. Each character has their own personalities, and Chris is able to show those to perfection.
DF: Newsbreaker time: What can you tell us about a forthcoming miniseries called Wynonna Earp: Season Zero?
Beau Smith: We go even further back into Wynonna's past, before Black Badge. We answer the questions brought up on the TV series in the first season that were given as clues and cliffhangers, questions such as "What was Wynonna's time riding with the biker gang, the Banditos, like, and why did she ride with them?" "What's the secret behind the mysterious key Wynonna wears around her neck and what does it unlock?" and finally, "What was the 'terrible' thing that Wynonna did in her past that Agent Lucado threatens her with in the final episode of Season One?" You will ONLY be able to get these answers in the Wynonna Earp: Season Zero comic book series!
DF: Beau, are there any other projects current or near-future you can tell us about?
Beau Smith: Well, Tim Rozon and I would LOVE to write a Wyatt Earp/Doc Holliday series about how they fought paranormals in the Old West and what brought on the Earp curse that Wynonna and Waverly now have to deal with. I have another comic book western series that I created called 200 People to Kill, as well as a hush-hush project that I am working on with novelist Christopher Farnsworth of Cade: The President's Vampire fame. One other future project is called Maximum Jack. He's like the younger brother of the original Superman, Captain America and Jack Bauer all rolled into one! Oh, and he has his dog, Bob, the Bullet Proof Dog!
Dynamic Forces would like to thank Beau Smith for taking time out of his busy schedule to answer our questions. Wynonna Earp Legends: The Earp Sisters #3 from IDW is in stores now!
For more news and up-to-date announcements, join us here at Dynamic Forces, www.dynamicforces.com/htmlfiles/, "LIKE" us on Facebook, www.facebook.com/dynamicforcesinc, and follow us on Twitter, www.twitter.com/dynamicforces.
---
NEW! 1. 11/30/2020 - SKYLAR PATRIDGE
5. 11/16/2020 - RYAN O'SULLIVAN