MARC GUGGENHEIM

SEND THIS TO A FRIEND!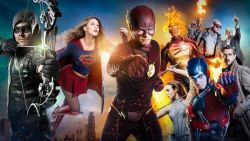 DF Interview: Marc Guggenheim talks The CW's Arrowverse, more
By Byron Brewer
Marc Guggenheim is a screenwriter, television producer, comic book writer and novelist. A familiar name to superhero fans, both those who peruse panelgraphic literature and those devoted to television iterations, he is one of the prime caretakers of what has come to be known as the Arrowverse, The CW's assortment of DC-related superhero dramas which began with the debut of The Arrow on Oct. 10, 2012.
Since that time, a whole universe – the Arrowverse – has seen the likes of The Flash, Legends of Tomorrow, Supergirl and Black Lightning, along with canon-related toons such as Vixen, The Ray and Constantine on CW Seed. DC fans are especially happy, as are CW network brass.
DF was honored to sit down with Marc Guggenheim to discuss the Arrowverse and other aspects of his creative life, and to bring it to you here before the end of the broadcast season.
Dynamic Forces: Marc, as a longtime connoisseur of comic books but also comic book properties on TV (I knew George Reeves' Superman and Adam West's Batman before I saw my first comic as a kid), I have to say I am really enjoying the DC-centric offerings on The CW these days. But how does a Boston lawyer decide to get involved with television and comic books?
Marc Guggenheim: A very fair question. I always had a lifelong love of both television and comic books. Truth be told, if I had more guts, I probably would've gone straight into either field -- I interned at Marvel while I was in college -- but I ended up playing it safe and going into the (theoretically) more stable field of legal practice. But when I was in my third year of law school, my brother Eric roped me into writing a television script with him. (A Picket Fences spec.) I got bit by the bug and continued to write on the side while I was practicing law.
I was in my fifth year of practice when the bloom really started to fall off the legal rose for me. I became very disillusioned with the practice of law at a time when a romantic comedy screenplay I wrote was beginning to attract some attention. I decided that I would leave my practice, move to Los Angeles, and try to make a concerted effort to get a job in television.
I was writing for Law & Order when Hollywood writers like Joe Stracyznski and Kevin Smith were making inroads into comics. They really blazed the trail for me to break in to the comic book industry.
DF: Take us waaay back and tell us how you, along with Greg Berlanti and Andrew Kreisberg, if memory serves, put up the foundation and first walls of what has become known as the Arrowverse.
Marc Guggenheim: I suppose it started with Green Lantern. Greg, Michael Green and I wrote the initial drafts of the movie before we, quite frankly, lost control of it -- as universally happens to screenwriters. After the movie premiered -- I use that term loosely here -- Peter Roth, the head of Warner Bros. Television, approached Greg about Greg's idea for how to adapt Green Arrow for television. Greg asked me if I wanted to be involved, but both of us were extremely gun-shy after the Green Lantern experience. This was long before our current golden age of live action superhero television and the prospect of adapting any character for TV was incredibly daunting. We were particularly wary of the prospect of being associated with another failed comic book adaption.
At the end of the day, we asked ourselves what type of situation we needed to create in order to position the project for success and protect it and us from the pitfalls that befell us on Lantern. We went in and pitched the show to Warner Bros. and The CW with the understanding that if they responded to the pitch, the next time they heard from us would be with a finished script. No story area. No outline. No typical development process.
By that point, it looked as if another pilot I was writing for Greg -- a legal drama called Guilty -- was going to move forward, so we brought in Andrew Kreisberg to help me write the Arrow teleplay.
I should note that none of this -- none -- was done with an eye towards doing anything more ambitious than producing a pilot that would spare us the embarrassment we suffered through with Green Lantern. We didn't have any loftier ambitions than that.
DF: Sticking with Oliver & Company for a moment, reflect a little on how the dynamic of Arrow has evolved over its years as well as the relationship of the characters to each other. (For example, Oliver's got a son and new members of Team Arrow have come and seemingly gone from trust issues …)
Marc Guggenheim: I could write pages on this. Six seasons of 23 episodes a piece requires a metric ton of character development and evolution. We try to craft "character journeys" for Oliver and the supporting characters for every episode. That's a lot of story arcs and changes in relationships. The evolution is basically built into the DNA of the show. The trick is to keep it feeling like Arrow despite the constant change. Reasonable minds will differ on how well we've pulled that off.
DF: Did you ever think Arrow would be on the air long enough for the original course of Ollie flashbacks to run out?
Marc Guggenheim: Not at all. In our wildest dreams, we hoped the show might go for five years so that we could finish the flashbacks. We never thought the show would run more than five years. At the start, I don't even think we thought it would last five years. As I said, our biggest ambition was to make a pilot episode that didn't suck.
DF: From one end of the DC/CW spectrum to the other, possibly my favorite show of the group right now is Legends of Tomorrow. I love the fact that, beginning with poor ol' Hawkman and continuing through countless others, we have big-time challenges with a changing cast of characters reminiscent of The Avengers (Marvel's, not Steed and Mrs. Peel) but we really do care for them (the death of Martin Stein almost killed me!). Talk about the decision-making that goes on in bringing aboard the Waverider a new "Legend" and are there any DC characters you wanted but were unable to get?
Marc Guggenheim: First, thanks for the kind words. It's been wonderfully gratifying to see people respond so favorably to Legends.
At the start, we were just working with characters that had been established on Arrow and Flash. We knew we were building the show around Stein, Snart, Rory, Sara and Ray. The Hawks came into it because we had originally been toying around with doing a Hawkman/Hawkgirl show.
In Season 2, we wanted to introduce a new character and explore how he gets superpowers. That character became Nate Heywood a/k/a "Citizen Steel." In Season 3, we wanted to add another woman to the team. Trump had gotten elected and we started to get excited about making this character a Muslim.
DF: It was on the same Legends finale as the Justice Society of America first appeared that the team became aware of a threat – and memory does fail me here, apologies – from the Thanagarians which in some DC realities are the people of Hawkman, correct? Will this thread ever surface again?
Marc Guggenheim: That thread's absolutely still out there. The show itself has changed, tonally, since then, however, so there are no immediate plans to revisit it. But as long as it's out there, there's always a possibility.
DF: Finally, how much sheer fun was it/is it to do the BIG Crossover ever year?
Marc Guggenheim: I'm not sure I'd use the word "fun." It's very rewarding, but extremely challenging. I'd describe it as a labor of love -- with equal emphasis on the "labor" and the "love." But, without question, it's easily the hardest thing we do all year.
Dynamic Forces would like to sincerely thank Marc Guggenheim for taking time out of his very busy schedule to answer our questions. Check out local TV listings for nights and times of the Arrowverse shows!
For more news and up-to-date announcements, join us here at Dynamic Forces, www.dynamicforces.com/htmlfiles/, "LIKE" us on Facebook, www.facebook.com/dynamicforcesinc, and follow us on Twitter, www.twitter.com/dynamicforces.
BATTLESTAR GALACTICA CLASSIC OMNIBUS TRADE PAPERBACK
SWASHBUCKLERS: THE SAGA CONTINUES #1
SPIDER-MAN: ORIGIN OF THE HUNTER - SIGNED BY STAN LEE!
SUPER ZOMBIES OVERSIZED HARDCOVER
---
NEW! 1. 11/30/2020 - SKYLAR PATRIDGE
5. 11/16/2020 - RYAN O'SULLIVAN