HOPE LARSON

SEND THIS TO A FRIEND!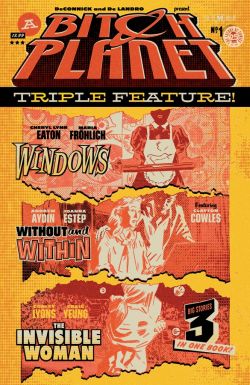 DF Interview: Hope Larson explores female friendship in Batgirl Annual #1
By Byron Brewer
There was a time when a meeting of any characters from the Superman and Batman franchises (Supes and Bats, Robin and Jimmy Olsen, even the Joker and Lex Luthor) bore the classic DC "World's Finest" tag somewhere on the cover or splash page blurbs.
In that tradition, writer Hope Larson and artist Inaki Miranda are teaming up the dynamic duo (!) of Supergirl and Batgirl for Batgirl Annual #1.
To find out about this book, which has reportedly undergone a few changes since its online solicitation, DF talked with its scribe.
Dynamic Forces: Hope, I love that DC Rebirth is teaming Batgirl and Supergirl up in the coming Batgirl Annual #1! Tell us what the teaming of this World's Finest legacy duo means to you as a writer.
Hope Larson: I was excited to write this story because Batgirl and Supergirl have a fun big sister/little sister dynamic. It's nice to put Batgirl in the role of the older, more experienced superhero, since she's only in her mid-20s herself. I can relate to that feeling you get in a mentor role: "Hey, I've been doing this gig a minute. Let me show you some tricks!" And of course, it's always fun to write stories about female friendships, which are the sort of thing I cut my teeth on as a writer.
DF: Batgirl seems to have really come into her own during Rebirth. How do you see her as a character, and can you compare/contrast her to her "super" counterpart?
Hope Larson: That's such a lovely thing to hear! Thank you. When I started writing Batgirl I had this idea of her being a bit of a mess and trying to figure out life just past the threshold of adulthood. But now she's already starting to feel more settled to me; she's still making mistakes as a human, especially in her personal life, but she's more conscious of her actions and acting with more intention. She's becoming a steward of her community in both her civilian and superhero life. And she's working to develop the new "hypervision" skill she began learning while traveling in Asia, which requires her to meditate and get more in touch with herself.
I like that Batgirl and Supergirl share a sense of kindness and responsibility. They're compatible in that way. As for how they contrast, the difference in powers is a big one! It was tricky to write a story that felt like they were equal partners in the adventure, since Supergirl's abilities are tricked out and Batgirl, while a kickass crimefighter, relies mostly on her brain.
DF: What can you tell us about the storyline of the annual? A visit to the infamous Arkham Asylum in Gotham City was originally solicited, but that is no longer the case?
Hope Larson: The plot actually changed quite a bit from when it was solicited, as did the location! It's now set closer to Supergirl's stomping grounds. But the core of the story is the same: it's a break-in/heist story. Ultimately it changed for the better, I think, although I do regret not getting to use "Arkham's Eleven" as a title.
DF: As an illustrator yourself, how does that come into play when you are writing for another artist on a comic book? Can you explain the process a little?
Hope Larson: Sure! It depends on the artist I'm working with, but generally, I try to be specific about what we're going to see on the page and leave out anything that's not useful. "Camera" angles and emotions are important to me, as is pacing (number of panels on each page, page turn reveals). I've been told by some people that my scripts are very visual, but for me it's really about conveying information in the most effective and efficient way.
Honestly, the main thing I'm trying to do is avoid cramming too much onto the page and stressing my artist out.
DF: How has it been working with artist Inaki Miranda on the Batgirl Annual?
Hope Larson: I actually haven't seen finished pages yet [as of the time of the interview], but I'm excited! We were on such a tight deadline with this book that there hasn't been a ton of collaboration.
DF: You've won both the Eisner and Ignatz awards. How does that feel, especially in a medium just seemingly opening up for female creators?
Hope Larson: Awards are nice when you're trying to get jobs or sell books, and they're an ego boost. But it's a much bigger rush to hear that something I wrote touched an individual person's life in a specific way.
DF: Hope, are there any other projects current or near-future you are working on that you might like to tell us about?
Hope Larson: Oh boy! Well, I'll be on Batgirl for the foreseeable future. It's been an amazing opportunity to cut my teeth on superhero comics. I'm not currently writing Goldie Vance, but the book is rolling on under its own steam. In June, the sequel to Compass South, Knife's Edge, will be out; that's a middle-grade seafaring adventure written by me and illustrated by Rebecca Mock, and it's a total labor of love. I'm in the process of writing our next graphic novel too. Beyond that, I'm not sure! Lots of projects hovering around the edges of things, waiting to come into being, or for deals to get signed or not signed. Watch this space!
Dynamic Forces would like to thank Hope Larson for taking time out of her busy schedule to answer our questions. Batgirl Annual #1 from DC Comics hits stores March 29th!
For more news and up-to-date announcements, join us here at Dynamic Forces, www.dynamicforces.com/htmlfiles/, "LIKE" us on Facebook, www.facebook.com/dynamicforcesinc, and follow us on Twitter, www.twitter.com/dynamicforces.
BATGIRL #38 BLANK VARIANT SIGNED & REMARKED BY KEN HAESER (BVS)
BATGIRL #33 BATMAN 75 VARIANT CGC GRADED 9.8!
BATGIRL #14 FIRST PRINTING CGC GRADED 9.8!
BATGIRL #15 SIGNED BY GAIL SIMONE!
BATGIRL ANNUAL #1 SILVER SIGNATURE EDITION SIGNED BY GAIL SIMONE!
---
NEW! 1. 11/25/2020 - STEVE SKROCE
4. 11/16/2020 - RYAN O'SULLIVAN
5. 11/16/2020 - RYAN O'SULLIVAN