DAVID BARNETT

SEND THIS TO A FRIEND!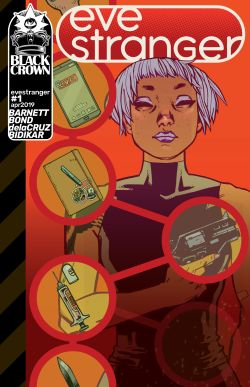 DF Interview: David Barnett brings high-octane thrills, impossible missions in 'Eve Stranger'
By Byron Brewer
You have unlimited funds, a jet-set lifestyle and extraordinary abilities. And your bloodstream is filled with nano-bombs. The contents of a syringe will deactivate them for a week and also wipe your memory. So what happens when you develop a sneaking suspicion that you're actually working for the bad guys? Eve Stranger: amnesiac-for-hire.
From writer David Barnett and artist Philip Bond comes an adventure like none other, in Eve Stranger! DF wanted to get the full 411 on this new Black Crown beauty, so we sat down to talk to scribe David Barnett. This is what he told us (and, of course, his memory was wiped clean following the interview).
Dynamic Forces: David, tell us about the genesis of what sounds like a very intriguing adventure miniseries with a little bit of sci-fi and international terrorism thrown in. Is this something that has been brewing on the Barnett backburner a little while?
David Barnett: I think Martin Simmonds and I had just finished up on the first arc of Punks Not Dead for Black Crown, and the imprint boss Shelly Bond asked me if I'd be interested in working on something else. Of course, I said yes immediately. Martin's done a bit of work before PND and since then he's had quite a lot of work from Marvel, and the excellent Friendo from Vault Comics, but PND was my first-ever comics work and I was hungry for more. Shelly had a title she'd been kicking around but nothing else, so she said, come back to me with a pitch for a character called Eve Stranger. It actually just took a few hours and the concept gelled in my head – an amnesiac secret agent whose talents are available to the highest bidder. Shelly loved the idea and it went from there.
DF: What can you tell us about the world you and artist Philip Bond will be building in this story?
David Barnett: It's very much based on the real world, but maybe slightly more fabulous. It's the sort of world where Eve can strap on a jetpack in Prague or ride a superbike through New York and people sort of accept that. It's James Bond tech coupled with Paris Fashion Week style and maybe just a little spoonful of Doom Patrol weirdness, with an undercurrent of serious discussion about very current issues.
DF: Can you introduce us to your protagonists?
David Barnett: Eve Stranger is an operative for the mysterious E.V.E. Project. She's smart, fast, athletic and pretty fearless. Her talents are in high demand, and are sold off on pretty much a weekly basis to the highest bidder. She might be called up to steal something, rescue someone, or even kill. As well as having all the attributes for the job, Eve is also the ultimate discreet operative – she won't remember what she's done. That's because her blood is infused with nano-bombs, and if she doesn't take the antidote every seven days – which also wipes her memory – she'll die. We also see a bit of the E.V.E. Project's boss, Delilah, and the other main character is Jimmy Mac, whose job it is to clean up after Eve's adventures, pave the way for her missions, get rid of the bodies and generally keep the E.V.E. Project out of the public eye. Jimmy is also desperately in love with Eve, which is a problem as she forgets him every Friday night.
DF: Give us an extended elevator pitch for the Eve Stranger storyline.
David Barnett: Oh, I'm rubbish at elevator pitches. Just ask Shelly Bond! But here goes: Eve Stranger is the ultimate lone-wolf operative who can do anything you want… for the right price. Ultimate discretion is guaranteed as she loses her memory every week. But how long before Eve starts to fight back against the unwilling servitude she's been locked into? It's a high-tech doomed romance… with jetpacks.
DF: In the miniseries, are the threat of nano-bombs in Eve's bloodstream, as you mention, and her manipulation by her employers just MacGuffins, or will these issues be dealt with as this book progresses?
David Barnett: There's a very strong reason for Eve's condition, which is central to the first arc storyline and will be teased out over the first few issues. She has to do what she's told, or she'll die. But there comes a point where she has to balance her own life against the mission, and wrestling with her conscience is going to lead to big decisions for her.
DF: Speaking of her employers, can you in any non-spoilery manner tell readers anything at all about Eve's shadowy bosses?
David Barnett: They're basically making lots and lots of money off the back of Eve's talents, and she's basically a thrall. Which, when you strip out the crazy missions and sci-fi tech, is an issue that, in one way or another, has been at the forefront of discussion over the last couple of years, and is something we're addressing directly in Eve Stranger.
DF: Talk a little about Philip's art for Eve Stranger.
David Barnett: It's absolutely phenomenal. I grew up with Philip's work, from the British monthly comic Deadline in the late 1980s onwards, through his Grant Morrison collaborations, especially his work on The Invisibles. When Shelly said Philip's interest was so piqued by the Eve Stranger pitch that he was considering a return to monthly comics, I almost died. Seeing his pages, colored expertly by Eva de la Cruz, as they start to come in, is like being a kid at Christmas. I consider myself a Philip Bond aficionado, and this is the best work I've ever seen from him. He created the look of Eve, he designed all the tech, and the world he's made real on the page is one that will stick with readers for a long time, I think.
DF: What else can you tell us about this exciting new series?
David Barnett: We also have a four-page back-up strip each issue, drawn by the wonderful Liz Prince, featuring a very different Eve Stranger. This one is the Social Correspondent of the Convivial Times, which ties her to the idea of a Black Crown "shared universe" centered on a crossroads where the various comics are represented by relevant shops and real estate.
DF: David, are there any projects present or near-future, inside or outside comics, that you can tell readers about?
David Barnett: Well, Martin Simmonds and I have just started the second arc of Punks Not Dead, entitled "London Calling", which hit stores in February. That's running to five issues, and we're in the middle of that right now. I also write comics which have no pictures in them, or "novels" as I believe the kids are calling them. One of my most recent successes, Calling Major Tom, has just become available in the US, and I'm working on another novel for the same publisher which will be out this November.
Dynamic Forces would like to thank David Barnett for taking time out of his busy schedule to answer our questions. Eve Stranger #1 from IDW/Black Crown hits stores April 24th!
For more news and up-to-date announcements, join us here at Dynamic Forces, www.dynamicforces.com/htmlfiles/, "LIKE" us on Facebook, www.facebook.com/dynamicforcesinc, and follow us on Twitter, www.twitter.com/dynamicforces.
---
NEW! 1. 11/25/2020 - STEVE SKROCE
4. 11/16/2020 - RYAN O'SULLIVAN
5. 11/16/2020 - RYAN O'SULLIVAN