BRYAN EDWARD HILL

SEND THIS TO A FRIEND!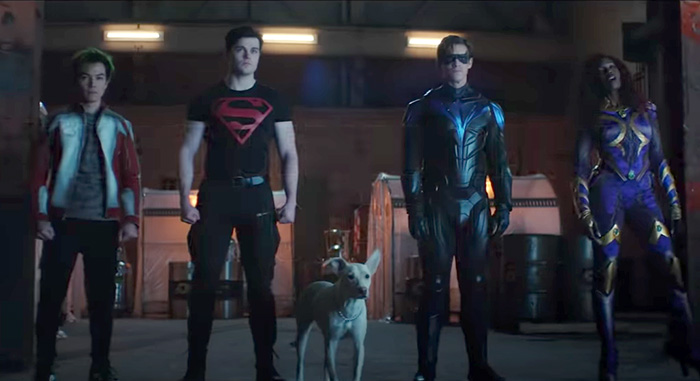 DF Interview: Bryan Edward Hill discusses his experiences as a writer on DC Universe's 'Titans'
By Byron Brewer
In September 2014, a live-action TV series based on the Teen Titans franchise of DC Comics entered development for cable network TNT. The pilot had been ordered by December, but never came to fruition, with TNT announcing in January 2016 it would no longer be moving forward with the project. In April 2017, it was announced that the series was being redeveloped for DC's new direct-to-consumer digital service, DC Universe.
Titans premiered on the streamer on October 12, 2018.
This gritty take on the franchise follows young heroes from across the DC Universe as they come of age and find where they belong. Dick Grayson (Brenton Thwaites) and Rachel Roth (Teagan Croft), a special girl possessed by a strange darkness, get involved in a conspiracy that could bring Hell on Earth. Hot-headed Starfire (Anna Diop) and lovable Beast Boy (Ryan Potter) join them along the way as together they become a surrogate family and team of heroes fighting evil.
Noted comic book scribe Bryan Edward Hill worked on Titans as a writer during Season One and agreed to discuss the work and the series with DF after that season had completed airing its original run. Here now is our interview.
Dynamic Forces: Bryan, many of our readers, I am sure, know you for some of the most intense and meaningful comic books coming out of Top Cow. Tell us how you got involved with Titans, one of the centerpieces of the DC Universe streaming service, and what it is you do/have done for the series.
Bryan Edward Hill: Mark Verhiden, the showrunner of Ash vs. Evil Dead (my first television job) was really how I got started working in television. After Evil Dead, I met with Geoff Johns and Greg Walker and they were generous about offering me a place in the room.
DF: I remember you once mentioning how amazing the writers' room was for Titans, with producers Geoff Johns and Akiva Goldsman sometimes in attendance. Talk a little about that, if you would.
Bryan Edward Hill: Well, Greg Walker is our showrunner and Akiva and Geoff are also producers, so there's a lot of talent at the top of the pyramid. I've been learning as much as I've been writing because there's so much mastery on their part when it comes to story and the production side of television. It's been a very enlightening experience and it's made be a better person and I think a better creative leader.
DF: For those living under the proverbial rock and/or Marvelites unknowing of DC history in whatever iteration, tell us briefly what primary characters have been involved in the TV series during its first season.
Bryan Edward Hill: It's the classic lineup of the Titans. Robin. Starfire. Beast Boy and Raven. We have incredible actors for all of them and working with them has been a joy. I love working with actors and watching them interpret the text. That's my favorite aspect of working in film and television.
DF: Talk a little about the show's overall Season One arc (for those who may not have caught it), as well as (in your opinion) the most outstanding piece of writing you have contributed to the show, even if just plot.
Bryan Edward Hill: It's really a story about family. You know, sometimes in life your chosen family can be equally as important as your biological family. It's about the struggle of that, Rachel/Raven's battle with Trigon and Dick Grayson figuring himself out.
I'm not sure I've done anything outstanding, LOL. I did enjoy my work on episodes 5 and 7.
DF: Outside the mainstays of the show, what character's coming (I am thinking Donna Troy, but maybe not) really excited your writer's imagination?
Bryan Edward Hill: Connor Leslie, the actor who plays Donna Troy, is great. Such an interesting person. She's a brilliant photographer in real life. You should check out her Instagram. All of the characters are exciting to write. It's hard to pick one of the lot.
DF: What did you think of a spinoff so early for Doom Patrol, and will you be connected with that series?
Bryan Edward Hill: Geoff has an amazing vision for how all of these worlds will interact and it's been a pleasure to watch his mind in action. Will I? No, I don't think so. They have their own team of great storytellers so I'll be watching like everyone else.
DF: Season finale: Superboy? AND Krypto? Thoughts?
Bryan Edward Hill: The Hill Administration has no comment at this time. But I love dogs, in general.
DF: I know it's early, but any tantalizing tidbits you can toss our way for Season 2? (Will the Titans ever BECOME the Titans, a real team, for example?)
Bryan Edward Hill: I would tell you, but there are a team of ninjas that will kill me if I reveal anything. I prefer not fighting ninjas whenever possible. They fight dirty.
DF: Bryan, what else is on your busy plate, currently or near-future, inside of comics or outside?
Bryan Edward Hill: Currently, I'm writing American Carnage for DC/Vertigo and Batman and The Outsiders for DC is coming out this May, I believe. I'm also working on Postal for Top Cow and Cyberforce. There are other comic projects coming, but I can't announce them yet.
I have some film work in the process as well, but I can't announce any of that yet. In time, all will be revealed.
Dynamic Forces would like to thank Bryan Edward Hill for taking time out of his busy schedule to answer our questions. Titans Season 2 is a go on DC Universe, but no release date has been announced by the streaming service as yet. Stay tuned to DF News for updates!
For more news and up-to-date announcements, join us here at Dynamic Forces, www.dynamicforces.com/htmlfiles/, "LIKE" us on Facebook, www.facebook.com/dynamicforcesinc, and follow us on Twitter, www.twitter.com/dynamicforces.
BATMAN AND THE OUTSIDERS #1 ELITE GOLD SIGNATURE SERIES SIGNED BY BRYAN HILL
BATMAN AND THE OUTSIDERS #1 SIGNED BY BRYAN HILL
KISS: BLOOD AND STARDUST #1 - REMARKED BY KEN HAESER
KISS: BLOOD AND STARDUST #1 SIGNED ATLAS EDITION - SIGNED BY GENE SIMMONS
KISS: BLOOD AND STARDUST #1 SIGNED ATLAS EDITION - SIGNED BY BRYAN HILL
TALES OF THE TEEN TITANS: RAVEN #1 SIGNED BY MARV WOLFMAN
TEEN TITANS #23.2 DEATHSTROKE CGC GRADED 9.8!
---
NEW! 1. 11/25/2020 - STEVE SKROCE
4. 11/16/2020 - RYAN O'SULLIVAN
5. 11/16/2020 - RYAN O'SULLIVAN