MICHAEL DOLCE & TALENT CALDWELL

SEND THIS TO A FRIEND!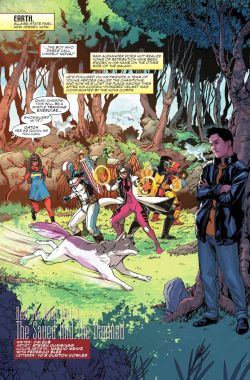 DF Interview: Michael Dolce, Talent Caldwell deal with cosmic cops and alt-realities in The Mainstream
By Byron Brewer
There are people on THIS Earth that do not belong. It's up to a Chicago detective and a covert, inter-dimensional police force to send them back where they came from! Don't miss this brand new five-issue Zenescope Entertainment mini-series from the creative minds of Michael Dolce, Talent Caldwell, Tony Moy and Darren Sanchez.
And are you in luck! DF managed to corner Michael Dolce and Talent Caldwell to get the in-depth scoop on The Mainstream, just for you!
Dynamic Forces: Mike and Tal, tell us how the concept for this mini-series came about.
Michael Dolce: So it actually started as a concept that myself and frequent collaborator writer Darren Sanchez bounced around a few years ago. We kept coming back to this phrase, "There are people on THIS Earth that don't belong." And from there, we created our hero Nate McCallister and started some world building around his power, our theory for alternate realities and the Keepers.
It was a few months into this that Tal and I were shooting the breeze, catching up, that I told him about the project. He just started getting so enthusiastic about what we'd already come up with, and started tossing in all these ideas we hadn't even thought about that I was like, "You want to come aboard?" And from there Tal and I fleshed out the rest of the project.
Talent Caldwell: It's been so long now I can hardly remember how or when it all started exactly. I just know that Mike is ALWAYS pitching something, somewhere, to someone, at sometime — We were in Chicago at the time and a number of elements he posed and his unique take on alternate realities really sparked up the hamster wheel in my head. I love cerebral sci-fi, and my mind almost immediately started to 'Christopher Nolan' the thing (Why this? How's that? What if this! Oh, cool, this can explain that!). Exploring the potential pseudo-science and rationale really piqued my interest, as well as the natural ebb and flow of constructing the story with Mike. Five-plus years on and many, many, many conversations, rewrites, and visits and then now here we are.
DF: I know that while Tal is the artist on the book, he is also a co-writer. Tell us a little about the collaboration, the process from both points of view please.
Michael Dolce: So it's actually a three-team collaboration, along with artist Tony Moy (IDW's X-Files). We're all friends and really enjoy working together. It starts with Tal and I having these massive world-building and story sessions. (This project actually spans a few years now, as Tal mentioned, so we're excited to get this into print finally). At that point, it falls on me to write the script while Tal starts on the cover and design art for what goes into the book. On the first issue, Tal laid out a shot-by-shot list for Tony, and contributed a lot to the layouts for the first issue. Tony takes it from there and produces the sequentials while Tal creates these unbelievable covers. Once Tony finishes the artwork, there's a second period of collaboration where the three of us tweak and rework whatever we think needs tightening up. Tal's fingerprints are all over this book.
Talent Caldwell: Yeah I'm not the artist on this, Tony is. He's our storyteller. I'd say I'm more like the overall art director having done the original concept design work for every visual aspect of the project, as well as covers, some post edits, SFX, & whatnot, in addition to co-authoring the stories with Mike (as the main writer) and anything else to help out.
DF: Mike, tell us about your protagonists for The Mainstream, and give readers a clue or two as to their characters if possible.
Michael Dolce: NATE McALLISTER, our hero, has grappled with an innate and strange ability his entire life to SEE people and things around him that don't belong. While this ability's complicated his life, it's also helped him rise through the ranks of Chicago PD. Alongside his partner and best friend DEXTER COMBS, the duo has solved some of the most baffling and strange cases in force history.
None of what they've experienced, however, can prepare them for their latest case: a grisly homicide where the prime suspect somehow matches the identity of the murder victim – renowned physicist Dr. Franklin Hodge – right down to the fingerprints.
It sends them down a rabbit hole that eventually intersects with another group looking for the suspect – a covert, inter-dimensional police force known as the Keepers.
DF: Tal, did you do the character designs for this series? Can you describe a bit of that for the readers, and did Mike play a part in that process?
Talent Caldwell: Yeah I did, I did. And like with almost any project, everything went through a multitude of iterations before finally settling on what we have here. Actually, well, that is more specifically true for everything BUT the characters. All of the technology, weapons, outfits and design of special effects evolved continuously. As I said before, it has been a long time since we started developing this project, but how I remember the characters coming to life was essentially a matter of "who did what first" between Mike and I. Like Mike already had names for all of the main characters — although we ended up changing and adjusting some later — but I remember when we talked about Nate's partner, Dexter Combs, I just (for whatever reason) assumed he was black. So that was how I drew him in the initial design. Then when Mike saw them for the first time, he was surprised like, "Oh cool, Dex is black?" (Laughs) And so for the rest of the cast I like to use known actors as reference points and modeled Nate's appearance after Jenson Ackles from Supernatural.
DF: What character or set piece design was your favorite, and which was a real pain (smiles)?
Talent Caldwell: Admittedly, I can be a little neurotic (...ok I just looked that word up, "neurotic", probably using it wrong...shrug). Well, what I mean for it to say is I can border on obsessive when it comes to research and trying to have everything be explainable with a backstory. So that said, my most proud and I'd say equally painful design aspect of this project is the pseudo-science. After toiling through a mountain of purposeless designs simply meant to look cool, I decided on adopting a concentrated design language for The Mainstream to follow. Metaphorically, it's like throwing out the entire art studio and sticking with just a few brushes. I chose a design principal that focused the look and conception of everything around: Positive vs negative magnetic polarity; stark blacks or bright whites for special effects; simple shapes like rings, lines, dots, honeycomb, grid, or puzzle pieces; and that the people who built and designed the Keepers' technology were scientists and engineers, NOT artists, so although it is all functional, none of it is sleek or pretty. I got so carried away with this approach I had to put together an in-house dossier to depict it all.
...And then, funnily enough, I ended up getting carried away with designing that thing as well.
DF: (Laughs) Guys, should the mini prove successful, would you like to see this become an ongoing? Or does the mini have a shelf-life?
Michael Dolce: Uh...yes! (Laughs) The way we always envisioned the series was in terms of a TV show with seasons. Or a movie with several parts to it. This first mini-series is season one. In fact, Tal and I were just tossing around initial ideas for a follow-up should the book prove successful enough to warrant it.
Talent Caldwell: A TV show fo' sho'!
DF: So what other projects, inside of comics or out, can you tell readers about?
Michael Dolce: So I've got a ton of good stuff on the plate for 2018. The second volume of my creator-owned superhero book The Sire will be hitting Kickstarter next month (both Tal and Tony Moy's got some art in that) followed by the next issue in that series in the spring. You can check out all the details at http://mikebooks.com
to get in on that.
I also host a weekly live podcast called "Secrets of the Sire" talking Comics, Movies, TV & Pop Culture that streams on Facebook.com/secretsofthesire every Wednesday at 8 p.m. ET. We've got Josh Blaylock from Devils Due, one of the stuntmen from Black Panther and Jackie the Joke Man himself from Howard Stern coming on in the next few weeks.
Finally, I've got some TV stuff in the works I can't quite talk about, but involving adapting some of my previous graphic novels and some new ideas.
Talent Caldwell: I have something big to drop later this fall that I am currently doing pages for. I can't really go too much into it other than to say that I AM drawing everything in that series. And it will be a true return to form for me.
Dynamic Forces would like to thank Michael Dolce & Talent Caldwell for taking time out of their busy schedules to answer our questions. The Mainstream #1 from Zenescope hits stores April 25th!
For more news and up-to-date announcements, join us here at Dynamic Forces, www.dynamicforces.com/htmlfiles/, "LIKE" us on Facebook, www.facebook.com/dynamicforcesinc, and follow us on Twitter, www.twitter.com/dynamicforces.
OVER-SIZED FATHOM PREMIERE SKETCH CARD WITH HAND-DRAWN SKETCH BY TALENT CALDWELL!
CLASSIC BATTLESTAR GALACTICA TPB MASS MARKET EDITION
---
NEW! 1. 11/25/2020 - STEVE SKROCE
4. 11/16/2020 - RYAN O'SULLIVAN
5. 11/16/2020 - RYAN O'SULLIVAN