KIERON GILLEN & JIM ROSSIGNOL

SEND THIS TO A FRIEND!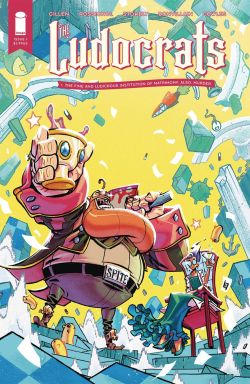 DF Interview: Kieron Gillen & Jim Rossignol unleash 'a big download of fun' in new LS comic 'The Ludocrats'
By Byron Brewer
The Ludocrat! The ludicrous aristocrat! A collision of the ornate fantasy of Dune and an M-rated Asterix & Obelix! Baron Otto Von Hades and Professor Hades Zero-K are here, and they're going to save us all. Have a nice time.
From writers Kieron Gillen (DIE, The Wicked + The Divine) and Jim Rossignol (Sir, You Are Being Hunted), artist Jeff Stokely (The Spire), colorist Tamra Bonvillain (Once & Future), and letterer Clayton Cowles (Bitter Root, DIE) comes a new Image comic, The Ludocrats.
DF always enjoys the complex, off-the-wall responses of writer Kieron Gillen. But together with his co-writer Jim Rossignol …? Well, this is gonna be some insane book (in a good way) and an even crazier interview. But we'll let you judge for yourselves. Unleash the interviewees!
Dynamic Forces: Kieron, having interviewed you several times over the years and edited some of your copy for commentaries, I know you have a tendency for flow-of-consciousness responses and outright lyrical lunacy. That said, you usually do have a format to follow. This book seems outwardly more like an asylum notepad than a 5-issue LS comic, and its on-sale on April Fools Day does not bode well. Could you and Jim tell us what readers can expect from The Ludocrats?
Kieron Gillen: I would say something like "expect the unexpected" but firstly, that's tedious, and secondly, it implies that your expecting will make any difference. No matter how well prepared your expectation defenses are, we are going to unexpect the hell out of them.
It's a fantasy adventure. We have a group of people ("Ludocrats") who want to prevent the universe from being rendered tedious by boring people ("boring people"). It's a comedy. In the same way Phonogram, DIE and WicDiv have a backbone of genre to hang onto as you're dragged through the obsessions which power it (pop music, RPGs and more pop music, respectively), The Ludocrats uses a backbone of fantasy adventure to hang the aforementioned gleeful ludicrousness off. For example, Issue #2 is a heist issue. It's just how and what they're heisting that's different. It's extremely welcoming. It's full of bonhomie. It's the weird but charming person in the pub who is telling you nonsense you can't get enough of, and always gets their round in.
You may have noticed that I have answered this while not revealing I have no idea what an LS comic is. I tried to Google, and it suggested it's a Lilo & Stitch comic. It definitely isn't a Lilo and Stitch comic.
Jim Rossignol: Ah yes, the Limited Series. Limited in number of issues in the series, of course, not in the broad sweep of ambition exhibited by its creators.
Kieron Gillen: Thank you, Jim. Well, we are different from all other limited series because with The Ludocrats there are no limits.
DF: Guys, tell readers about your collaboration.
Kieron Gillen: I dunno. Jim, how are we teaming?
Jim Rossignol: High fives until death takes us and all that. Gillen and I have been comrades in righteousness for two decades now, which is an odd thing to contemplate as we sit here between his towering collections of Skaven. This is a long-term team-up which has encompassed nights at the bottle, evenings in philosophizing, and many shared moments of pondering the ludicrousness of existence. The Ludocrats is a twenty-year arc of that collaboration, as it began with the first time we let our streams of interest pollute each other, return to haunt us for year after year that followed. But things have moved on; hell, Google docs like the one we are collaboratively creating these responses in didn't even exist at the time.
Kieron Gillen: Yup. We originally just mailed each other and collated it on a blogspot somewhere. It was a long time ago. Frankly, the process of us going through the notes feels like archaeology, with us not actually remembering who came up with what idea, and when. And how.
DF: What can you tell us about the world you are creating here in The Ludocrats?
Jim Rossignol: What if Baron Vladimir Harkonnen was in it for a fun time? Or what if the Metabaron had been a character in Asterix & Obelix? That. The aristocracy of this other world realize they have one chance to make existence ludicrous for everyone, and they're gonna go for it. It's a philosophy that drives a revolution, and then a culture. Imagine if John Stuart Mill had concluded that "actions are right in proportion as they tend to promote ludicrousness, wrong as they tend to produce the reverse of ludicrousness." This is the principle whereby the Ludocratic world turns.
DF: Can you at least attempt to introduce some of the protagonists we will encounter in this 5-issue mini?
Jim Rossignol: The principles are Baron Otto Von Subertan and Count Hades Zero-K, which are my own and Gillen's alter-egos from the original materials, respectively. Otto, a ball of inertia with a collection of offal, and Hades, the scion of a dynasty of sentient soundwaves. Each has their own approach to the mandate of ludicrousness, and their constant dynamic is that of an odd-couple partnership that solves not crime, but normalization.
Kieron Gillen: Our shorthand is that Otto is Obelix and Hades is Asterix. Otto is the force of nature and Hades is the one who is the smartest person in the room. This is very unlike our real natures, as Jim is the force of nature and the smartest person in the room. At least this room. Only we're here, unless my cats have creeped in, then the order of smartness would be Bertha, Manny, Jim, me.
The supporting cast are equally colorful (thanks to Tamra). Elaina Tryptich, Celebrity Surgeon. Voldigan the Perfidious, Walker. Bogol Theen, Chainsaw Gastronaut. The sheer pneumatic wonder of Grattina Gavelstein, Steam-Judge. And, of course, Pardius Haemoglandulum Von Subertan, Otto's brother, seventy-ninth eldritch hyper-pope and so on and so forth.
Jim Rossignol: More seriously: These were just names intended to amuse, conjured from our own pungent aethers, and the process of building the comic has concretized them in a way that is awesome and often surprising. I think the result will delight.
DF: Besides having fun with readers (and probably with your responses herein), what can you tell us about the storyline (if any) of The Ludocrats?
Jim Rossignol: It's a mystery. Something is afoot in their world, something profound and sinister, dragging in the most important and powerful figures in their world. Lives have been lost, personages disappeared, artifacts pilfered. It all points to a grand larceny of the Ludocratic universe. Can our heroes unravel what is occuring? Sort of. Maybe. But not without a modicum of blood and mess.
DF: Talk about the work of artist Jeff Stokely and colorist Tamra Bonvillain.
Kieron Gillen: Words alone cannot convey their majesty, clearly. I advise staring with your human eyes, wishing for optics of greater ability to truly understand what they're creating. You know the Mantis Shrimp sees so many different colors to us? How many? Many many. You're not paying me to Google up facts. But while we humans will not appreciate it like the cute tanks of the coral reefs, it will still be the most defining artistic experience of all our lives. Probably.
The Ludocrats has improvisation buried right into its origin, with Jim and I just making each other laugh. That's what we extend to the artists on the team. The scripts are rain forests of ideas, but there is also the explicit invitations to add more and more and more. Jeff is, to use the technical term, going for it. Tamra's choices are incredibly bold, fundamentally changing the nature of the text while making the aforementioned mantis-shrimp eyes scream in joy. The change is key. What the artists do, we riff off. The backmatter of each issue is Jim and I doing annotations and essays and god knows what else. We're all in this together, and we're having a nice time.
Basically it's a big download of fun. I've got a reputation for doing these dense works with lots of extra stuff. This is those instincts turned towards life-affirming silliness.
Jim Rossignol: Jeff and Tamra are immensely powerful, and I feel trepidatious even invoking their names without my usual collection of wards and charms.
DF: Kieron and Jim, what other genius gems are you working on that you can share with readers?
Jim Rossignol: [Kieron] is painting some Necron, right now! When he should be working.
Kieron Gillen: Oh noes! I am the worst. Honestly, editors, I am doing real work and not carefully drybrushing ancient murderous robots from the beginning of time. Er… Once & Future is coming back in March, alongside with the first train. DIE's second trade has just come out, and we'll be back with the third arc in May – plus the ongoing work on the RPG. There's other stuff, but it hasn't been announced yet. I'm having a fun time. Jim, what about you?
Jim Rossignol: A game that I wrote the script for, Ancient Enemy, is out soon/now, depending on when you are reading this! Get it! But also I am working on MILESHIPS, a sort of early-20th century sci-fi book of concept maestro Ian McQue's flying ships paintings. It's going to be quite fantastic, and completely beautiful.
Kieron Gillen: I am so excited about this. I am so excited about everything, which is handy, as excited about everything is very much the correct Ludocrats state of mind.
April 1st. Can't wait!
Dynamic Forces would like to thank Kieron Gillen and Jim Rossignol for taking time out of their busy schedule to answer our questions. The Ludocrats from Image Comics hits stores on April 1st!
For more news and up-to-date announcements, join us here at Dynamic Forces, www.dynamicforces.com/htmlfiles/, "LIKE" us on Facebook, www.facebook.com/dynamicforcesinc, and follow us on Twitter, www.twitter.com/dynamicforces.
PETER CANNON: THUNDERBOLT OVERSIZED HARDCOVER - SIGNED EDITION
JAMES BOND: CASE FILES VOL. 1 HARDCOVER
PETER CANNON: THUNDERBOLT #2 - CHARLTON EDITION SIGNED BY PAULINA GANUCHEAU
DOCTOR APHRA #1 RARE BLACK KRRSANTAN ACTION FIGURE VARIANT!
DARTH VADER #1 ACTION FIGURE VARIANT!
ANGELA ASGARDS ASSASSIN #1 SKOTTIE YOUNG VARIANT!
ORIGIN II #1 SIGNED BY STAN "THE MAN" LEE
IRON MAN #9 DYNAMIC FORCES EXCLUSIVE COVER
---
NEW! 1. 12/04/2020 - JOSH BLAYLOCK
3. 11/30/2020 - SKYLAR PATRIDGE