DONNY CATES

SEND THIS TO A FRIEND!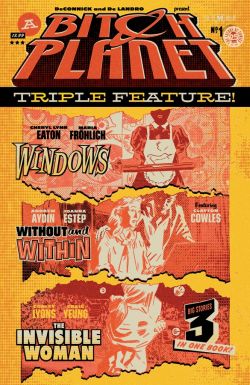 DF Interview: Donny Cates brings us a 'lighthearted' book about a mom and her baby, the antichrist, in Babyteeth
By Byron Brewer
Sadie Ritter is 16 years old, nine months pregnant, and scared out of sweet nerdy mind. Having a baby that young is tough. But with the support of her loving family, everything should be okay. Oh yeah, and also her baby is the antichrist and it's going to break open the barriers between the earthly and demonic planes and unleash eternal suffering to all of humankind. Other than that, though … should be fine.
Right. Fine. But just in case, our DF staff tracked down writer Donny Cates – who, with artist Garry Brown, is bringing you Babyteeth from AfterShock Comics – to do the quickest interview we could! … You know. Just in case.
Dynamic Forces: Donny, your star is definitely on the rise, so first of all thanks for sitting down with us at DF today. Buzzkill first brought Donny Cates to the public eye, it seems, but the recent God Country has really seemed to take you to new heights. How does all this attention feel?
Donny Cates: Well, first of all, thanks for having me!
The attention….hmmm, well, it's obviously really weird, you know? I suppose I'm aware of it, but it hasn't made much of an impact, to be perfectly honest. It's this odd thing where you work on something for so long, and you are SO EXCITED for it to get out there and to have people read it, and then when they do, and they like it, you kind of go "Oh good, that worked." And then you kind of move on to the next thing. At least that's how it is for me. I don't mean to sound like I'm not grateful for it (because I CERTAINLY am), but it's not like my life has changed, you know? I'm still getting up in the morning every day and writing until I fall asleep. Same as ever. There's always the next script that needs your attention. And that script, and the artist and editors and eventually the people who will someday read it, do not care about how much attention you are receiving. Or how popular your current thing is. Bottom line, it's about the work.
But yes, it's really, really cool.
DF: Your new Babyteeth is a creator-owned piece. Tell us the concept behind the coming book from AfterShock and how it came into being.
Donny Cates: Babyteeth was something I dreamt up one day out of the clear blue sky. Absolutely couldn't tell you where it came from. But I think maybe it was a response in a way to titles like God Country and Redneck. I ADORE both of those books, but for reasons that will become clear in the following months/years, those books are emotionally exhausting. And very, very serious. They have moments of levity, of course, but by and large they are very somber things.
Babyteeth is about a sixteen-year-old girl named Sadie Ritter who gives birth to the antichrist, and as hardcore as that might sound, it's the sweetest, most loving book I've ever written. I had been writing about gruff and gritty no-nonsense men for so long, I think I just needed a break. Needed to write someone smiling! I think the fact that I have a baby in my life (my nephew Dylan) has obviously played a very large part in it as well.
The other cool thing about the title is how fast it came together. This is not an exaggeration at all, but the book was conceived of, pitched and sold within a span of about four days. It came to me all at once, kind of fully formed. And Mike and Lee at AfterShock kind of fell in love with it at the same breakneck speed that I had for it. So it's all very new. And very, very exciting!
DF: Babyteeth is certainly in the tried-and-true Cates wheelhouse. Tell us about this world you will be creating for readers in the mag.
Donny Cates: Do I have a wheelhouse? Huh, I think others can see that kind of thing clearer than me. As far as the world itself, that's one of the things that was the most attractive parts of the book for me. Because it's very much OUR world. God Country is way out in the plains of Texas and deals with GODS, Redneck is deep in the rust and vines of East Texas in a world in which vampires exist. Babyteeth takes place in a suburb of Salt Lake City, and at high schools and movie theaters and laser tag arenas and comic shops and familiar relatable places like that. It's happening RIGHT NOW. So, for me, that's a chance to do something I've never really done, you know? REAL people who like … read comics, and watch the same shows as us, see the same movies. It feels very modern.
Now, that being all said, there are some WILD things going on in this book. Sadie loves her baby dearly and will do anything to protect and care for it. And she's going to have a tough time because there are a few warring factions after her baby who want to either kill it for what it will become, or use it for their own gain.
So yeah, don't get me wrong, folks, because things are going to get WILDLY out of hand very quickly in this book.
Huh, maybe I do have a wheelhouse after all ...
DF: Tell us more about Sadie. Can you give us some backstory?
Donny Cates: I used to say I write a lot of "dangerous f*ck ups" like superhero alcoholics, death possessed covert truckers, indebted superheroes, old men with giant swords, backwoods vampires with blood-soaked pasts …
But this is so new for me. Because maybe for the first time in my career the main character in this story is a very genuine, very honest, very down to earth and very GOOD person. Sadie is the greatest.
She's a nerd! A total science and comic dork, very well read and kind of shy around people she's not comfortable with. She's the girl I would have been best friends with in high school. She's not what you would call an "action hero" at all. But she is fiercely protective of her baby.
You know those stories about mothers who suddenly gain superhuman strength to lift a car off of their child? This book is that moment, stretched over a lifetime.
DF: … And her baby is the antichrist, for REAL? Like the Holy Bible antichrist? How does that bode for the future of the book … and, er uh, this "world"? Have you received any feedback from either side of the Christian readership since this mag came to light early in February?
Donny Cates: My lips are sealed on this matter. Can't say another word about it.
But, no … no one has brought this up in a contentious matter from any side. I wouldn't be shocked if they did, though.
DF: Tell us what artist Garry Brown brings to the table here. How does he bring such horrific concepts to life in the pages? I know he did an awesome cover for #1!
Donny Cates: You know what, it's funny. I think people really do have an image of this book in their head that it's going to be really scary and hardcore, but honestly … it's really sweet! It's actually very lighthearted. More in common with, say, Paper Girls or Buffy than Rosemary's Baby or The Omen or anything like that.
As for Garry, well jeez, what can I say? Garry is amazing! He's really a perfect fit for the series, and as I stated earlier, I pitched the book cold, so I had no idea who was going to draw it. When Mike emailed me and asked me if I dug Garry's work, I was just elated.
I think I emailed back in all caps and said just text-screamed "Yes, are you kidding?!" a hundred times.
I mean … have you SEEN Black Road? Get outta town. Babyteeth is in very safe hands.
DF: Donny, what other projects might you be working on, currently or in the near-future?
Donny Cates: Hmm, that I can talk about? None. But rest assured, plenty more to come. I think we'll be announcing a few more things later this year. Stay tuned!
Dynamic Forces would like to thank Donny Cates for taking time out of his busy schedule to answer our questions. Babyteeth #1 from AfterShock Comics hits stores in June!
For more news and up-to-date announcements, join us here at Dynamic Forces, www.dynamicforces.com/htmlfiles/, "LIKE" us on Facebook, www.facebook.com/dynamicforcesinc, and follow us on Twitter, www.twitter.com/dynamicforces
---
NEW! 1. 11/25/2020 - STEVE SKROCE
4. 11/16/2020 - RYAN O'SULLIVAN
5. 11/16/2020 - RYAN O'SULLIVAN