TADD GALUSHA

SEND THIS TO A FRIEND!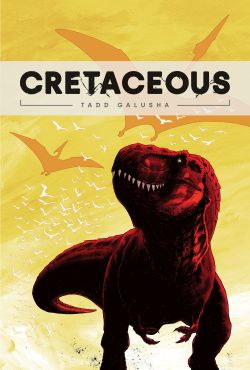 DF Interview: Tadd Galusha returns to prehistoric times with 'Cretaceous' OGN
By Byron Brewer
When a Tyrannosaurus Rex is separated from its family unit, it embarks on a harrowing journey to reunite with them before the raw, real dangers of the Cretaceous Era separate them for good.
This heart-wrenching story takes to the skies and dives into the sea – and explores everywhere in between – in Cretaceous, a research-based, fictional tale written and illustrated by Tadd Galusha (TMNT/Ghostbusters 2). DF sat down with self-proclaimed "dinosaur kid" Galusha to learn more about this OGN.
Dynamic Forces: Tadd, tell readers about the inspiration for your beautiful new graphic novel from Oni Press, Cretaceous.
Tadd Galusha: There were a lot of contributing factors when it came to Cretaceous. As a kid, the animals in Jurassic Park had a profound effect on me. I remember always thinking how great it would be if they had done a nature documentary about dinosaurs with that level of effects. I mean it wasn't practical in 1993, but then when I was at the Kubert School I discovered Bissette's Tyrant miniseries and a light bulb went off. It took a long time to get the rest of the things in order so that I could do the project, but the original Jurassic Park was the initial catalyst.
DF: What can you tell us of the overall story of the book?
Tadd Galusha: It's a view into the lives of animals as they do what they do from day to day. Nature is beautiful, but it is also raw and brutal. So, for some dinosaurs things get a lot more exciting than it does for others depending on their ecological niche. The emphasis of the story is a family unit of Tyrannosaurs and their dealings with hunting, competition, loss, and securing the future of their lineage. Let's just say the little (well not that little, they are pretty big even for dinosaurs) family has a real rough go of things.
DF: Can you let us into how you approached writing this fantastic but research-based book, how you got into the dinosaurs' heads, so to speak? How do you portray actions which must carry a story yet seem natural to the beasts, not human?
Tadd Galusha: Dinosaurs are like all animals and that includes people too, they have physical needs and emotions to some degree. So I wanted to make sure that their actions and body language expressed this. Depending on the role the dinosaur filled in the North American environment, I would try and parallel something of today's equivalence. Like the Dromaeosaurus (the raptors with the striped tails) for instance, I really felt like they must had been like the coyotes in that region of the Upper Cretaceous.
Opportunists who were pretty smart little guys and they used it to their advantage. Now all of this is speculative because no one actually knows, but I think it works by looking at fauna of a similar niche and using that as a base for figuring what an animal would or wouldn't do. I also read and studied a lot (I still am in case I get a second volume) especially as I started getting deeper into writing the story. I wanted to really try and utilize the physical tools of the animals. The T. Rex for instance has a massive olfactory, so I really emphasized it always sniffing and smelling to see what it picks up. If you ever get the chance to observe bears in the wild, that big nose is always twitching around and up in the air. It's things like this that I really tried to insert throughout the story. It makes the dinosaurs feel more like animals with character and personality.
DF: This book is beautiful. Tell readers about the research that went into rendering these wondrous illustrations and meshing them together to tell this story.
Tadd Galusha: Well, thank you, that really means a lot. I grew up in the Northwest and I think that really was a major contributing factor. If you've never been out that way (Washington, Oregon, Idaho) it's really got every environment a nature lover can ask for. I really leaned heavy on those mental images of hiking deep into those dense Cascade forests and camping out on the Oregon beaches. If you went to the right places, it could feel like you were the only soul on the planet.
For the animals, I looked at a bunch of stuff, other paleo-artist's treatments, skeletons, and size graphs. My main focus was making sure the reader got the emphasis for the animal's sizes. The triceratops needed to feel dense and powerful as it trudged along with its purpose. The T. Rex needed to feel massive, but at the same time a bit graceful for such a large animal.
I felt that if I could depict the flora and the fauna in a way that felt real, not as in realistic, but as in a way that made visual sense, people would be able to connect with the characters and then invest in the story. I think I did a good job of this, but that will be up to the readers to decide.
DF: Are you one of those artists who has loved dinosaurs since you were a kid? If so (or, I guess, even if not), how is Cretaceous a kind of love letter to the era?
Tadd Galusha: Without a doubt, always a dinosaur kid! When I was about 10 or so, my parents took my sister and I on one of those classic American road trips. From Seattle to Nebraska, we saw everything except the Grand Canyon. I was somehow able to finagle them into visiting all kinds of dinosaur exhibits that weren't too out of the way. Thinking about it now, I have no idea why they agreed to some of the places we went. The coolest place for me at the time was the Black Hills Institute in South Dakota. That was pretty epic, even my family thought it was cool.
DF: What are the advantages/disadvantages of working as writer AND artist on a book?
Tadd Galusha: Honestly, I love it. There is no downside from my standpoint. All the pressure falls on me from a creative standpoint, so I'm the only one there is to blame if something doesn't turn out right or if something goes wrong. I like that. Don't get me wrong; there are some amazing writers and artists that I would be over the moon to collaborate with, but for some reason working on a project like this just really felt good.
It's definitely my best work to date and I think it was because I was given the opportunity by Oni to just go and do what I needed to do to tell my kind of story with my kind of visual pacing and perspective. I've already said this a dozen times, but if you told me that this is what I would be doing for the rest of my career, working as writer and artist on my own projects, I'd say let's do it.
DF: Tadd, what other projects are you involved with that you can tell our readers about?
Tadd Galusha: Nothing too crazy at the moment, but I'm staying busy. I'm doing a lot of writing and sketch work for a couple of projects that I'll be pitching around in the coming months. I'm currently doing a monthly strip for Western Horseman Magazine called "Super Puncher". Strip #1 is featured in the recent February issue, so if you like G-rated comedy and rodeo it might be your style. The other project that I'm currently working on is a four chapter comic series called The First Americans, written by Chris Reda and being published be Critical Entertainment. In a nutshell, it's a fictional imagining of the first peoples who trekked from the Siberian Steppe, across Beringia, and down into North America following the migratory herds of megafauna. So it's another prehistoric science-based comic, which is pretty much perfect for what I like to do. Critical Entertainment is an awesome new publisher out of LA that's doing some really fantastic stuff. Chapter one of The First Americans is currently available at their website as well as Amazon and Comixology. I'm currently working on Chapter 2 which is 42 pages. I've got a couple ofother projects in the fire that I'll be releasing online this year, so people can check that stuff out in the coming months at my website: taddgalusha.com
That's pretty much it for right now. Thanks for all the great questions, this was a lot of fun.
Dynamic Forces would like to thank Tadd Galushafor taking time out of his busy schedule to answer our questions. The Cretaceous OGN from Oni Press hits stores March 27th!
For more news and up-to-date announcements, join us here at Dynamic Forces, www.dynamicforces.com/htmlfiles/, "LIKE" us on Facebook, www.facebook.com/dynamicforcesinc, and follow us on Twitter, www.twitter.com/dynamicforces.
THE KING COLLECTION TRADE PAPERBACK
---
NEW! 1. 11/25/2020 - STEVE SKROCE
4. 11/16/2020 - RYAN O'SULLIVAN
5. 11/16/2020 - RYAN O'SULLIVAN