AMY CHU

SEND THIS TO A FRIEND!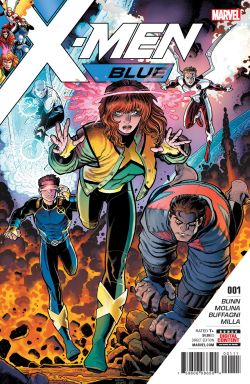 DF Interview: Amy Chu doles out alt-world suspicions in X-Files: Deviations 2017
By Byron Brewer
In a world where young Fox Mulder was abducted by aliens and never returned, another Mulder takes up the crusade against deception. Agent Samantha Mulder returns with Agent Dana Scully to investigate a shadowy figure that may hold the truth behind the disappearance of Sam's brother Fox.
Writer Amy Chu and artist Elena Casagrande bring X-Files: Deviations, an alt-world saga, to us courtesy of IDW Publishing. To find out more about the book, DF sat down with that she-devil with a KISS album, Amy Chu.
Dynamic Forces: Amy, how did you become involved in these "what-if" takes on the popular TV franchise The X-Files? What is the divergence point for "this" universe?
Amy Chu: The editor approached me with the idea of an alternative universe first: What if Fox had been abducted by aliens, instead of his sister Samantha? What would the X-Files universe look like then? I thought it was a terrific idea. One simple change, one pivotal moment, and the storyline opens up so many new possibilities.
DF: What can you tell us about Agent Samantha Mulder?
Amy Chu: Sam is smart like her brother Fox, maybe even smarter in some ways. She's not as obsessed and dogmatic, but she's a little kookier, nerdier and more fun than her new partner Scully. And like in the regular series, she's driven by the need to find out what happened to her missing sibling.
DF: Can you for us please compare and contrast the chemistry between the sibling Mulders in the two different realities (well-known TV and Deviations) with Agent Dana Scully?
Amy Chu: Fox and Dana's relationship was complicated and evolved over several seasons. With Sam and Scully, I tried to keep some familiar aspects. It's still evolving. In the first issue, Scully meets Sam for the first time. In this second issue, they're getting the hang of being partners. As women in the male-dominated workplace, Scully and Sam have some experiences in common, but their personalities are still wildly different. I think the chemistry question, and the one I tried to explore in this issue, is the changed relationship with the Lone Gunmen.
DF: I would imagine it is difficult to maintain the tension you usually find in an episode of the series even in the expanse of a 40-page book and still do some character-driven drama. How do you meet the challenge in the 2017 Deviations?
Amy Chu: It would be harder if the characters weren't so familiar to the public. Still, it takes a lot of plotting and careful selection of scenes to try to bring out those moments. It's also really hard but important to make it a standalone issue.
DF: Elephant in the room: Were you a fan of the original X-Files television series?
Amy Chu: A HUGE fan. I still have VHS tapes of some of the best episodes in a box somewhere. Some of the episodes were so well done: Clyde Bruckman's "Final Repose," one of my all-time favorites.
DF: Are you a conspiracy theorist? What elements (if any) do you enjoy from the franchise that you like bringing into your "deviation" and what are ones you gladly leave out?
Amy Chu: Ha! I wouldn't be joining the Lone Gunmen anytime soon, but I do believe there are some truths in some conspiracies. Look at what's going on today, with airport assassinations and poison agents. There's some real disconcerting real life activities going on. I'm just glad my job is to make stuff up for your entertainment ...
DF: Is it possible in a non-spoilery manner to say anything at all about the Fox Mulder disappearance plot here?
Amy Chu: I'm staying within the established X-Files universe but with some new plot twists. And if it isn't already obvious, the Cigarette Smoking Man has a nefarious hand in all this.
DF: What do readers totally unfamiliar with The X-Files need to know to enjoy this book?
Amy Chu: Nothing! New readers aren't going to appreciate some of the inside jokes I planted in there for the long-time fans, but the storytelling is so clear you could flip through without reading and enjoy the art on its own. Elena Casagrande, Silvia Califano and Monica Kubina nailed every scene. I really dig the dynamic of working on an all female creator team. It doesn't happen all that often, as you can imagine. I hope we get to do another one together!
DF: Amy, any other projects you are working on that you'd care to tell us about?
Amy Chu: At this very moment I'm wrapping up the first arc for Red Sonja as she kicks some butt in the modern world, and into the second arc for KISS for the future [both from Dynamite]. I should probably line up something set in the past so I have all time periods covered!
Dynamic Forces would like to thank Amy Chu for taking time out of her busy schedule to answer our questions. The X-Files: Deviations 2017 from IDW is in stores now!
For more news and up-to-date announcements, join us here at Dynamic Forces, www.dynamicforces.com/htmlfiles/, "LIKE" us on Facebook, www.facebook.com/dynamicforcesinc, and follow us on Twitter, www.twitter.com/dynamicforces
KISS: THE ELDER PAPERBACK Written by Amy Chu
KISS: THE DEMON #1 KYLE STRAHM "BLACK & WHITE VIRGIN" LIMITED EDITION Co-written by Amy Chu
KISS #1 GENE SIMMONS AND PAUL STANLEY SIGNED EDITION Written by Amy Chu
KISS: THE DEMON #1 KEN HAESER SKETCH COVER Written by Amy Chu
RED SONJA #1 Written by Amy Chu
RED SONJA #0 Written by Amy Chu
---
NEW! 1. 11/30/2020 - SKYLAR PATRIDGE
5. 11/16/2020 - RYAN O'SULLIVAN