JIM ZUB

SEND THIS TO A FRIEND!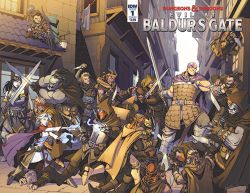 DF Interview: Jim Zub gives our heroes their close-ups in Dungeons & Dragons: Evil at Baldur's Gate
By Byron Brewer
The Baldur's Gate heroes return to the city at last, but their time adventuring in Ravenloft and the frozen northern reaches of the Realms has changed them. Each of them must face great trials ahead before they'll be ready to embrace their destiny.
Writer Jim Zub, along with a legion of talented artists, returns to the popular franchise with Dungeons & Dragons: Evil at Baldur's Gate, to do some close-up character work on the adventurers we know so well. Or thought we did.
To learn more about this mammoth undertaking, DF went to no less a D&D authority than Jim Zub himself.
Dynamic Forces: Jim, you've written quite a number of these Dungeon & Dragon miniseries with this same cast. What is it about the property that keeps you coming back? Does D&D have a special meaning for you personally?

Jim Zub: Absolutely. I grew up playing Dungeons & Dragons with my older brother and cousins and it ignited a passion for creating characters and telling stories. I would not be a comic writer today if not for the experiences I had playing characters in D&D and running RPG campaigns for my friends through high school.

Getting the chance to write official D&D stories is an absolute thrill. I've written three mini-series so far with this cast and each one carries the overall story forward while also acting as its own compartmentalized adventure. Legends of Baldur's Gate, Shadows of the Vampire, Frost Giant's Fury, and now Evil At Baldur's Gate.

DF: Why would you say this particular mini, Evil at Baldur's Gate, is an ideal place for new readers to jump on board?

Jim Zub: It actually is. Sure, you can read the previous ones and understand more about what these characters have been through, but EABG is five self-contained stories that each spotlight a character and show you more about who they are and their values. Even if you haven't read the previous stories, you'll have a clear sense of what makes them tick and are ready for future adventures.

DF: For the uninitiated, can you introduce your cast to us, and tell us which issue in the miniseries shines a spotlight and upon whom?

Jim Zub: Issue #1 is all about Minsc the Mighty. Minsc is a slightly brain-addled Ranger with courage far beyond his wisdom. He tends to charge into danger and is absolutely convinced of his own heroic intent. He's a fan favorite for good reason. In this issue Minsc discovers that there's a new hero in Baldur's Gate and that he needs to prove himself to regain his status as hero to the people.

Issue #2 focuses on Krydle, our rogue-with-a-heart-of-gold. The dark days of his past as a scoundrel come back to haunt him and it could cost him everything he's built.

Issue #3 spotlights Delina, our elven wild mage. Her chaotic magical abilities have caused her a lot of trouble over the years and she's been looking for a way to rid herself of the affliction, but that cure might end up being deadlier than anything she's ever faced before.

Issue #4 is about Nerys Kathon, a Cleric of Death. In a previous story she was bitten by a werewolf and now that lycanthrope is taking hold of her body and mind. She needs to find a way to break from it before she loses her soul to its curse.

Issue #5 wraps it all up with a story about Boo, Minsc's pet hamster. While the rest of the party sleeps, Boo the hamster is ready to venture out on his own. Action, adventure, life and death…this hamster quest is one for the ages.

DF: Can you give us a summary for the overall bridging storyline for Evil at Baldur's Gate?

Jim Zub: Thematically, these stories are all about dealing with past baggage, breaking the group up a bit so they can find themselves and get back to what matters most to each of them. By the end of these stories, we'll have a clearer sense of who they are and get them ready for trials yet to come.
DF: This is obviously the most character-driven mini of your run. Which of your cast were you just itching to add more depth to, and why?

Jim Zub: Delina was an important part of the original Legends of Baldur's Gate mini-series, but most of that was centered around her relationship with her twin brother, an evil mage named Deniak. Moving her past that and showing her on her own, thriving and growing, was a lot of fun, especially since I got permission from the gang at Wizards of the Coast to use some D&D elements that haven't been seen in some time and have never been shown in any previous comic story.

DF: You have quite a lot of art talent on the way for this. Can you tell us who you will be collaborating with and on what issues each will contribute?

Jim Zub: Dean Kotz is drawing our Minsc story. He's previously worked on the Charmed comic series. He's got a fun pulpy feel to his art that feels very sword & sorcery appropriate.

Steven Cummings is my artist and co-creator on Wayward, my creator-owned title at Image. He's a big D&D fan, so getting the chance to team up with him on Krydle's tale has been a ton of fun.

Harvey Tolibao is drawing our Delina story and his intricate artwork is a perfect fit for her whimsical magic and the trouble she gets into. He's done extensive work for DC on Green Arrow.

Ramon Bachs is drawing our story with Nerys. He and I teamed up previously on the Figment 2 mini-series at Marvel. His artwork has a classic feel with wonderfully expressive characters.

Francesco Mortarino is our artist on the hamster quest issue and he is knocking it out of the park with an animated character style and beautiful backgrounds. Can't wait for people to see this one.

DF: Jim, what other projects do you have going that you can tell readers about?

Jim Zub: I've got a solid slate of comic work on the go right now. In addition to D&D: Evil At Baldur's Gate, we're in the midst of the Avengers storyline No Surrender, which runs weekly through until the end of April, from issues #675-690. Also in April I take over The Champions for Marvel with issue #19, carrying on the story of Marvel's teen superheroes looking to change their world. I have another Marvel mini-series launching in May that I can't reveal quite yet. Last, but certainly not least, Wayward returns for its sixth arc starting in June with issue #26. Lots on the go as I head into convention season 2018.
Dynamic Forces would like to thank Jim Zub for taking time out of his busy schedule to answer our questions. Dungeons & Dragons: Evil at Baldur's Gate #1 from IDW hits stores April 18th!
For more news and up-to-date announcements, join us here at Dynamic Forces, www.dynamicforces.com/htmlfiles/, "LIKE" us on Facebook, www.facebook.com/dynamicforcesinc, and follow us on Twitter, www.twitter.com/dynamicforces.
PATHFINDER VOL. 1: DARK WATERS RISING HC - SIGNED BY JIM ZUB
PATHFINDER VOL. 2: OF TOOTH AND CLAW HC
PATHFINDER VOL.2: OF TOOTH & CLAW TRADE PAPERBACK
PATHFINDER VOL. 1: DARK WATERS RISING TRADE PAPERBACK
PATHFINDER: CITY OF SECRETS #1 (OF 6) ULTRA-LIMITED EDITION COVER
PATHFINDER VOL. 3: CITY OF SECRETS HARDCOVER
RED SONJA: TRAVELS VOL. 2 TRADE PAPERBACK
---
NEW! 1. 11/30/2020 - SKYLAR PATRIDGE
5. 11/16/2020 - RYAN O'SULLIVAN