MATT HAWKINS

SEND THIS TO A FRIEND!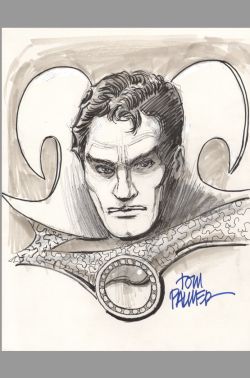 DF Interview: Lions and tigers and animal assassins (oh my!) from Matt Hawkins in Think Tank: Animal
By Byron Brewer
Several key NATO figures are assassinated ... by animals? Someone has perverted Dr. David Loren's surface thought-reader and turned it into a device that sends animals on kill missions. Still recovering from his recent suicide attempt, Loren is forced back into the military game to help uncover who is behind this.
What will Dr. Loren find? Much more than even readers might suspect! To find out more about the coming new Think Tank arc – brought to us via Top Cow from writer Matt Hawkins and artist Rahsan Ekedal – DF spoke with the scribe himself.
Dynamic Forces: Matt, I am sure readers can tell the work and planning which goes into every book you do. To me, it has become a Hawkins hallmark. How does it feel to be working on your fifth volume of a critically-acclaimed series like Think Tank?
Matt Hawkins: It feels amazing! Think Tank V1 was me trying to scratch a creative itch I had at the time. It was the first comic I'd written in 10 years. I'd just gotten divorced and I felt pretty sh*tty about life in general. It was an outlet for me and I knew Rahsan Ekedal was looking for a gig in the short term so it seemed a win-win. It's six years later and we're still producing it, so, yeah, it feels pretty amazing.
DF: OK, OK, I have to ask right out of the gate: Animal assassins?! Was there some particular inspiration, or is this another new conspiracy theory?
Matt Hawkins: While I was writing V4 Creative Destruction I came across some info online about how a Danish company was making birds of prey into Drone hunters. The White House was supposedly considering getting one in the article, but I found nothing else about that. So I started researching animals in warfare and was shocked at some of what I found. That the Russians were training crows for surveillance sort of blew my mind. In an increasingly high tech world, low-tech solutions seem to be the answer. For example, if you saw a Drone following you around you'd freak out, yes? I would too. But would you give a second thought to seeing a crow? Would you even think about it being the same crow if you saw it several times in the same day? I wouldn't and neither would most people. I started researching animal use in the history of war and was shocked at how many animals have been used. We reflexively think of horses, dogs and maybe carrier pigeons, but would you consider war pigs, anti-tank dogs, bat/cat/rat bombs, death dolphins, pigeon guided missiles and land mind seeking rodents? In almost all of these situations, these were suicide uses of the animal, none of them survived. Not a huge surprise we have to be more careful about their uses in this modern era of social media and youtube videos catching crazy sh*t like this on film. Can you imagine the backlash to our military strapping bombs to dogs and teaching them to suicide bomb tanks?
DF: No one would ever accuse dear Dr. Loren of being the president of the Optimist Club, but still recovering from his suicide attempt how will he cope with matters going into this arc? As a writer, does such emotion add another layer to the storytelling heretofore unseen in Think Tank?
Matt Hawkins: Yes, everything I write is semi-autobiographical from one perspective or a contrary one. I base most of my characters on people I know or a combination of people I know to flesh out their emotional depth. I've battled depression and ended up on medication to help me out. When I was forthright on my social media feeds so many people thanked me because they felt shame for having to take the meds. I never felt shame, it was just something I needed to do to get better. Everyone needs help from time to time. In the story, Loren is trying to move on from this. I love how the layer of his narrative tells you what he's thinking and the separation of that from what he actually says. That sometimes subtle, sometimes overt difference is fun to write.
DF: Can you give us any hints as to where David and Mirra's relationship lies, and what challenges said relationship might be facing as this arc goes on?
Matt Hawkins: At the beginning, they're broken up but it's clear they still love each other. The emotional core of this story is their dysfunctional relationship. Will they be together at the end of the story? We shall see. (smiles)
DF: David has a sister?!
Matt Hawkins: Yeah, that's a reveal in the first issue of this new arc so SPOILERS! In previous arcs, we've revealed that David's mother was killed and in Creative Destruction we revealed that she was killed in a car accident. David was in the car when it happened and he distracted her, causing the accident … and that memory is part of what thrusts him into the depressive spiral of Volume 4. After his mother's death, he distanced himself emotionally from his father (and his father did the same to David). When he left for college at 14 and embraced Uncle Sam, he never talked to his father again after that. So he has no clue what his dad has been up to for the last 14 years.
DF: How has it felt working all this time with Rahsan Ekedal? Like you, he has certainly put his unique artistic stamp on this series.
Matt Hawkins: It's a joy. Rahsan and I have an easy communication on how to get the series done now. His layouts and storytelling are better and better with each arc and I just trust that he's going to kill it every time and he does. I just got the layouts for issue #3 of this arc and love looking at his tight thumbnails. Rahsan adds so much to this series, he really does add the emotional core of the characters with their facial expressions. He's also changed things in the story and they've all worked.
DF: So, Matt, what else is up project-wise for you?
Matt Hawkins: I'm working on Samaritan with Atilion Rojo that will be out in May. This is a new series featuring characters from The Tithe and Think Tank. It can be read standalone, but it ties into events in those books, Postal and Eden's Fall. I'm working on a eugenics conspiracy thriller with Colleen Doran tentatively called The Clock. A DNA sci-fi thriller called Stairway with Raffaele Ienco. And I'm working on two romance titles with my wife to round out our Sunstone line of books: Swing with Linda Sejic and Sugar with Yishan Li.
Dynamic Forces would like to thank Matt Hawkins for taking time out of his busy schedule to answer our questions. Think Tank: Animal #1 from Top Cow hits stores today, March 1st!
For more news and up-to-date announcements, join us here at Dynamic Forces, www.dynamicforces.com/htmlfiles/, "LIKE" us on Facebook, www.facebook.com/dynamicforcesinc, and follow us on Twitter, www.twitter.com/dynamicforces
CYBER FORCE #1 CHRIS GIARRUSSO VARIANT - SIGNED BY CHRIS GIARRUSSO! Co-written by Matt Hawkins!
---
NEW! 1. 11/30/2020 - SKYLAR PATRIDGE
5. 11/16/2020 - RYAN O'SULLIVAN