SKOTTIE YOUNG

SEND THIS TO A FRIEND!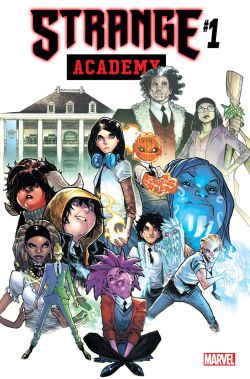 DF Interview: Skottie Young unleashes new magical heroes, heels upon the world in 'Strange Academy'
By Byron Brewer
The Marvel Universe has mysteriously changed in such an alarming way that Doctor Strange has done what he's avoided for decades; he's opened a school for young sorcerers. Young people from around the world with aptitude in magic have been brought together in New Orleans to study the mystic arts under Strange and all of your favorite Marvel magic-makers. But with all the new magical threats, is it too late?
From Marvel Comics comes Strange Academy, written by Skottie Young with art by Humberto Ramos. DF wanted to know more (of course), so we jumped the enchanted gate, snuck past the immobile G'uranthic Guardian, and rode the wave of blue flame which does not burn straight to the office of scribe Skottie Young.
Dynamic Forces: Skottie, Stephen Strange has taken disciples/students before during his time as a Master of the Mystic Arts – Clea, Rintrah, others – but what has occurred to suddenly cast him into the role of Professor X?
Skottie Young: Something has changed with magic. Not only are there huge new threats on the horizon, but more people than ever are showing natural magic skills. So Doc needs to change tactics. He's going to take the chance and teach the sorcerers of tomorrow how to deal with those threats using the best sorcerers of today as teachers.
DF: What can you tell us about this "academy"? Why New Orleans?
Skottie Young: It's a huge hidden campus in the middle of what seems to be a rundown courtyard in the French Quarter. Think of it as the Sanctum Sanctorum but way bigger and filled with kids from other dimensions. A very magical place built to train the magical heroes of tomorrow.
We picked New Orleans because of its connection history of mystic arts and dark magicks. We knew we needed a place that wasn't New York or LA so NOLA seemed like a perfect fit. Plus,what better place to take a research trip for me and my team?!
DF: Without spoilers, can you introduce all (or at least some) of these would-be sorcerers (aka students) here? Any new characters?
Skottie Young: I'll do a couple and leave the rest for the book.
We will introduce Emily Bright. A midwestern girl who has known she was magical from infancy. As she grows older, she's more and more curious and scared of this power and writes a letter to the most famous magician she's aware of: Doctor Strange. He just so happens to be opening a school, so, you know … good timing.
You'll also meet Doyle Dormammu, illegitimate son of Dormammu … you know, the guy who almost destroys the multiverse on a weekly basis.
DF: … And the teachers? Intros, and any newbies there?
Skottie Young: The teachers will mostly be rotating. Since pretty much our entire cast is new characters, we wanted a place to weave in some of our favorite Marvel magic-users. The Scarlet Witch, Magik, Hellstrom, Man-Thing. Classes should be fun!
DF: What can you tell readers about this book's overall storyline going forward?
Skottie Young: We're really diving into these students and the coming of age stories they have to tell us. We'll have fun conflicts and some big stories, but this isn't your typical "here's the villain of the arc" comic. We want people to invest in each character's life and who they befriend, who they might like, you know, in that special way. Hahaha! Don't get me wrong, we'll be crushing fools with magic on a regular basis, but we wanted to add a different kind of book to the Marvel line-up.
DF: Speaking of "here's the villain of the arc" comics, what big-bad is looming on the fringes? Old Strange nemesis? New magical menace?
Skottie Young: All of the above. This is definitely a "READ THE BOOK" kind of answer. The answer would be much less interesting without Humberto illustrating it!
DF: Good transition! Talk about the pulse-pounding pencils of Humberto Ramos.
Skottie Young: Humberto is turning in some of the best work of his career. It's CRAZY! Every day I get a page in my email and everyday it's better than the last. I really can't believe it. He's one of the best artists in this business and he's proving it on every panel in the book. And it's not just his pencils this time around, he's inking this whole project himself! It's beautiful.
DF: Skottie, what other projects in which you're involved can you tell readers about?
Skottie Young: Well, as some may or may not know, Middlewest ends with issue #18 and Jorge Corona and I are so proud to have told the exact, entire story we set out to tell with that book. Fans of Middlewest, get excited, because I just got back from a week in Denver with Jorge where we locked down our Image Comics project list for the next few years! And it's AWESOME! We'll announce those titles soon! I have a few other projects I'm writing over at Image that I'll hold onto for now, but this year looks to be pretty crazy and fun.
Dynamic Forces would like to thank Skottie Young for taking time out of his busy schedule to answer our questions. Strange Academy #1 from Marvel Comics hits stores on March 4th!
For more news and up-to-date announcements, join us here at Dynamic Forces, www.dynamicforces.com/htmlfiles/, "LIKE" us on Facebook, www.facebook.com/dynamicforcesinc, and follow us on Twitter, www.twitter.com/dynamicforces.
SPAWN #250 SKOTTIE YOUNG VARIANT BLOOD RED SIGNATURE SERIES SIGNED BY SKOTTIE YOUNG!
STAR WARS: PRINCESS LEIA #1 SKOTTIE YOUNG RETAILER VARIANT SIGNED BY SKOTTIE YOUNG!
STAR WARS: DARTH VADER #1 SKOTTIE YOUNG RETAILER VARIANT SIGNED BY SKOTTIE YOUNG!
SPIDER-MAN: LIFE STORY #1 SKOTTIE YOUNG VARIANT ELITE GOLD SIGNATURE SERIES SIGNED BY JOHN ROMITA SR
SPIDER-MAN: LIFE STORY #1 RARE SKOTTIE YOUNG VARIANT WEB SHOOTER SILVER SIGNATURE SERIES EDITION SIGNED BY MARK BAGLEY
SPIDER-MAN 2099 #1 SKOTTIE YOUNG VARIANT GOLD SIGNATURE SERIES SIGNED BY PETER DAVID!
X-MEN: BLUE #1 SKOTTIE YOUNG VARIANT ULTRA-LIMITED BLUE SIGNATURE SERIES SIGNED BY CULLEN BUNN
CHAMPIONS #1 RARE SKOTTIE YOUNG VARIANT!
GWENPOOL #1 SKOTTIE YOUNG VARIANT!
DEADPOOL #7 SKOTTIE YOUNG VARIANT!
SECRET WARS #9 SKOTTIE YOUNG VARIANT COVER!
CAPTAIN AMERICA WHITE #1 SKOTTIE YOUNG RETAILER VARIANT!
STAR WARS LANDO #1 SKOTTIE YOUNG VARIANT!
PLANET HULK #1 SKOTTIE YOUNG VARIANT!
SECRET WARS #1 BABY RETAILER VARIANT BY SKOTTIE YOUNG!
---
NEW! 1. 11/25/2020 - STEVE SKROCE
4. 11/16/2020 - RYAN O'SULLIVAN
5. 11/16/2020 - RYAN O'SULLIVAN