RAY FAWKES

SEND THIS TO A FRIEND!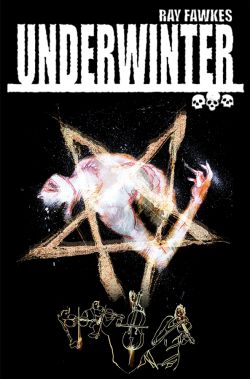 DF Interview: Ray Fawkes brings twisted tales with beauteous imagery in Underwinter
By Byron Brewer
Critically-acclaimed creator Ray Fawkes in March launches his new monthly horror series, Underwinter, from Image Comics. The book features twisted portraits of our dark world, beginning with the perverse, topical "Symphony" -- a beautifully painted tale of music and cruelty in the modern age.
DF sought out the entire creative team and sat down with same: Ray Fawkes.
Dynamic Forces: So, Ray, I understand you are going to be a one-man-band on your new Image comic, Underwinter. Do you prefer this to collaboration with either a writer or artist, and how do you handle your approach to a book differently when it's all up to you?
Ray Fawkes: Left to my own devices, I'd always work alone to create a book. It's not that I don't love collaboration -- some of my favorite works have been collaborations with great artists and writers -- it's that the process is much more comfortable for me when I'm on my own.
Part of that may be because the approach becomes much more fluid. The script is written almost in an emotional shorthand, because I don't need to explain myself to myself (usually), and the stages of plot-script-art-edits becomes a lot less linear, allowing me to tool around with the script while I create the art.
DF: Tell us a little about this new monthly horror series. Is it more akin to an anthology, like, say, Twilight Zone or Night Gallery from television, presenting shots of our world with that certain twist? What is Underwinter?
Ray Fawkes: It's less like an anthology, and more like a series of novels set in the same world -- so each "arc" of the book is actually a standalone start-to-finish novel, though certain characters, themes, locations and events will bleed through from one volume to the next, forming a cohesive single setting.
DF: I understand the first story presented, titled "Symphony," will be quite topical. What can you tell us about this first tale?
Ray Fawkes: "Symphony" is a story about art in a world that seems chaotic and ugly, and increasingly more so every day. Very much like our own. It's about what the soul compels us to do, and why, when we're faced with the fractured communication and daily degradation that seems to be the norm these days.
DF: Did I hear correctly that Underwinter #1 features pages that are all hand-painted by you? Tell us about that process. Will this be the norm, or just for issue #1? I know you love using diverse media in your art.
Ray Fawkes: Underwinter Volume 1 -- so, the first six issues of the book -- is completely hand painted, every page. While the script for Volume 2 is taking shape, I haven't yet settled on the art style for it. One thing I'm really enjoying about this book is that there are no style restrictions whatsoever. I am free to experiment, and to present readers with work that best suits every story, at all times.
DF: There is a fine line between the brilliant and the perverse, between the classic and the cruel. This book will be addressing the dark, twisted side of our world, I take it, while (at least in the case of "Symphony") presenting said horror in beautiful paints. How does a writer/artist handle such a juxtaposition that keeps the book taught, the audience keenly interested?
Ray Fawkes: In my experience, there is nothing in this world that is completely one thing. The bitter always comes with the sweet, the perverse is always just a hop away from the sublime, and vice versa. I make it my mission, with books like Intersect and Underwinter to present horror as beautifully as possible -- just as every page of One Soul was meant to be both sad and uplifting, and every page of Junction True was meant to be alluring and repulsive. It's when that tug between feelings is achieved that I feel something like truth is approached.
DF: Are there any continuing characters in Underwinter? Any narrator or host? And if not, will there be more in the way of captions describing the action (as there used to be) rather than the modern cinematic, few words-outside-of-dialogue approach?
Ray Fawkes: There are continuing characters in Underwinter, but I don't want to give away who they are just yet. There will be surprises throughout the series, and twists in certain volumes that will redefine what seemed to be happening in previous volumes. It's going to be a wild ride!
DF: Ray, this series is clearly a labor of love for you. Aside from the great adventure that is The Sovereigns for Dynamite, what other projects current or near-future can you tell us about?
Ray Fawkes: I've been putting Underwinter together for years, so it's absolutely a labor of love for me! Recently, I was proud to be one of the artists creating the Black Hammer Annual with Jeff Lemire and I am working on Fantomah for Chapterhouse.
Dynamic Forces would like to thank Ray Fawkes for taking time out of his busy schedule to answer our questions. Underwinter #1 from Image Comics hits stores March 22nd!
For more news and up-to-date announcements, join us here at Dynamic Forces, www.dynamicforces.com/htmlfiles/, "LIKE" us on Facebook, www.facebook.com/dynamicforcesinc, and follow us on Twitter, www.twitter.com/dynamicforces
THE SOVEREIGNS #0 Written by Ray Fawkes, others
PATHFINDER GOBLINS HC Written by Ray Fawkes, others
---
NEW! 1. 11/30/2020 - SKYLAR PATRIDGE
5. 11/16/2020 - RYAN O'SULLIVAN