W. MAXWELL PRINCE

SEND THIS TO A FRIEND!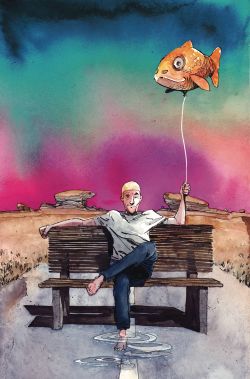 DF Interview: W. Maxwell Prince demonstrates how 'small lives can take on a large aspect' in 'King of Nowhere'
By Byron Brewer
Lovable drunken lowlife Denis awakens on the outskirts of a mysterious village called Nowhere, home to a friendly populace of deformed, mutated, just-left-of-normal citizens – and he has no memory of how he got there.
But just when Denis starts to regain his memories, his past catches up to him... literally.
What at first seems like merely a bad trip quickly heightens into a drama of mistaken identities, small-town conspiracy, and high-stakes fantasy fulfillment.
Eisner Award-nominated writer W. Maxwell Prince (Ice Cream Man) comes to BOOM! Studios with Eisner-nominated artist Tyler Jenkins (Grass Kings, Black Badge) for King of Nowhere, an unforgettable 5-issue thriller that explores the miraculous, the mundane, and all the mysteries in between. DF is always eager to explore the mind and methods of this scribe, so we sat down to talk about this limited series with W. Maxwell Prince.
Dynamic Forces: Will, even after all these years, you continue to have the most intellectual and unusual comics formats in the industry. Without revealing story just yet, can you tell us how the WMP braintrust came up with the concept(s) for King of Nowhere?
W. Maxwell Prince: That is so, so kind of you to say. I don't feel like I'm doing anything all that different from other creators—I'm just slicing my head open and giving folks a peek, as artists are wont to do. King of Nowhere came about as all my stuff does: I drift off on my subway ride to work and think about an idea that'd be interesting to explore via sequential art.
DF: Take us into the heart of Denis. Who is he (at least as far as he/we know), what challenge looms before him in the first issue of this five-issue limited series, and (as I always ask when interviewing you specifically) what part of the author is captured in the chief protagonist?
W. Maxwell Prince: Denis is a familiar kind of f*ck-up: he wakes up after a debauched night in a place he doesn't understand, where nothing seems to make any sense, and is forced to come to grips with the decisions he's made (and in some cases, hasn't made). I suppose he's like me in that he enjoys indulging in extracurriculars a little too much, and regrets the way he's treated a lot of people that he cares about.
DF: Give readers an extended elevator pitch for the book.
W. Maxwell Prince: I think this is a good opportunity to point out the paradox in asking a writer to provide an "elevator pitch": If I could distill a story down into a small, digestible paragraph, I wouldn't feel the need to write it as a full comic. I'm truly bad at that kind of compression (you should see me try to describe Ice Cream Man to people!). But here's my best attempt: A guy walks into a town that isn't really a town. Strange sh*t—on a pretty small scale—there ensues.
DF: Who are some of the other important characters who appear in King of Nowhere? Can you name and spotlight a few here?
W. Maxwell Prince: Here's a handy list:
Jed - An aquatic individual with some similar issues as Denis
Sheriff Tucker - the guy in charge of Nowhere; he keeps one eye on everything
Tree-Greg - big and barky
Cullen - A bruiser with hands to spare
DF: Mistaken identities enter into this saga at some point. Aside from the bizarre environment, do we have a taste of Hitchcockian North by Northwest here?
W. Maxwell Prince: That's probably right. And Birds too because King of Nowhere has quite a few feathered individuals that would scare big-eyed blonde ladies.
DF: What should a reader picking up King of Nowhere in March expect?
W. Maxwell Prince: Beautiful art by Team Jenkins; a dreamlike experience; fish-persons; non-persons; person-persons; a lot of swearing; the way small lives can take on a large aspect.
DF: Hah! There's your elevator pitch! … Talk more about the awe-inspiring team of artist Tyler Jenkins and colorist Hilary Jenkins.
W. Maxwell Prince: I wasn't going to take on a non-Ice-Cream-Man comics project, but when Eric [Harburn, BOOM! Studios Senior Editor] said I could work with Tyler and Hilary, I had to say yes. That's the best encapsulation of what I think about how good they are.
Their work has what I've described to people as a "groove"—like a song with a really out-there guitar and bass part that then comes back to a familiar, major-scale refrain.
DF: Will, what are some of the other projects, inside or outside comics, you can tell readers about?
W. Maxwell Prince: I'm currently learning how to braid my daughter's hair, and cutting the legs for a little walnut side table. And also writing a comic about clowns, to be announced later this year.
Dynamic Forces would like to thank W. Maxwell Prince for taking time out of his busy schedule to answer our questions. King of Nowhere #1 from BOOM! Studios hits stores March 4th!
For more news and up-to-date announcements, join us here at Dynamic Forces, www.dynamicforces.com/htmlfiles/, "LIKE" us on Facebook, www.facebook.com/dynamicforcesinc, and follow us on Twitter, www.twitter.com/dynamicforces.
---
NEW! 1. 12/04/2020 - JOSH BLAYLOCK
3. 11/30/2020 - SKYLAR PATRIDGE