RAY FAWKES

SEND THIS TO A FRIEND!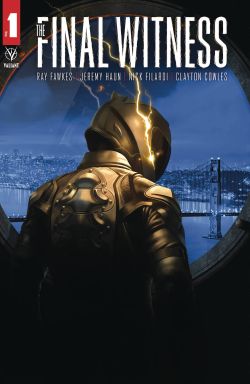 DF Interview: Ray Fawkes uncovers Valiant's first foray into crime noir and murder mystery in 'The Final Witness'
By Byron Brewer
A super-powered serial killer is terrorizing San Francisco, but they're no Zodiac – they're worse. The detective, the reporter, the new superhero in town... who will be the final witness?
Ray Fawkes (Gotham By Midnight) and Jeremy Haun (The Red Mother) ignite a chilling new crime noir mystery in Valiant's The Final Witness. You just KNOW DF had to find out about this one, so we chatted with the second comics creator we ever interviewed for this forum: scribe Ray Fawkes.
Dynamic Forces: It's always difficult to write questions about a mystery book like The Final Witness. Or answer them. You want to get readers excited about the overall book without revealing your card hand. With that in mind, Ray, forward we will go: Tell readers how this book came about. New stuff or long-time brewing?
Ray Fawkes: A little of both. I've wanted to write a procedural mystery for some time, and Heather Antos at Valiant came to me with an idea that fit perfectly. The more we developed the concept, the more I got into presenting it the way you'll see it in the finished product: a thrilling way to present something very new.
DF: Valiant's FIRST noir crime mystery, yes! … What can you tell us about the storyline of this book without any spoilers or repeating the solicit (which I myself have repeated for the intro of this interview, no mystery there, LOL)?
Ray Fawkes: Ha! Without any spoilers? I can tell you that this is a story about a horrifying truth, and the three characters who are not only uniquely qualified to uncover that truth, but who are also uniquely qualified to understand how it will change the Valiant Universe.
DF: As you are able, can you introduce readers to the detective?
Ray Fawkes: Detective Hannah Grey is San Francisco Homicide Police – she's experienced, brilliant and completely dedicated to her job: solving murders. Like a lot of people in her job, she tends to neglect her own well-being in pursuit of the answers. But she gets those answers – so all the people who worry about her have a hard time convincing her to slow down. This case is the one that will push her to her limits in more than one way.
DF: … The reporter?
Ray Fawkes: David Parson: an award-winning journalist in pursuit of the stories that most people are too uncomfortable to tell. He dislikes the internet, sneers at celebrity, and absolutely despises superheroes. When he gets ahold of a real piece – a piece like the one represented by the crime in The Final Witness – he digs harder and deeper than anybody else.
DF: … The new superhero in town?
Ray Fawkes: A mysterious, anonymous man in motorcycle gear with seemingly unlimited power. He came out of nowhere, and he's San Francisco's first home-grown superhero. Readers will meet him right away in the first issue – and he's learning what he's capable of in the story, just as we learn about him. He's the kind of guy who figured that being a superhero would just mean pulling people out of bad situations. And right away, he'll be confronted with something much more complicated than that.
DF: The quest that unites these protagonists is a super-powered San Francisco serial killer. I am not going to ask any questions about him/her/they (fruitless), BUT can you tell us a bit about the crimes thus far of this antagonist?
Ray Fawkes: All I can tell you is that the bodies – which start racking up more quickly than any of our protagonists are comfortable with – are found in such a bizarre, incomprehensibly mutilated state that it takes them some time to even figure out that their murderer is super-powered. Once that happens, things just get worse and worse…
DF: Talk about the epic art of Jeremy Haun.
Ray Fawkes: I can't praise Jeremy enough. We've worked together several times in the past, and each time he surprises me with his incredible character work and his deft storytelling. He'll be the first to tell you that I'm pretty demanding in my scripts… and I'm here to tell you that I ask so much of him because I know he's among the best, and he'll have no trouble giving the readers a fantastically realized story.
DF: Ray, my old friend, tell us what projects near-future are cooking on the imaginative Fawkes fire.
Ray Fawkes: More of The Final Witness, if fans show the support and enthusiasm we're hoping for! And after that? We shall see!
Dynamic Forces would like to thank Ray Fawkes for taking time out of his busy schedule to answer our questions. The Final Witness #1 from Valiant hits stores April 29th!
For more news and up-to-date announcements, join us here at Dynamic Forces, www.dynamicforces.com/htmlfiles/, "LIKE" us on Facebook, www.facebook.com/dynamicforcesinc, and follow us on Twitter, www.twitter.com/dynamicforces.
PATHFINDER: GOBLINS! TRADE PAPERBACK
THE SOVEREIGNS: END OF THE GOLDEN AGE TRADE PAPERBACK
PATHFINDER: GOBLINS! #3 (OF 5) EXCLUSIVE SUBSCRIPTION VARIANT COVER
---
NEW! 1. 12/04/2020 - JOSH BLAYLOCK
3. 11/30/2020 - SKYLAR PATRIDGE