MACON BLAIR

SEND THIS TO A FRIEND!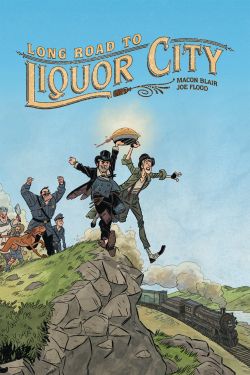 DF Interview: Macon Blair takes the 'Long Road to Liquor City' in new OGN
By Byron Brewer
As jaunty hobos Jed and Thanny crisscross the country in search of the fabled Liquor City, they are pursued relentlessly by the fearsome railyard bull Sgt. Ronan O'Feathers, who wrongly blames the boys for his wife's death. Fleeing O'Feathers and his posse, they encounter a succession of colorful characters along the way. Some are underdogs, fellow misfits the boys end up doing right by, even if only by accident. Some are greedy and cruel, bullies that the boys make a headache for because they don't appreciate being pushed around or anyone who's doing the pushing. The only constant is the absurdity and mayhem they leave in their wake.
From filmmaker Macon Blair (Blue Ruin, I Don't Feel at Home in This World Anymore) and artist Joe Flood (Science Comics) comes Long Road to Liquor City, a Great Depression-era adventure comedy about friendship, the open road, and the pursuit of happiness. DF talked with scribe Macon Blair about the coming Oni Press graphic novel.
Dynamic Forces: Macon, what can you tell readers about the inspiration for your graphic novel, Long Road to Liquor City? Is the book the result of a new idea or something you've been contemplating awhile?
Macon Blair: This one has been in the works for quite a while. Originally it was a screenplay but the more and more fun I had with it—the bigger and rowdier and "cussier" it got—it became less and less likely to ever get made. Too expensive, too dirty, too specific a sense of humor. Joe and I had recently put out Hellcity and I'd had a great time working with him, loved his art, so I suggested we try Liquor City as a comic as well. He dove right in and for a time there we were trucking along but then both of us had families and had to turn our career attention elsewhere for a while (at this time LC had no publisher) and so it kind of went into hibernation until Oni Press came on board and zapped it back to life.
DF: Introduce us, if you will, to Jed and Thanny.
Macon Blair: Distinguished Men of the Road. Fun-loving pie-eating mash-sipping mustard-licking goat-chasing freewheelers looking for a better station of life, but not too much better, nothing that would require a job or an address. A teacher and his student, mentor and mentee. Best friends, partners, and lovers who are always bickering but could not stand to be parted.
DF: What can you tell readers about Sgt. Ronan O'Feathers?
Macon Blair: A nasty piece of work. A big brutal son of a bitch. Singularly obsessed with tracking down and exacting revenge on Jed and Thanny as he holds them responsible for the death of his wife. Tireless, pitiless, driven by soul-shaking rage. Very powerful mustache.
DF: Give me the elevator pitch for this OGN. (No fair using solicit copy. I'm stealing it and using it elsewhere in the interview, LOL!)
Macon Blair: In a mythical reimagining of the Great Depression, a pair of happy-go-lucky hobos search for the fabled wonderland of Liquor City, all the while pursued by a psychotic railroad cop who'll stop at nothing to see them destroyed. An adventure and a comedy and a romance of the road.
DF: I know this is chiefly a comedy, but, as you pointed out, it occurs during the era of the Great Depression where a good many good men were hobos (maybe not so jaunty; hunger will do that). Did you or artist-co/creator Joe Flood do any research into the time period for this book?
Macon Blair: Absolutely. Joe is especially rigorous with the period details in his artwork and it's a time in history that's always been fascinating to me. It's important to have that bedrock of truth… but the intention here was never to be a historical document. It's much more meant as a fantasy story than as a Ken Burns-type deal.
DF: In a non-spoilery manner, can you shine a little light onto some of the colorful characters in the OGN encountered by Thanny and Jed? Maybe just one example?
Macon Blair: Just one?! Their whole thing is meeting colorful characters along the way (sometimes making friends but more often making a mess) so it's hard to pick but I think my favorite is Winston, the Wolf Boy, who's being held captive by a shady freak show, but has big dreams of being a star of Broadway. He wants to play Hamlet more than anything. I loved the way Joe brought him to life, and he gets to kind of become the hero at one point. He will be back in future episodes.
DF: Talk about the art of Joe Flood.
Macon Blair: Joe's art is wonderfully stylized but at the same time, it's so rich and detailed and emotional. I find myself staring at his panels over and over, discovering all the little sub-plots he's built in there. And for a book that relies so heavily on 'performances', he animates the faces and the physicality of the characters in this really precise but loving way. He's a director of actors as much as he is a cartoonist.
DF: Macon, do you have any projects, in or out of comics, that you can tell readers about?
Macon Blair: I hope to do some more Liquor City books, for sure. And I'm developing a few movie projects—once again, big budget hard-to-classify scripts that are going to be tricky to get financed—which I'd love to adapt as comics if they don't work out as films. Always trying to keep a lot of spaghetti on the wall because it's never clear what's gonna stick.
Dynamic Forces would like to thank Macon Blair for taking time out of his busy schedule to answer our questions. The Long Road to Liquor City graphic novel from Oni Press hits stores Feb. 20th!
For more news and up-to-date announcements, join us here at Dynamic Forces, www.dynamicforces.com/htmlfiles/, "LIKE" us on Facebook, www.facebook.com/dynamicforcesinc, and follow us on Twitter, www.twitter.com/dynamicforces.
---
NEW! 1. 11/30/2020 - SKYLAR PATRIDGE
5. 11/16/2020 - RYAN O'SULLIVAN