PAT SHAND

SEND THIS TO A FRIEND!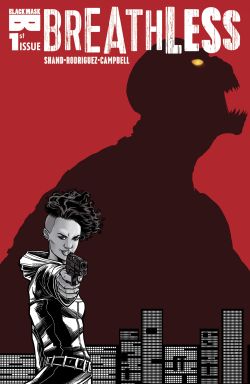 DF Interview: Pat Shand marches metaphorically on medical monopolies in Breathless
By Byron Brewer
It's Buffy the Vampire Slayer if the villains were big pharma.
Scout Turner works as a cryptozoologist, examining and cataloging supernatural creatures for scientific purposes. When she discovers the cure for asthma in the venom of a new breed of monster, she quickly finds herself on the run from Kenilworth Pharmaceuticals and the monsters that they've hired to kill her. With no one by her side but her clueless assistant, a morally ambiguous succubus, and her geriatric dog, Scout goes on the run ... but in a world controlled by money and drugs, can she escape the reaching claws of a medical monopoly?
From Black Mask Comics comes Breathless by writer Pat Shand (Destiny NY, Guardians of the Galaxy) and artist Renzo Rodriguez (Hellchild). To get the full 411 for you, DF had a rather breathless chat with scribe Pat Shand.
Dynamic Forces: Pat, the villain in this new comic seems to be big pharma. Trouble getting your prescriptions filled? (Laughs) Seriously, it is an issue out of today's headlines. Was there any special inspiration for Breathless?
Pat Shand: Actually, yeah! Hahaha. Something that I don't frequently see spoken about in the comics industry, or really any creative industry, is that we're kind of on our own with health insurance, you know what I mean? I pay out of pocket for what I can afford, which isn't a lot, which really jacks up the price of prescriptions … which I need, constantly to, you know, breathe on a daily basis. I think a lot about this industry, the pharmaceutical industry and really the larger health care industry in America, that makes its riches off of prolonged suffering.
Also, we have big, slimy, nightmarish demons in Breathless, so our monsters are of both the human and supernatural variety.
DF: Just an aside before we get to the book proper, but growing up in Kentucky (between the creek, the river and the railroad tracks) I had asthma at a very young age. Did you suffer from similar that made you choose that particular malady for this adventure?
Pat Shand: Yeah, absolutely. Asthma and allergies. My medication keeps me okay, but it costs about half of what I make every month to afford that medication. Breathless does come from a place of anger over that, but our lead character Scout has a lot more going on than her asthma too.
DF: Introduce us please to Scout Turner.
Pat Shand: Scout is an asthmatic cryptzoologist who spends her days dissecting monsters for a shady, secretive company that wants to use the undiscovered properties within these cryptids for medicinal purposes. Or, sometimes, for food or cosmetics – anything, really. They'd be just as happy with a miracle weight loss serum found in the blood of the creature from the black lagoon as they would the cure for cancer hidden in a banshee's pancreas. Scout is in this place where she started working there very young, so she doesn't really believe that she can do anything else … so she's stuck at this company that, according to the government, doesn't exist. Meanwhile, when she goes home, she has to deal with her erratic aunt and her geriatric dog. So Scout is looking for a big change, she just doesn't know where to find it yet.
She loves the dog, though.
DF: She has some very unusual allies. What can you tell us about them?
Pat Shand: Her assistant is Grace-Eisley Wellington Burke, a super chipper and motor-mouthed young scientist who obsesses over a new woman every few weeks. She is very much the opposite of Scout, who likes to think of herself as a still-waters-run-deep type, but there is a lot of affection there that Scout will never admit, but that Grace-Eisley will gush about constantly.
The big drama of this series starts when Scout potentially discovers something huge, and as soon as Grace-Eisley finds out, she tweets about it. And, in her defense, no one told her not to. It just didn't seem like a thing they'd have to mention. Welp!
DF: Who are Kenilworth Pharmaceuticals?
Pat Shand: They're the people who would very much not want any potential medical discoveries to come out without having a plan of action. They're the folks that make bank off of us.
Also, the owners? A father and a son. We're going to get to know them rather well in these four issues. Find out what makes a person like that tick.
DF: Monsters! Tell us about the monsters!
Pat Shand: In the world of Breathless, monsters integrate with society in a way that's a lot more like Supernatural, for example, than True Blood. Supernatural stuff happens, but most of the people who see monsters don't make it out alive to tell their stories. Society as a whole is not aware of their existence. That's sort of what alienates Scout is that her whole world is monsters.
She also has this sort of strained, weird friendship with Farren, this homeless succubus who lives in a Burton-esque tower of cardboard boxes in an alley by an abandoned building. Scout mostly goes there to threaten Farren away from eating stray animals, but it's the closest thing to a friendship outside of work that Scout has. She's aware that's pathetic, though – she's working on it. Kind of.
DF: What does artist Renzo Rodriguez bring to this table?
Pat Shand: Renzo is the reason this book is filled with monsters. I was working with him on a few work-for-hire titles before, and the way he draws these creatures is just incredible. He drew a pair of "fascist flytraps" for our previous series, which were basically asshole dudes going around harassing people, but their faces would split open into this Demogorgon type of nightmare. It's also the way he draws action and emotion that made me want to collaborate together again. I can feel Renzo's artwork, and that is always the most important thing to me. I believe in his characters. When they are sad, it cuts deep. When they are angry, I feel it in my gut.
Honestly, I wrote Breathless for him. I don't think it would've ever even existed in my mind if he and I hadn't started working together. I'm glad that our first joint as co-creators could be at Black Mask, too. The treatment here has been incredible, which is a breath of fresh air.
DF: Pat, any other projects current or near-future you can tell us about?
Pat Shand: Yeah, for sure! I run my own company as well, Space Between Entertainment, which I use to publish graphic novels, videos and my weekly podcast. Our flagship series is Destiny, NY and the second volume will be out this year. That one is a romance about two former magical girls who are trying to find happiness and meaning in a New York City where magic is a real and accepted part of everyday life. I plan on releasing one volume per year for at least the next six or so years.
Also from Space Between, our next title Prison Witch hits Kickstarter in March. That's co-written by me and my wife Amy, and it's … well, it's pretty self-explanatory! Witches in prison. It's The Craft meets Orange is the New Black. I'm so, so excited for this one.
On the freelancing side of things, I'm writing stories in each issue of Avatar Press's Crossed +100 relaunch this March. Those stores are based on notes by Alan Moore, which as you can imagine is one of the craziest things to ever happen in my career. I'm also working on a ton of other stuff for Avatar, as well as Casper and Underdog comics from American Mythology Productions and some Disney stuff for Joe Books. So I've got all of that Hard-R horror stuff and the all-ages comics coming out at the same time, hahaha. Gotta keep it diverse. Some people are all about their brand, you know? My brand is "F**k it, yeah, I'll write that!"
I'm trying to have a busy 2018! Otherwise, how the f**k can I afford those prescriptions?
Dynamic Forces would like to thank Pat Shand for taking time out of his busy schedule to answer our questions. Breathless #1 from Black Mask Comics hits stores March 28th!
For more news and up-to-date announcements, join us here at Dynamic Forces, www.dynamicforces.com/htmlfiles/, "LIKE" us on Facebook, www.facebook.com/dynamicforcesinc, and follow us on Twitter, www.twitter.com/dynamicforces.
---
NEW! 1. 01/21/2021 - RORY MCCONVILLE
5. 01/07/2021 - DARICK ROBERTSON