MATT OWEN

SEND THIS TO A FRIEND!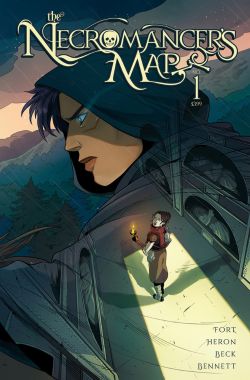 DF Interview: A ninja hits the neon in Matt Owens' Elektra
By Byron Brewer
Running from her tumultuous past, Elektra attempts to lose herself in a vibrant sea of neon, noise and anonymity: Las Vegas! But how long can a former ninja assassin really hope to escape the vortex of violence that encompasses her life ... especially when there's a new player in Sin City that has her in his sights for his newest game? Enter: Arcade!
Written by Matt Owens (his very first comic!), a scribe of Netflix's Luke Cage TV series, and drawn by Juan Cabal, Elektra will hit the ground running in her new mag with a "Casino Battle Royale"! To find out more, DF flew to Vegas (on the company dime, of course) to speak to Matt Owens.
Dynamic Forces: Matt, from the moment she popped out of Frank Miller's brain, Elektra has been a hot commodity. But like many race horses, she has also had a lot of false starts – including being replaced by a Skrull! With new fans via the Netflix TV shows – an area you know well -- who and what will Elektra be in this new Marvel comic?
Matt Owens: Whether hero or villain, Skrull or Hand assassin, Elektra has consistently been one thing above all else: a badass woman who is driven and good at what she does. That's the most important thing you need to know about her. She has a complicated past and she's trying to put aspects of that behind her. But as one of the best killers in the world, people will seek to use her and her skills in different ways. That's some of the conflict she will come across.
DF: Over across the hall of the House of Ideas, it was just announced there will be a new Defenders mag featuring the characters who also star in Netflix shows (street heroes). Will Elektra have any part in the Defenders (which I take it will include Daredevil)?
Matt Owens: I wrote on The Defenders Netflix series so I know of Elektra's involvement in that. Of course, Marvel blood contracts forbid me from saying anything other than the fact that Elektra is in it. As for the new Defenders book, I don't actually know anything. There is a lot of collaboration between writers and artists on the comics side, but right now Defenders is one I don't know about. But I want to! I can't wait to read it!
DF: Our favorite assassin is in Las Vegas! Very exciting. In stories like these, writers sometimes paint such a vivid verbal/plotting picture that the location actually becomes a character in the story (Gotham in Batman, for example). Can we look forward to that in Elektra vis-à-vis Vegas and what kind of research have you done toward that end?
Matt Owens: Because Vegas is such a different backdrop for Elektra, I really wanted you to feel the city and it how contrasts with her usual haunts. The lights, the atmosphere. I love Vegas myself so I infused some of my favorite things into it as well. You will see some familiar Vegas landmarks in the book and you'll feel you are right on the casino floor with Elektra when she's drinking and gambling around. Juan Cabal did a fantastic job of really immersing the reader in Vegas.
DF: I love Arcade. While he has been handled many ways, I really see him as kind of the MU's resident Joker: zany sometimes but insane always. Tell us your take on this games master and what role he will play in Elektra's life.
Matt Owens: That's what I love about Arcade as well. He's brilliant and unhinged. Demented and playful. When we find Arcade now he is taking his bloodthirst and his intellect and applying them to the age-old criminal love of making money. He fits in perfectly in Vegas. He has a pretty good thing going with his new game and when Elektra come on his radar it's an opportunity he cannot pass up.
DF: Any new, interesting supporting characters we should be looking out for here?
Matt Owens: There is a colorful cast of new supporting characters to match the colorful lights of the city. They will be on both sides of the conflict Elektra finds herself in. There's a bartender, a boxer, a gangster, and a Japanese idol just to tease a few. Additionally, there is another Marvel villain teaming up with Arcade whom I won't give away. It's a seemingly random pairing but it does make sense and is super fun.
DF: How has it been working with artist Juan Cabal? What does he bring to this bloody but sleek neon table?
Matt Owens: Juan is an incredible partner. He has a great sense of humor that plays in his art. He always goes the extra mile to make scenes even better. We have a good back and forth at this point and we're starting to read each others' minds a bit on what gets us excited and the types of stuff we want to do.
DF: Matt, any other projects current or near-future you can tell us about?
Matt Owens: I came to the comics from the TV side of Marvel. So I'm back on Luke Cage on Netflix while continuing to work on Elektra. I love comics. It's where all of this started for me. So I hope to continue writing Elektra and any other projects Marvel is willing to let me take a crack at!
Dynamic Forces would like to thank Matt Owens for taking time out of his busy schedule to answer our questions. Elektra #1 from Marvel Comics hits stores Feb. 22nd!
For more news and up-to-date announcements, join us here at Dynamic Forces, www.dynamicforces.com/htmlfiles/, "LIKE" us on Facebook, www.facebook.com/dynamicforcesinc, and follow us on Twitter, www.twitter.com/dynamicforces
ELEKTRA AND WOLVERINE #1: THE REDEEMER - SIGNED VERSION
ELEKTRA #1 SIGNED & REMARKED IN FULL COLOR BY DYNAMIC SUPERSTAR ARTIST KATIE HIDALGO!
ELEKTRA #1 RARE RETAILER VARIANT COVER BY SKOTTIE YOUNG CGC GRADED 9.8!
ELEKTRA #1 SIGNED BY HADEN BLACKMAN!
---
NEW! 1. 11/25/2020 - STEVE SKROCE
4. 11/16/2020 - RYAN O'SULLIVAN
5. 11/16/2020 - RYAN O'SULLIVAN