CHUCK BROWN

SEND THIS TO A FRIEND!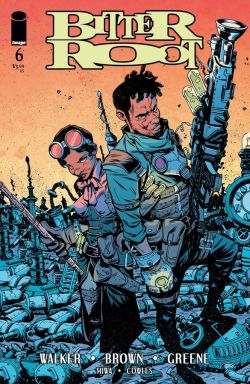 DF Interview: Chuck Brown brings new arc, new threat to Earth with return of 'Bitter Root'
By Byron Brewer
Loved ones once thought lost forever have returned, though the bliss of this family reunion doesn't last for long. Cullen has changed, and everyone is concerned. But they'll need all the help they can get, as a new threat has arrived on Earth.
Co-writers Chuck Brown and David F. Walker are back with artist Sanford Greene for a new arc of the much-praised Image comic, Bitter Root. Hopping right on board the returning series, DF sat down to discuss the coming arc with co-scribe Chuck Brown.
Dynamic Forces: Chuck, it was a long – a very long – time coming, but it seems like your series Bitter Root has taken seed (see how I did that there, LOL) and is beginning to blossom in an epic way. One of the most honored titles of the just-passed year, how does this all feel to you and has it made any changes in your comic book career?
Chuck Brown: I'm really happy that people are enjoying the book. It's seeing a lot of success and attention. My career as a writer hasn't really changed that much. At least I don't think it has. I'm just one small piece of the Bitter Root puzzle.
DF: Set in the 1920s while the Harlem Renaissance is in full swing – and the fantastical world of monsters aside – Bitter Root and the personal saga of the Sangerye family has a kind of big nighttime soap opera feel to me, and in a good way. The background atmosphere is almost a character (like Gotham in Batman or London in a good Holmes mystery). How do you and co-writer David Walker work with artist Sanford Greene and newcomer colorist Sofie Dodgson to achieve this and still move the story forward?
Chuck Brown: As you know, comics have a lot of moving parts. We do our best to commutate our visions and somehow it all comes together. The book takes on a life of its own.
DF: For those just coming out from under a rock, tell us about the basic setup for Bitter Root and where we will find the characters when a new arc starts with issue #6.
Chuck Brown: The family has been hunting and curing these creatures called Jinoo for centuries. The Jinoo were once human until hate made them monsters. Our story is about a new kind of monster that is a victim of hate. It's also about this family trying to mend old wounds.
DF: A new evil is arising on this Earth, I hear. Any non-spoilery clues as to this? Were there seeds of such in the last arc, may I ask?
Chuck Brown: Dr. Sylvester is just the beginning. As his power grows, other evil forces take notice and set their sights on Harlem.
DF: What news on the film development of Bitter Root?
Chuck Brown: I really can't say much. Legendary, Ryan [Coogler] and Zinzi [Evans] are hard at work trying to bring Bitter Root to the big screen.
DF: Chuck, what ongoing or new projects of yours can you tell readers about?
My Image comic On the Stump will be in stores February 19th. You can check it out at onthestumpcomic.com
I have a Wolverine story in Marvel Voices #1, also in stores on February 19th.
Dynamic Forces would like to thank Chuck Brown for taking time out of his busy schedule to answer our questions. A new arc begins in Bitter Root #6 from Image Comics, in stores February 19th!
For more news and up-to-date announcements, join us here at Dynamic Forces, www.dynamicforces.com/htmlfiles/, "LIKE" us on Facebook, www.facebook.com/dynamicforcesinc, and follow us on Twitter, www.twitter.com/dynamicforces.
---
NEW! 1. 12/04/2020 - JOSH BLAYLOCK
3. 11/30/2020 - SKYLAR PATRIDGE