SIMON SPURRIER

SEND THIS TO A FRIEND!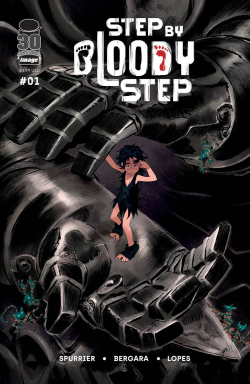 DF Interview: Simon Spurrier says quite a lot in his silent comic, 'Step by Bloody Step'
By Byron Brewer
An armored giant and a helpless child. Together they cross an astonishing world brimming with beasts, bandits, and – deadliest by far – civilizations… If they stop walking, the earth itself forces them onwards. WHY? The child can't ask. She and her guardian have no language, no memory, nothing – except each other.
Multiple-Eisner nominees Simon Spurrier (X-Men), Matias Bergara (Coda), and Matheus Lopes (Supergirl) present what may be a watershed moment in modern comics: four double-length chapters of a bittersweet fantasy opus, completely text free. I sat down with Simon Spurrier to discuss this unique book. Let's take a walk.
Byron Brewer: Si, before we begin our interview on Step by Bloody Step, I was reading some comments from others in and out of our industry. One said simply, "It reminds me again why I love comics." Pretty much says it all for anyone passionate about our industry. Why does Step by Bloody Step remind so many of their deep love for this medium?
Simon Spurrier: Ha, yes, that's been a recurring refrain. Really nice to hear people say that sort of thing.
I think I take it as proof positive that we've done a decent job in the mission we set ourselves. We wanted to prove it's possible to tell an intricate, twisty, characterful and above-all engaging story without a single line of dialogue. To show a book can be an entertaining and kickass ride while thrumming with all the value and skill of a genuine artistic masterpiece. To let the imagery be the star. To let the world draw the reader in.
It's like that hoary old myth, isn't it? When someone loses one of their senses, so it goes, all their others get more heightened. I'm not sure there's much truth in that, but I'm certain that when you remove one element from your storytelling toolbox it makes the others work harder. That reminds readers just how pure, how immersive, the medium can be. Take away the loudest voice in the choir and you start to hear the nuance and sweetness of the others. You remember what made you fall in love with melody in the first place.
Byron: For the uninitiated, Step by Bloody Step is told without text, without a single word. Many would – and do – contend it is less work for a writer, but I proclaim it is actually MORE work for a writer. Tell me if I am correct or not, and why this labor of love for you was STILL a labor.
Simon Spurrier: It's both easier and harder, oddly enough. It's obviously far quicker to simply type-up a script when there's no dialogue, but it takes a lot more thought beforehand, and I'd argue a lot more skill to avoid getting it wrong. My readers (not to mention my editors and artists) will know I'm quite a wordy writer. "I didn't have time to write you a short letter, so I wrote you a long one" – very apt, for me. I love voices, I love idiosyncratic speakers. Cutting all of that away was a huge challenge. As a team we learned a lot very quickly. Watching Matias realize he could throw in as many semi-beats as he wanted, that he didn't need to preserve loads of space for balloons, that character interactions are at root a series of beautiful tiny gestures, rather than a big dumb download of words… it's been a real joy to behold.
What's really fascinating is not so much the speed of writing, but of reading. One might assume a book with no words would be consumed a lot quicker, but we've found the opposite. The eye of a comicbook reader is usually very lazy. It jumps first to the big convenient chunk of text, then takes some time to compare what it just learned with the imagery around it. To confirm, deny or juxtapose what it already knows, rather than investigating something from scratch. When there's no balloon to latch onto, the eye has to do some serious detective work.
It follows that the pacing is quite different too. It's a pretty intense book to read, surprisingly. We had to put a lot more thought into the dissemination of beats and information. We learned to build-in deliberate lacunae. Double page splashes of pure landscape, to give the reader's unconscious mind a chance to take a breath.
It simply wouldn't be possible to create something like this – and certainly not to sustain it for 160 pages – without genuine visual masters at the helm. Without Matias and Matheus, Step by Bloody Step wouldn't be possible. With them? It has this delicious effect of absorbing the reader. Converting all that subconscious effort and intensity into emotional feedback.
If I sound pretentious about this it's purely because I've spent months thinking about this stuff. The simplest way to put it – and I mean this in every conceivable sense – is:
It's magic.
Byron: Exposition dump: Tell readers (with those other beautiful objects called words, please) what this comic is all about, avoiding spoilers, of course. If you want to promote individual interpretation, tell readers what this awesome mag means to you and artist Matias Bergara.
Simon Spurrier: A girl wakes in the middle of a blizzard. She's freezing, she's scared. She has no name. No memories. No language. Nothing. Nothing, that is, except a giant. A vast armored warrior who carries her until she learns to walk, then protects and guides her every step thereafter.
Together they walk. They walk across the most spectacular and savage fantasy world imaginable. Teeming with beautiful, terrible life. If they ever stop walking, or turn off their path, or try to go back, the world itself seems to come alive. Forcing them onwards. It's violent. It's frightening. And of course, they can't ask why. And so they walk.
Little by little the obstacles in their way change from being merely monstrous – the warrior can tackle any beast or devil – and become more subtle. More human. More civilized…
Because, you see, even though these two adventurers don't know who they are or where they're going, they quickly discover that there are those who think nothing of manipulating, misdirecting and exploiting them.
At its heart Step by Bloody Step is about the powerful bond between a child and her guardian – an unconditional love stronger than any fiend or foe. But all disguised as the most relentless blast of alien fantasy sci-fi roadtrip spectacle imaginable.
With – as you would expect from me – twists, big twists, in the road.
Byron: Speaking of Bergara, your partner on your well-received comic Coda, talk about his work along with the efforts of colorist Matheus Lopes.
Simon Spurrier: I think I covered this earlier with a single phrase: visual masters.
When Matias and I did Coda, it went gallivanting off round the world into a whole bunch of different language editions, and has won awards and nominations everywhere it's gone. Not bad for a subversive post-apocalyptic fantasy whose central conceit is that the main character is lying to everyone, all the time. Not least himself.
Well. We knew we had to do something even more ambitious to follow up. I realized that if you're lucky enough to be working with an artist of Matias's caliber, there's simply no point setting him a task that any artist could do. I wanted to set him a challenge in which only he could succeed. Because he's brilliant, and driven, and he knows what works.
The decision to bring in Matheus is a case in point. An inspired bit of casting. Colorists contribute colossally to any book, but moreso one with no words. Nominative confusion during spoken interviews notwithstanding, these two produce miracles even greater than the sum of their parts.
Byron: Some would call this the great success of an experimental comic book… certainly by a majority of reactions to it. Should the industry make more room for books such as Step by Bloody Step, books that fill you full of feels and swell the chest or touch upon images from readers' own imaginations?
Simon Spurrier: Of course. I want to see a world where "comics" is just another medium, as pluripotent and unrestrictive in the cultural unconscious as any other. We don't hear the word "movie" and make assumptions about what's implied – it could be anything under the sun. A romance about pigeons. A war story set in the corona of the sun. A two-hander about assisted dying.
Why then does the comics industry – at least in the US sphere – have such lazy connotations and assumptions to do with genre, subgenre, content and tone?
It's getting far better these days, I'll happily concede. Gone are the days when a book needed spandex – or cleavage – or both – to earn a crust. With Step by Bloody Step we're simply hoping to persuade a few readers that what may seem like an arthouse experiment, well – isn't. That it is, in fact, every bit as thrilling, intricate and entertaining as the best of the more conventional fare. There aren't any limits to the stories that can be told in comics; why impose them on ourselves?
Byron: Si, tell readers about some other upcoming projects in which you are involved.
Simon Spurrier: Oh, too many to remember.
Let's see… there's Suicide Squad: Blaze, with my Hellblazer comrade Aaron Campbell. In fact, it's the whole Hellblazer band back together again, which gives you a sense of what to expect tonally. I think it might be the best Suicide Squad story every committed to print – I say that without undue arrogance, only insane pride in my team – but even if not: it's definitely the nastiest. That launches early February.
There are various other projects in a similar vein I can't talk about yet.
Across the street I've got Legion of X starting in, I think, April. That's with Jan Bazaldua on art. It's my take on a law-enforcement precinct ensemble show, albeit with a deeply psychedelic slant, partially set on the astral plane, amidst a community of highly volatile superhumans, without any actual adherence to the law. Very much My Sort Of Bullsh*t, basically. Other irons in other fires over there too. We in the X office are building some extremely big stuff, step by step. Industry shaking things on the horizon.
We're about halfway through The Rush (or, in full, This Hungry Earth Reddens Under Snowclad Hills) over at Vault, with the remarkable Nathan Gooden on art. That's my spooky Western, set during the last great goldrush, in the snowfields of the Yukon. It flew a little under the radar at first – blame the pandemic – but I genuinely think it's some of my best writing, and Nate's work has to be seen to be believed. A very special, very grimy little nugget of a book.
I have – I think – three? or four? – creator owned comics being worked on, out in the shadows. And I'm increasingly spending more and more time on projects in other media, which I'm enjoying a lot. It is, in short, a nutty period on the Spursphere.
Dynamic Forces would like to thank Simon Spurrier for taking time out of his busy schedule to answer our questions. Step by Bloody Step #1 from Image Comics is slated to be on sale February 23rd!
For more news and up-to-date announcements, join us here at Dynamic Forces, www.dynamicforces.com/htmlfiles/, "LIKE" us on Facebook, www.facebook.com/dynamicforcesinc, and follow us on Twitter, www.twitter.com/dynamicforces.
THE SHADOW: LEVIATHAN TRADE PAPERBACK
SUICIDE SQUAD: BLAZE #1 CGC GRADED
THE SHADOW VOL. 3 #1 - NEAL ADAMS EDITION SIGNED BY NEAL ADAMS
---
NEW! 1. 12/05/2023 - JASON LOO
5. 11/08/2023 - OLIVIA CUARTERO-BRIGGS