FABIAN NICIEZA

SEND THIS TO A FRIEND!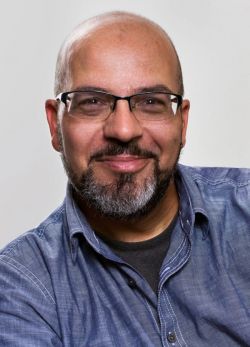 DF Interview: Fabian Nicieza discusses the sell of his first novel, 'Suburban Dicks'
By Byron Brewer
And there came a day, a day unlike any other when it was time… Time for longtime X-Men writer and co-creator of Deadpool Fabian Nicieza to sell his first novel. The double-entendre title of that novel is Suburban Dicks.
DF had a chance to interview the neo-novelist, so we'll let Fabian Nicieza take it from here.
Dynamic Forces: Fabian, before we get in gear for discussing your very FIRST novel, Suburban Dicks, the comic book fanboy question that begs asking (at least from this fan-old man): Now that Disney has merged with Fox, any apprehensions about the Deadpool franchise, a character you co-created?
Fabian Nicieza: Nope. They'll do what they do and, based on their track record, they'll do it well. For me, Deadpool's film success was not based on a movie rating or a movie studio, it was based on the people involved in making it.
So, if Ryan Reynolds, Rhett Reese and Paul Wernick are involved in Disney's release of Deadpool 3, then I have faith it will be a fun movie.
DF: Okay, so why is now THE time to write your first (I cannot believe it) novel?
Fabian Nicieza: Well, technically, now was the time to SELL it. The time to write it started in late 2017!
It's something I've always wanted to do, but never had the time or the confidence to finish what I'd started.
I had the idea in 1993. I had the characters and the working beats that broke the story down since back then, I just didn't have the confidence or the time.
It just so happened that those things came together for me and I just started typing, kept typing, got positive feedback as I went along, started enjoying myself more and more, and it turned out well.
DF: Suburban Dicks. Got the phallic joke in earlier than most, eh? So tell readers what to expect when we crack that cover.
Fabian Nicieza: Well, the double-entendre is actually something few people might get, since private detectives being known as "dicks" is an anachronism, but since both characters are incredibly sarcastic and annoying and since they are investigating a murder in the suburbs, the title always worked very well for me.
As for the story? The murder of a gas station attendant in a New Jersey suburban town draws the interest of two of its residents. Investigating the murder dredges up all the unspoken challenges of changing suburban demographics, questions of white fear, cultural assimilation and systemic racism -- and becomes further complicated as they start turning up human bones all over town that had been buried all over town!
DF: Introduce us to protagonists Andrea Stern and Kenny Lee.
Fabian Nicieza: Andie is a perpetually pregnant 33-year-old mother of four, pregnant with a fifth. She should have been an FBI profiler, but her career was derailed before it started when she became pregnant while a senior in college. Her husband was caught in financial impropriety and that cost them much of their money and his career.
Kenny is a 29-year-old reporter who won a Pulitzer prize while still in college for breaking the story that led to the resignation of a sitting New Jersey Governor, and now, years later, he is a disgraced failure working for a small weekly paper.
They knew each other since they were younger, since Andie had dated Kenny's brother when they were in high school. Kenny had an unrequited crush on her then, but their interaction is not romantic at all, it is tinged with sarcasm, regret, recriminations and self-doubt.
DF: Other characters of interest in the work? Can you give them a small spotlight here? Without spoilers, of course.
Fabian Nicieza: The police play a big part in the story because the police might have something to do with the cover-up. The department has been ruled by the Dobeck family for decades, from patriarch Bradley to his son and current chief of police Bennett to grandson, Benjamin, who is currently an officer and friend of Kenny's.
The Mayor of West Windsor has some fun bits, as do other township administrators in this fictional version of the town.
Andie's family and group of friends, she secretly calls the Cellulitists, are also integral to the book, as is Kenny's mother.
DF: I don't like to phrase it as subtext since that is something best left to the reader to discern, but I know your writing well enough that there is always a heapin' helpin' of it to be found. Assuming that rolls over into your first novel, can you talk at all on any – er uh, thematic exploration (how's that?)?
Fabian Nicieza: I always conceived this as a mystery series where the mysteries are less important than the themes explored in each book. The first book is about the fear of cultural change in small towns, fear of "the other" and looking at it from both sides, both those needing to accept those changes and those who are forcing the change by changing the demographics of the town.
Book 2, hopefully, will be about marriage and family, all the things that happen behind your neighbor's closed door (that are also happening behind your own closed door).
So yeah, heapin' helpin' of thematic subtext, but hopefully all told in a sarcastic, cynically-optimistic narrative tone.
To avoid having mobs of suburbanites come after me, one thing I'm trying to impress is that this is a fictionalized version of West Windsor. The places are real, street names, schools, buildings, etc., but anything and everything that happens once you get through their front doors is all fiction.
The people are fictional and not representative of anyone in the town past or present. I say this as a caveat, because I do eviscerate a lot of the conventions we all have about our numbingly routine suburban lives.
DF: What other future projects – in comics, novels, et al – can our readers look forward to from you?
Fabian Nicieza: Outrage Season 2 will be launching soon on Webtoon. It's a 30-chapter season that finds the outrage making its way out in the real world as "Outrager Cells" from all walks of life are taking their anger off social media and on to the streets! Reilly Brown, Jay Leisten, Matt Herms, Pat Brosseau and I are plugging along right now banking a chunk of chapters in advance of the grueling weekly release schedule that starts catching up to you really quickly.
I am well into a limited series for a company whose name rhymes with Larval, but I can't provide details yet, other than to say it's a character I love, one that I've written before (which isn't much of a clue since I've written all of them!), and with an artist I've known for 30 years and getting to work with him is a thrill because he's #$@&ing GREAT!
The Putnam deal is a two-book deal, so hopefully, if I don't screw this up totally, I'll start working on book two later this year. I have the entire book broken down in outline form by chapter, but rather than the arrogantly terrified guidance provided by my own brain, I now have a great, experienced editor in Mark Tavani to work with.
DF: Fabian, tell us when Suburban Dicks is expected to publish.
Fabian Nicieza: We are scheduled to be released in 2021. That's all I got so far! I hope Spring/Summer, but I don't know specifics yet. Putnam will drive that and I'll be happy to be along for the ride. Rest assured, when details are available, I will be beating the drum as loudly as I can.
Dynamic Forces would like to thank Fabian Nicieza for taking time out of his busy schedule to answer our questions about his FIRST novel. Suburban Dicks from Putnam is slated to debut in 2021. Watch DF News for further updates on the novel.
For more news and up-to-date announcements, join us here at Dynamic Forces, www.dynamicforces.com/htmlfiles/, "LIKE" us on Facebook, www.facebook.com/dynamicforcesinc, and follow us on Twitter, www.twitter.com/dynamicforces.
DEADPOOL #1 SIGNED FABIAN NICIEZA AND REMARKED BY KEN HAESER!
DEADPOOL #1 SIGNED BY FABIAN NICIEZA!
DESPICABLE DEADPOOL #297 SIGNED BY FABIAN NICIEZA
DESPICABLE DEADPOOL #287 BLOOD RED SIGNATURE SERIES SIGNED BY FABIAN NICIEZA
DEADPOOL #287 - SIGNED BY FABIAN NICIEZA
DEADPOOL BACK IN BLACK #1 SIGNED IN BLOOD RED BY DEADPOOL CO-CREATOR FABIAN NICIEZA
DEADPOOL #7 ACTION FIGURE VARIANT GOLD SIGNATURE SERIES SIGNED BY DEADPOOL CO-CREATOR FABIAN NICIEZA
SPIDER-MAN/DEADPOOL #1 ULTRA-RARE ACTION FIGURE PHOTO VARIANT SIGNED BY DEADPOOL CO-CREATOR FABIAN NICIEZA
DEADPOOL VS. GAMBIT #1 SIGNED BY FABIAN NICIEZA
TRUE BELIEVERS: DEADPOOL #1 REPRINTING NEW MUTANTS #98 SIGNED IN BLOOD RED BY CO-CREATOR FABIAN NICIEZA
CONVERGENCE JUSTICE LEAGUE AMERICA #1 STANDARD & VARIANT COVER SET SIGNED BY FABIAN NICIEZA!
---
NEW! 1. 11/25/2020 - STEVE SKROCE
4. 11/16/2020 - RYAN O'SULLIVAN
5. 11/16/2020 - RYAN O'SULLIVAN