JEFF LEMIRE

SEND THIS TO A FRIEND!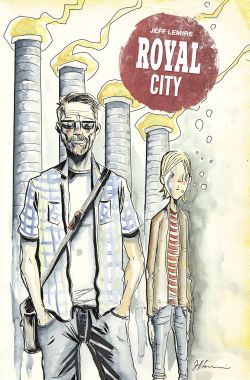 DF Interview: A death haunts a family in Jeff Lemire's Royal City
By Byron Brewer
Royal City charts the lives, loves and losses of a troubled family and a vanishing town across three decades. Patrick Pike, a fading literary star who reluctantly returns to the once-thriving factory town where he grew up, is quickly drawn back into the dramas of his two adult siblings, his overbearing mother, and his brow-beaten father, all of whom are still haunted by different versions of his youngest brother, Tommy, who drowned decades ago.
An intriguing and very personal comic, DF News sat down to discuss this coming Image Comics series with the entire creative team: Jeff Lemire.
Dynamic Forces: Jeff, I was very moved after reading a preview issue of Royal City #1. I almost felt like I was perusing through someone's diary. Forgive me for asking, but is there any personal story from your past or someone you know that might be part of the inspiration for this new series, at least something you can tell us about?
Jeff Lemire: It's funny, I got that question a lot when I was doing Essex County. I tend to do very emotional, character driven stuff and when I strip a lot of the genre elements away like I did in Essex or now with Royal City, people seem to presume it is autobiographical or personal. But the truth is Royal City is fiction. Certainly there are character traits and other things from myself and people in my life that I infuse the characters with, but in terms of the plot, etc., it is all fiction. But the fact that it feels personal and real must be a good sign (I hope).
DF: Royal City certainly has a vibe about it, almost unnerving. How long has this tale been brewing in your brain?
Jeff Lemire: I've been wanting to do a book like Royal City for a long time. I really wanted to get back to doing more grounded stories about "real people" and move away from sci-fi and other genre trappings, because I've done so much of that in the last several years. The specific idea for Royal City came about two years ago, and I started developing it and building the story and characters, but I had to wait until I was done drawing A.D. with Scott Snyder before I could really dive in.
DF: I noticed you chose on this book to do the art as well. It is certainly an unnerving approach in the panels as the story unfolds, perfectly keeping with and often driving the story. Are the art designs of the Pike family based on anyone in particular?
Jeff Lemire: I just tried to make each family member feel like a "real" person you could see on the street and not a comic booky character type. For the first time with this project I am also using models to help with the characters and body language. I'm working with two talented actresses here in Toronto. Rosemary Dunsmore (who is in Orphan Black among other many other things) is my model for the matriarch Patti Pike and Larissa Giroux, who works at The Canadian Film Center, is my model for Tara. They have both helped me add new dimensions to the characters. I mostly use myself as a model for Pat and Richie.
DF: The stark, bleak color palette was perfect for this story, really added to the flow. Did you do the coloring as well, Jeff, and how did your choice of colors set the mood for particular pages?
Jeff Lemire: I am fully painting the entire book myself as well as drawing and writing it. The color style is an approach I've been working on and honing since back on Trillium. That was the first time I played with watercolors and I've kept trying to sharpen my approach and style since then. Working on A.D. with Scott was the project where I really found the style that I am now using on Royal City.
DF: Pat makes a wonderful point-of-view character. Introduce us please to Pat, his family and especially young brother Tommy (in all iterations).
Jeff Lemire: In the past, I've described Pat is sort of my opposite doppelganger. His life parallels my own in many ways, but Pat is sort of what could have happened to me if I'd made all the wrong decisions along the way. He is from a small town and then moved to a big city and worked as a cook while trying to be a writer (just like I did). He found success writing about the town he grew up in with a novel called Royal City (just like I did with Essex County), but then Pat's life diverged from mine. He made a series of bad choices and his follow-up books were flops. Now Pat is called back to the real Royal City when his father has a stroke, and thrust back into the lives of his other and his adult siblings.
They are all haunted by the death of his youngest sibling, Tommy, who drowned under mysterious circumstances when he was 14 years old, back in 1993. Adding to the strangeness of Royal City, each member of the Pike family still carries on a relationship with a different incarnation of the dead Tommy. They all see him in different ways and interact with him in their own lives.
DF: I know a lot of couples like Tara and Steve, right in my own community. Tell us about Tara's marriage, her project with Royal Manufacturing, and her relationship with her mother.
Jeff Lemire: Tara, Pat's sister, stayed in Royal City and became a successful real estate developer. Her newest project may breathe life back into Royal City's failing economy, but at the cost of Royal Manufacturing, the failing factory that has been the cornerstone of RC for decades. This has put her at odds with many people in the community, including her own husband who still works at Royal Manufacturing. Tara is haunted by her past and by her youngest brother's death as well. She still sees him as the little boy she used to babysit when she was a teenager.
DF: I have had a lot of Richies in my life. Can you tell us more of his story, and his version of Tommy?
Jeff Lemire: Richie is his own worst enemy. He is constantly making the wrong decisions and he's very self-destructive. He is estranged from the rest of the family and is also an addict and alcoholic. Of all of them, Richie was the closest to Tommy before he dies and blames himself for his death. There is certainly a lot of mystery around Tommy's death and Richie may know something the others don't. Richie sees Tommy as his hell-raising best friend, his drinking buddy and his enabler. Together they get sucked into the strange criminal underworld of Royal City.
DF: The character who got to me the most was the one on stage the least: Peter, the father. That workshop of his is awesome, though. Any story behind that wonderful workshop?
Jeff Lemire: Oh yes…there is a BIG story behind that workshop. Pete is sort of this brow-beaten, kind-hearted guy who has withdrawn into a word of his own. He spends most of his time in his garage workshop where he collects and repairs vintage radios. HE can hear his lost son Tommy talking to him on the radio waves of dead channels. Or at least he thinks he can. There is A LOT more to this, but I'm not spoiling anything.
DF: Jeff, can you, non-spoilery, hint at where we – and Patrick – go to from here?
Jeff Lemire: Not really. Anything I would say would be giving too much away at this early stage. All I would say is there is more to Royal City than we see on the surface. This is not just a "slice of life" comic. There is something strange going on in this town and Tommy Pike seems to be at the center of it.
Dynamic Forces would like to thank Jeff Lemire for taking time out of his busy schedule to answer our questions. Royal City #1 from Image Comics hits stores March 1st!
For more news and up-to-date announcements, join us here at Dynamic Forces, www.dynamicforces.com/htmlfiles/, "LIKE" us on Facebook, www.facebook.com/dynamicforcesinc, and follow us on Twitter, www.twitter.com/dynamicforces
---
NEW! 1. 11/30/2020 - SKYLAR PATRIDGE
5. 11/16/2020 - RYAN O'SULLIVAN