GABRIEL HARDMAN & CORINNA S. BECHKO

SEND THIS TO A FRIEND!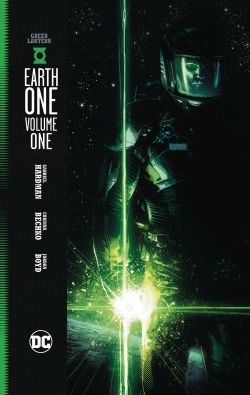 DF Interview: Gabriel Hardman & Corinna S. Bechko put the science back into sci-fi with the Green Lantern: Earth One OGN
By Byron Brewer
The newest Earth One original graphic novel presents an all-new origin for the Emerald Warrior.
Hal Jordan yearns for the thrill of discovery, but the days when astronaut and adventure were synonymous are long gone. His gig prospecting asteroids for Ferris Galactic is less than fulfilling – but at least he's not on Earth, where technology and culture have stagnated. When Jordan finds a powerful ring, he also finds a destiny to live up to. There are worlds beyond his own, unlike anything he ever imagined. But revelation comes with a price: the Green Lantern Corps has fallen, wiped out by ruthless killing machines known as Manhunters. The odds against reviving the Corps are nearly impossible … but doing the impossible is exactly what Hal Jordan was trained to do!
From co-writer and artist Gabriel Hardman (Invisible Republic) and co-writer Corinna S. Bechko (Lords of the Jungle, Miss Fury) comes a soaring original graphic novel that takes a radical new look at the mythology of Green Lantern. Join DF as we do this special interview with Corinna and Gabriel.
Dynamic Forces: First, Gabriel and Corinna, it is always a pleasure to see you two working in tandem. You seem to bring out the best in each other, especially with Gabriel as co-writer AND artist. Tell us a little about your secret, your give-and-take creative process.
Corinna S. Bechko: Thank you! We really try to approach everything we do as if it's the most important story that the characters have ever experienced. That's to say, we take care to make certain the needs of the characters are being met, that they truly feel like the characters, and that the world they inhabit feels like their world. In practice, that involves a lot of back-and-forth between us before we even start writing the plot, just throwing ideas around so that we can both get to the same place with how to represent whatever we are writing about. From there, we have a baseline for entering the plot. We write that the same way, going back and forth, making notes, throwing out ideas that don't fit the feel, and crafting the basic structure. Once we have that we go through the same thing again, with one of us actually writing down what we've worked out before handing it off to the other to refine. It takes several passes like that, but eventually we have a workable story that we both like and are proud of!
Gabriel Hardman: Our process might sound complicated but it's really pretty organic. The fact that I'm also the artist means the visual ideas are a major part of the writing process as well. The scripts are purpose-built to tell as much of the story visually as possible since I know what I'm able to get across in the art.
DF: Before we get into specifics about this book, for the uninitiated, can you explain to us what DC Comics' "Earth One" brand is? How does it differ from what readers know as the much-rebooted DCU?
GH: Our approach to the Earth One branding was pretty simple: We're trying to tell a Green Lantern story in a way that we find compelling and accessible. And accessibility is a big part of what drew us to this project. It's a story designed for anyone who has an interest but it's no less entertaining for readers steeped in GL lore.
CSB: Something I love about the "Earth One" books is how easy they are for the uninitiated to pick up and enjoy! Their whole purpose is to tell a new story about an established character, starting at zero, so there's no continuity with the rest of the DCU, no presupposition that the reader knows anything at all about the character and his or her place in comics history, and no need to buy any other title in order to learn more about the story. Continuity can be a lot of fun to play with (and there are certainly some Easter eggs in our book for Green Lantern fans) but it can present difficulties for the casual browser at, say, Barnes and Noble who might not have the background needed to jump into the middle of an ongoing story. With an "Earth One" title they don't need any of that and can just enjoy learning about the character. That's not to say that established fans won't enjoy these stories too. I think it's always fun get a new perspective on an old friend.
DF: Tell us about bringing Green Lantern into the Earth One-Verse, if you will. Is Hal Jordan our Lantern de jour? If so, what is the same about him and what is different?
CSB: Jordan is indeed our Lantern, and he'll be joined by some familiar faces as the story progresses. He's a bit different from other Hals, though. For one thing, he's not chosen. Instead, he has to make the choices. Our story takes him back to his sci-fi roots, and hopefully imbues him with a bit of the thrill of discovery that's intrinsic to the character. Our story is set just a little bit in the future too, so instead of being a test pilot Hal is a working stiff of an astronaut when we open. But to tell you more might give too much away!
DF: What can you tell us about the storyline of this graphic novel?
GH: As Corinna hinted, this is a sci-fi take on the Green Lantern mythos. It's an origin story taking Hal Jordan from a dead end job mining asteroids and thrusting him into a wider galaxy of diverse alien cultures…not to mention the very real dangers of space. The Green Lantern Corps was decimated long ago and the Manhunters are now an oppressive force in the galaxy. Jordan is totally out of his depth so he has to learn to use his new-found ring and become the hero he always had the potential to be.
DF: Gabriel, in some of your books you have taken really unusual steps to make the art "different," for lack of a better term, "unique." Have you taken any such creative steps here toward Green Lantern: Earth One? (I wondered if you having storyboarded Interstellar was of any assistance with this work?)
GH: Every project demands a different visual approach on some level and it's always the content of the story that determines it. For GLE1, I used a lot of textures, from tip-a-tone to thumbprints to give different visual signatures to the various worlds we see throughout the book. There's a much wider variety of tones and locals in the book than something like our series Invisible Republic which is mostly set on one desolate world. The main way working on Interstellar influenced this book was in the amount of space-related research I was exposed to on that film – both the visual research and the theoretical concepts that came up along the way.
DF: Talk about working with colorist Jordan Boyd and about this book's palette.
GH: The coloring challenges for this book tie directly in with the diverse locations. After the muted palate of the opening sequence, bold color is introduced by the green energy from the ring. From there the palate expands more and more. It was Jordan's job (Boyd, not Hal Jordan) to make everything hung together and I think he did a great job.
DF: Not to leave the subject, Corinna, but I understand that you have been in Utah digging up dinosaur bones with the Natural History Museum! Can you tell us briefly about that? VERY interesting!
CSB: It was amazing! Truly, a life-long dream. My background is in zoology and paleontology is my passion. This was my first time on a working dig, although I've been prepping fossils on a volunteer basis with NHMLA for over a year now. But being the first set of eyes to see a fossil in 150 million years? That's a truly magical experience! That said, it was hard work too. We camped in the desert for two weeks, all of our water had to be trucked in, and some of the fossils weighed several hundred pounds. My last week there I helped unearth a femur that was almost as long as I am tall!
Dynamic Forces would like to thank Gabriel Hardman & Corinna Bechko for taking time out of their busy schedules to answer our questions. The Green Lantern: Earth One OGN from DC Comics hits stores March 14th!
For more news and up-to-date announcements, join us here at Dynamic Forces, www.dynamicforces.com/htmlfiles/, "LIKE" us on Facebook, www.facebook.com/dynamicforcesinc, and follow us on Twitter, www.twitter.com/dynamicforces.
JOHN CARTER: THE END #1 RARE GABRIEL HARDMAN "VIRGIN ART" EDITION
ARMY OF DARKNESS: FURIOUS ROAD #1 (OF 6) RARE GABRIEL HARDMAN "VIRGIN ART" EDITION
ALIENS / VAMPIRELLA #1 (OF 6) RARE GABRIEL HARDMAN "VIRGIN ART" EDITION
MAGNUS: ROBOT FIGHTER #1 HIGH-END GABRIEL HARDMAN "VIRGIN ART" ULTRA-LIMITED
ANGEL SEASON 11 #1 RARE VARIANT SIGNED IN SMILE TIME SILVER BY CORINNA BECHKO!
LORDS OF THE JUNGLE TRADE PAPERBACK
MISS FURY: THE MINOR KEY TRADE PAPERBACK
GREEN LANTERN #165 - REMARKED VERSION
GREEN LANTERNS: REBIRTH #1 ALEX GARNER VARIANT ULTRA-LIMITED LANTERN GREEN SIGNATURE EDITION SIGNED BY ETHAN VAN SCIVER!
GREEN LANTERN ANNUAL #1 80 PAGE GIANT (SPECIAL EDITION 1998) ULTRA-LIMITED SIGNED BY MARK WAID IN LANTERN GREEN!
GREEN LANTERN: NEW GUARDIANS: FUTURES END #1 3-D MOTION ULTRA-LIMITED GOLD SIGNATURE SERIES ELITE EDITION SIGNED BY JUSTIN JORDAN!
GREEN LANTERN CORPS #33 BATMAN 75 VARIANT CGC GRADED 9.8!
GREEN LANTERN #32 BOMBSHELLS VARIANT CGC GRADED 9.8!
GREEN LANTERN #23.4 GOLD SIGNATURE SERIES SIGNED BY MATT KINDT!
GREEN LANTERN #13 WE CAN BE HEROES BLANK VARIANT RE-MARKED WITH A GREEN LANTERN SKETCH IN FULL COLOR BY KEN HAESER!
---
NEW! 1. 01/21/2021 - RORY MCCONVILLE
5. 01/07/2021 - DARICK ROBERTSON