COREY LEWIS

SEND THIS TO A FRIEND!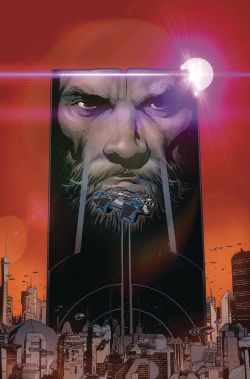 DF Interview: A new comics universe arises in Corey Lewis' anthology, Sun Bakery
By Byron Brewer
Writer/artist Corey Lewis brings a new comics cosmos to Image through his debuting anthology series, Sun Bakery.
Rather than us telling you about it, DF caught up with the book creator. Here is what the self-styled Reyyy told us.
Dynamic Forces: Corey, congratulations on this new series from Image Comics. Do I understand Sun Bakery originally started as a hit indie comic?
Corey Lewis: Yeah. I was originally making zines (self-published mini comics), which I eventually collected together to make Sun Bakery. It was originally published by Press Gang, a Portland, Oregon comics collective. I think we sold out of most the issues.
DF: How came you to Image?
Corey Lewis: I've wanted to do a series with Image for a very long time. Since I was a teenager, really. I did a one-shot graphic novel with them years ago -- but this is my first series with them. Basically, I had the material for Sun Bakery ready, was thinking about doing a trade with them, and we ultimately decided to re-issue the first issues of the comic.
DF: Sun Bakery, as I understand it, is an anthology comic featuring multiple stories … but they are all executed by you?
Corey Lewis: I create, write and draw all the stories in Sun Bakery, yep. I'm very rapid-fire with my ideas and what I want to work on any given day, so with Sun Bakery I'm able to switch things up on a whim.
DF: So can you do a capsule summary of what readers will see in February in issue #1 please?
Corey Lewis: There are three main stories, and one micro comic "bonus" story. The three main stories are "Dream Skills," "Arem" and "Bat Rider." "Dream Skills" is an urban swordplay comic, "Arem" is a galactic Instagram mecha comic, and "Bat Rider" is a supernatural skateboarding comic. As for the micro comic, I may change it for the Image release so we'll see.
DF: What can you tell us about the protagonists of "Dream Skills"? Sounds like the inspiration may have been pulled from today's headlines … sort of.
Corey Lewis: Definitely. I get really tired of guns. I find swords way more elegant. I've always thought of the idea of "what if people still used swords instead of guns" -- so that's basically where "Dream Skills" comes from. The main characters are a pair of young women, one of them who is seasoned at swordplay, and another who is just being introduced to the world.
DF: What can you tell us about the space adventurer in "Arem"?
Corey Lewis: She's based on a popular video game property. I really wanted to draw a girl in a mecha suit doing space exploration. So Arem basically started as a fan comic. It has since become so much more, though. I put my own spin on it. It has the whole modern social media angle. So it's both a fan comic but also a parody and commentary on our times.
DF: "Bat Rider" sounds like a cool concept, but shouldn't the protagonist have a motorcycle? (laughs) What more can you tell us about it?
Corey Lewis: Hah! Yeah, I've thought that myself. A motorcycle or a horse or something, haha. I figure anyone can be a "rider" just as long as they ride on something. For Bat, it's his trusty talking skateboard! It started as a comic for smartphones, hence the vertical panel format ... I plan on "Bat Rider" spanning most if not all the issues of Sun Bakery, until its end. I want it to be the one Sun Bakery comic that is consistently in Sun Bakery.
DF: Corey, you are both writer/conceiver and artist on the book. How are you keeping each story in the book different from the others, both in writing tone and art style? Sounds like a daunting task!
Corey Lewis: I pretty much can't help myself from coming up with crazy ideas. Sometimes I think I SHOULD cram all the ideas into one single story ... But this isn't very far off, either. Many ideas, still in one comic. Also, there is the fact that most, if not all, my stories inhabit the same "universe". Sun Bakery is basically my own Marvel Universe. As for their differences, stylistically ... I try to create pretty different premises for the stories. Space, swords, athletics, etc. Little details help too. Cosmetic choices like some stories having vibrant colors, some subdued, [some] none at all.
DF: Can you whet our appetites for issue #2, coming in March?
Corey Lewis: Issue #2 continues all the stories from issue #1. The "Arem" story wraps up in issue 2. "Dream Skills" is ongoing for a few more issues. There's also a bonus "Side Quest" "Dream Skills" story to give readers a launch point if they're looking at #2 first. There's also a throwback 90's style micro comic called "Bloodshed" in issue #2. Something I start to do in #2 as well is introducing a bit of a "meta" story, the story of YOU reading Sun Bakery as we go along. I love doing fun things like that!
Dynamic Forces would like to thank Corey Lewis for taking time out of his busy schedule to answer our questions. Sun Bakery #1 from Image Comics hits stores Feb. 22nd!
For more news and up-to-date announcements, join us here at Dynamic Forces, www.dynamicforces.com/htmlfiles/, "LIKE" us on Facebook, www.facebook.com/dynamicforcesinc, and follow us on Twitter, www.twitter.com/dynamicforces
---
NEW! 1. 11/25/2020 - STEVE SKROCE
4. 11/16/2020 - RYAN O'SULLIVAN
5. 11/16/2020 - RYAN O'SULLIVAN