DEREK LANDY

SEND THIS TO A FRIEND!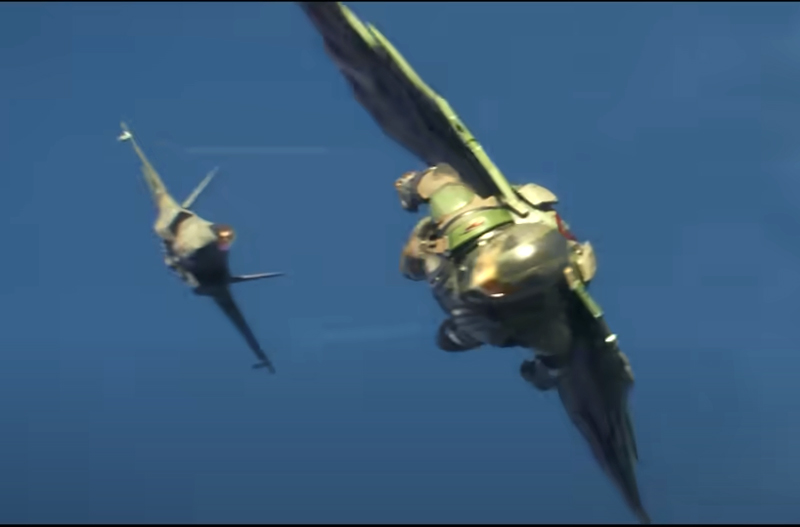 DF Interview: Derek Landy gives us two ex-Caps, no waiting, in 'The Falcon & the Winter Soldier' comic
By Byron Brewer
An office of dead government agents. A gifted new killer. Two ex-Captain Americas...
When a dramatic attempt on the life of Bucky Barnes reunites him with Sam Wilson, the two old friends are plunged headlong into a race to uncover the new leader of Hydra before a mass casualty event announces the terror group's resurgence to the world. The clock is ticking…
Derek Landy (Black Order, Secret Empire: Uprising) and Federico Vicentini (Absolute Carnage: Miles Morales) team up for a pulse-pounding action spectacular in The Falcon & the Winter Soldier! DF was certainly curious about this one, especially with the planned Disney+ series of the same name on the horizon. So we dove right in with a sit-down with writer Derek Landy.
Dynamic Forces: Derek, how exciting is it to be writing a comic featuring two former Captains America on the cusp of one of Disney+'s first Marvel Studios series of the same name?
Derek Landy: It's quite a thrill, to be honest. The interesting thing we've got to keep in mind is that there will be people picking up this book who are only familiar with the characters from the films, so we've got to tread a fine line as to how they're represented. Thankfully, the movie versions bring a whole dose of warmth and charm to the table, so then it's our job to combine that with the hugely rich backstories that the comics provide. Best of both worlds, really.
DF: Captain America … er no, Captain Obvious Question: Is there any thematic ties at all between the comics series and the TV series?
Derek Landy: We share characters... and that's about it! I didn't ask what the Disney+ series will be about because I want to experience it like everyone else, as a fan. It also means that we get to tell our own particular story without having to follow someone else's game plan.
DF: Give readers the overall storyline of your Falcon & Winter Soldier book. No spoilers!
Derek Landy: The government agency that Bucky finds himself working for is targeted by a new assassin, and this leads Bucky and Sam across America on a hunt for the mysterious new leader of Hydra. This is an action/adventure book, so we're working on building in some outrageous action scenes into every issue — each one crazier than the last. You have no idea how fun that is.
DF: Okay, Derek, tell us your take on Sam and Bucky. Each has a lot of history, each has seen more than their share of pain. The common tie is, of course, Cap. Who are these two men as characters, as individuals?
Derek Landy: It's weird, because both of these guys used to be sidekicks, and each has grown to become headlining characters in their own right. Bucky is the ultimate dark and brooding hero, forever seeking redemption, but his background is being the snarky kid who just wouldn't shut up. And Sam is this wonderful square-jawed hero who is constantly selling himself short.
Basically, they're a mass of contradictions, and that makes a world of difference to a writer. They don't see themselves as other people see them — in both good and bad lights — and they don't see each other in a way that the other is entirely comfortable with, either.
DF: Elephant in the Room Question: Will Cap be a part of this book at all (save in spirit, of course)?
Derek Landy: Physically, Cap won't feature. Remember, I'm still new at that comic-writing stuff, and to write Captain America at this stage would probably have blown my tiny mind. I have one of the shields that Chris Evans used — in the first Cap film — displayed in my house beside Christopher Reeve's Superman suit and Michael Keaton's Batman costume. I've got to take these things slow, in order to preserve my sanity.
But Cap's presence is everywhere in this book. Apart from having his two former sidekicks as the leads, we also have an assassin who worships the ground that Steve Rogers walks on. In the third issue, Frederico gets to fill an entire house with Captain America memoribilia — so believe me, you'll be getting your fill of the ol' red, white and blue.
DF: The info is in the solicit, so tell us what you can without spoilers about the resurgence of Hydra.
Derek Landy: Hydra lives up to its name. As soon as you cut off one head, two more grow in its place. That means we get to avoid the eye-rolling we'd otherwise get after bringing back these bad guys for another go — I mean, it's in their name! It's in their DNA! Hydra will never rest, they'll always be there!
So aside from the fact that I knew Marvel wanted Hydra to stick around, I was free to do whatever I wanted. This meant that while we do see some old faces, I was able to throw in a few new villains in order to divide Hydra between two potential leaders.
DF: Why is Federico Vicentini the right artist for this Avengers assemblage?
Derek Landy: Frederico sent us new pages last week, and I replied with an email saying that if anyone ever needed proof that a comic is created by the team working on it, and not just the writer, all they have to do is glance at these pages. The way he interprets the scripts, the subtle changes he makes, the things he emphasizes — they make me, as the writer, look better. I had a scene where one of the characters vying for the role of Hydra Supreme walks through a corridor, and I had all these Hydra soldiers throwing up a salute, and this potential Hydra Supreme saluting back. But Frederico changed those salutes to tiny little waves. So the villain was waving at the henchmen.
This wasn't in the script, yet it was in the character. Frederico saw something that I missed, and he made sure that the art reflected the personality. Things like this, they're eye-openers.
Dynamic Forces would like to thank Derek Landy for taking time out of his busy schedule to answer our questions. The Falcon & the Winter Soldier #1 from Marvel Comics hits stores on Feb. 26th!
For more news and up-to-date announcements, join us here at Dynamic Forces, www.dynamicforces.com/htmlfiles/, "LIKE" us on Facebook, www.facebook.com/dynamicforcesinc, and follow us on Twitter, www.twitter.com/dynamicforces.
BUCKY BARNES WINTER SOLDIER #1 SKOTTIE YOUNG VARIANT!
BUCKY BARNES WINTER SOLDIER #2 ROCKET RACCOON AND GROOT VARIANT
---
NEW! 1. 11/25/2020 - STEVE SKROCE
4. 11/16/2020 - RYAN O'SULLIVAN
5. 11/16/2020 - RYAN O'SULLIVAN