DAVID LISS

SEND THIS TO A FRIEND!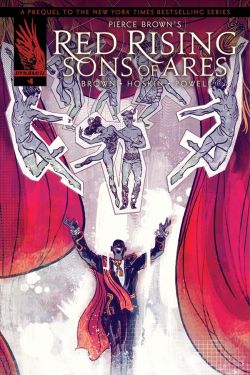 DF Interview: David Liss returns Zeke to outer space on another top-secret mission in the all-ages book, Rebels
By Byron Brewer
In Rebels, a science fiction superfan is heading back to space on a new mission to save Earth in this hilarious follow-up to author David Liss' exhilarating all-ages book, Randoms.

It's difficult to return to Earth and live a simple, unadventurous life after having seen the wonders of the universe—especially when you find yourself with Smelly, a self-important artificial intelligence living in your head, reminding you how much of a primitive meat bag you are. But with Smelly's help, Zeke is on his way back to space on a new, super-secret mission.

However, things never go as planned for Zeke. Conspiracy abounds as he's blamed for destroying a spaceship, and sent deep into the dangerous Forbidden Zone to find the military tech tree that the enemy Phands are already using.
Will his knowledge of pop culture and science fiction that saved him in Randoms help again? DF sought out writer David Liss to find out.
Dynamic Forces: David, you have been writing some for Dynamite (Green Hornet: Reign of the Demon), but you are also well known for your historical mystery novels. What was it like for your first book, A Conspiracy of Paper (2000), to win the Edgar Award for Best First Novel right out of the gate?
David Liss: That feels like a long time ago now! Honestly, the whole thing was weird and exciting and surreal. My publisher was very supportive of the book, and we had a ton of media attention (back then, there was a lot more media for fiction). I loved going to the Edgars banquet with my editor, but I honestly had no expectations of winning. There were some books I really admired that were also nominated, so I was happy just to be there.
DF: Tell us how you started writing all-ages books as well as novels and comics.
David Liss: I'm a hardcore narrative junkie, and I've always loved stories in pretty much all media – novels, film, television, comics, games. You name it. At a certain point, though, I decided that if I were going to be an author, I'd be one already, and I had to figure out something else to do with my life. I ended up going to graduate school to study 18th century British literature. After several years in that program, though, I thought I should maybe try to put some of the critical thinking and research skills I'd picked up toward writing a book, so I turned my doctoral research into what later became my first novel.
I got into comics when an editor at Marvel, Bill Rosemann, contacted me and asked if I was interested in writing comics. I'm a lifelong comics fan, so I was thrilled when I was told the protagonist of my first book reminded him of an 18th century Luke Cage. Anyhow, I started doing projects for Marvel and, after that, anywhere else I could get work. It's a different kind of story-telling, which is something I love.
As far as the Randoms series goes, those books are self-referential science fiction. I'm a big sci fi fan, and at a certain point I wanted to try writing some, but I found that everything I did felt derivative. I couldn't get the books, movies, TV shows, comics and games I loved out of my head, so eventually I decided the best way to go would be to write science fiction about science fiction.
DF: Your most recent all-ages book, Rebels, is a follow-up of sorts to an earlier book, Randoms. What can you tell us first about the latter?
David Liss: The idea behind Randoms and the sequels is that there is a massive pan-species galactic culture out there, and when they want to start getting primitive planets like ours ready for contact, they provide information about life among the stars through science fiction. In other words, Star Wars, Star Trek and all the rest are, in part, based on reality. My main character, Zeke, is a science fiction superfan, and he's selected to be one of four people from Earth who will be used to evaluate our planet's worthiness to join the Confederation of United Planets. Because science fiction is based on fact, Zeke's encyclopedic knowledge of all things geeky ends up being a sort of super power.
When I was planning this book, I made lists of every science fiction story, franchise, trope, technology, or plot element I liked, and I've tried to find a way to include all of them. I couldn't get to everything in the first book, though, so – for example – you have to wait for Rebels before you encounter any sand worms.
DF: Rebels, from publisher Simon & Schuster, follows the further adventures of Zeke as he returns to space. Before we discuss the storyline, tell us about Zeke as a character, in your eyes.
David Liss: When the series starts out, Zeke is kind of a lonely kid. His father has been dead for a number of years, and his mother has a very serious illness. They also move around a lot, so while he makes friends, they tend to be non-permanent. Like a lot of people, Zeke finds comfort and meaning in the stories he loves, which is why going into space and seeing the real-life source material is such an exciting opportunity. That said, he's not a mope or anything. He's actually a funny, social person, and in more ways than one, the opportunity to go into space is exactly the sort of thing he needs to come into his own. Of course, he also makes enemies very quickly, and by the time the first book in the series is over, he's made enemies of both of the galactic superpowers.
DF: Have to ask: Who – what? – is "Smelly"?
David Liss: Smelly is an artificial consciousness that ends up lodged inside Zeke's brain, so he follows Zeke around throughout Rebels, maybe helping, maybe not. Zeke just can't be sure if this thing inside his head is good or bad or just weird. Before I first started working on the book, I was happy with my outline, but once I started something felt flat. I took a little time to think what could energize the story, and I decided what I needed was an untrustworthy AI and a supersuit. Smelly provides both.
DF: Why does Zeke return to space? What is his "mission" this time around?
David Liss: I don't want to give too much away, since the events of Rebels are informed by the end of Randoms. A lot of series novels for younger readers will try to replicate basic plot structures in each book, such as the way Harry Potter starts each book just as the characters begin a new school year. These books don't work that way, and events of each book really end up reshaping the universe in which these characters live. There's no sense of doing the same thing all over again.
At the beginning of Rebels, Zeke is back on Earth, desperate to find a way to get into space. He's got a lot of unfinished business. With Smelly's help, he decides his best bet is to steal a spaceship from the only place on Earth he can be sure to find one: Area 51.
DF: What can you tell us of Tamret, and of the evil (I am guessing) Phands?
David Liss: So, one of the ideas behind these books is that four people are initially chosen to represent Earth, three of which have abilities and talents that the aliens respect. A fourth name is chosen by more or less being pulled out of a hat – the random. When Zeke gets into space, though, the other three humans don't want anything to do with him since he's just a random, so he ends up befriending the randoms from two other alien species – Tamret, who's a sort of cat alien, and Steve, who is basically a lizard hooligan. Both of these characters are a whole lot more dangerous than anyone Zeke hung out with back home, but they also end up being precisely the friends he needs.
As for the Phands, they are the story's evil empire. The Confederation of United Planets is intentionally based on Star Trek's United Federation of Planets, so when I was planning the book, I decided I needed a big, evil enemy. When the series opens, the Confederation and the Phandic Empire have been locked in a mostly-Cold War for decades, but the Phands have gained a technological advantage and the Confederation's days are numbered. Early on in the story, Zeke ends up in a conflict with the Phands, and while he saves a lot of lives, the way he does it ruffles a lot of political feathers. That incident ends up setting into motion a chain of events that gets played out across the entire series.
DF: David, what other projects present and near-future are you working on?
David Liss: I've just finished the third and final book in the Randoms series, which will be out this autumn, and I've started on another self-referential all-ages novel, though this one deals more with fantasy than science fiction. I'm also doing some work for Marvel's gaming division, and there are a few comics projects I can't yet discuss. I am generally keeping busy.
Dynamic Forces would like to thank David Liss for taking time out of his busy schedule to answer our questions. Rebels, an all-ages book, is on sale now!
For more news and up-to-date announcements, join us here at Dynamic Forces, www.dynamicforces.com/htmlfiles/, "LIKE" us on Facebook, www.facebook.com/dynamicforcesinc, and follow us on Twitter, www.twitter.com/dynamicforces
GREEN HORNET: REIGN OF THE DEMON #1 (OF 4) Written by David Liss
THE SHADOW NOW #1 (OF 6) EXCLUSIVE SUBSCRIPTION VARIANT Written by David
Liss
THE SHADOW NOW TRADE PAPERBACK Written by David Liss
SHERLOCK HOLMES VOL. 3: MORIARTY LIVES TRADE PAPERBACK Written by David Liss
THE SPIDER VOL. 3: CITY OF CRIME TPB Written by David Liss
THE SPIDER VOL. 2: THE BUSINESSMAN FROM HELL TPB Written by David Liss
THE SPIDER VOL. 1: TERROR OF THE ZOMBIE QUEEN TP Written by David Liss
---
NEW! 1. 11/25/2020 - STEVE SKROCE
4. 11/16/2020 - RYAN O'SULLIVAN
5. 11/16/2020 - RYAN O'SULLIVAN