PAUL TOBIN & COLLEN COOVER

SEND THIS TO A FRIEND!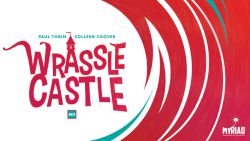 DF Interview: Paul Tobin & Colleen Coover come off the top rope with 'Wrassle Castle'
By Byron Brewer
Lydia Riverthane has always wanted to join Wrassle Castle, but due to her parents' disapproval has been forced to secretly train in the forest. Her three best friends Chelsea, Deandra, and Lyle—aka the Underground Alibi Society—help her by providing cover stories when needed. Lydia also secretly trains with her brother, John Gator-Chomp, a high-ranking wrasslin instructor. Lydia idolizes her brother—until he's arrested for stealing one of the Legendary Wrasslin Folios! A crime he DID commit! But…why? Lydia believes the only way she can learn the truth, and more importantly save her brother, is to enter and win the Grand Wrasslin Tournament.
From Vault Comics comes Wrassle Castle, a middle grade title written by husband-and-wife team Paul Tobin and Colleen Coover. Paul and Colleen previously collaborated on Banana Sunday and the Eisner-winning Bandette. DF wanted to get a half nelson on concepts behind this book, so we sat down ringside with writers Tobin and Coover.
Dynamic Forces: Colleen and Paul, before we go into your interesting new series Wrassle Castle, let me ask you to explain a little about Vault Comics' new label, Myriad. From what I know of it, the name of the new line seems to expressly convey Vault's goal.
Paul Tobin: This is maybe answered best by the folks at Vault, but my viewpoint the name of "Myriad" has a dual meaning, in that the line is not only looking to expand the age group Vault has been reaching (expanding into the YA and Middle Grade markets) but also foster books that have even a greater range of style, whether that be humor, or adventure, or… really… ANYTHING. The doors are wide open, here. That's one thing I enjoy about working in the YA / Middle Grade markets, is the feeling that anything can happen. I think that's why it appeals to a greater range of readers, too. A good YA or Middle Grade book is accessible for that market, but ALSO the adult market. Nobody doesn't like a good story.
Tim Daniel, Vault Comics (Vice President of Branding & Design): Happy to oblige, Paul—but leave it to a writer to say it best, because that's precisely the goal for stories we'll see not only from Tobin & Coover with Wrassle Castle, but the entire Myriad line. Readers can expect a fair amount of stories from our core Vault genres— science fiction and fantasy, but as Paul stated, this is about delivering the best possible stories to the widest range of readers while maintaining the values we've established and nurtured during our first two years of publishing.
DF: Elephant in the room (not really): What is it like "working" (re: plotting and writing) with your spouse? Advantages and disadvantages?
Colleen Coover: Well, you know, we've been working together a long time as writer and artist. So we know pretty well what to expect from each other creatively, and we can riff off of each other's ideas with a confidence that would require more effort with another colleague. The disadvantage for me is that I can't work out storytelling problems in my usual way, which is to draw my way through it, but that's really just my thing!
Paul Tobin: So far it's been great! We bounce ideas back and forth, and then once we're ready I develop them a bit further, knock the words and events around some, and then feed it back to Colleen before we go to final script. It's pretty smooth. We both write while thinking how the other one is going to respond to what we're writing, so in a way we're collaborating even during the stages when we're working alone. The disadvantage, of course, is that if your writing partner nixes something you had your heart set on, you're still gonna be looking at them over the dinner table.
DF: Tell us about the world you are creating here for the middle grade set.
Colleen Coover: Like, it's a fantasy world, but instead of swords and sorcery, they have wrasslin'. Most people are not wrasslers themselves, and they can live out perfectly happy lives without wrasslin', but wrasslin' is the foundation of the world's culture. Wrasslin' is the backbone of all military power; all special abilities (what we might otherwise think of as "magic") come from high-powered wrasslin' moves; sometimes skill as a wrassler helps people perform useful tasks that we might rely upon technologies for. Like a person who has an applicable wrasslin' skill would be a WAY better than average blacksmith, or candle-maker, or shepherd, or whatever.
Paul Tobin: More on what Colleen was saying, I thought it was important that we had a world where not EVERYONE was a wrassler. That actually diminishes the people who actually are wrasslers. Special abilities are less special if everyone has them. And, the world wouldn't have felt complete. It would have felt like a story, rather than a world full of stories.
DF: What is Wrassle Castle (not the book, the institution referenced in the coming series)?
Colleen Coover: Wrassle Castle is pretty much the center of the universe, as far as the people in this world are concerned. Founded centuries ago by the originator of wrasslin' as it is now known, Wrassle Castle is the seat of power in the known wrasslin' world, the most prestigious institution of wrasslin' education and history, and the point of origin for the wrasslin' arts. Its overarching purpose is to govern all society, but to that end Wrassle Castle codifies, maintains, and regulates wrasslin' as a hierarchy of ranked wrasslers. It's like a mash-up of Camelot, the Library of Alexandria, and the Temple of Shaolin, but for wrasslin'.
Paul Tobin: Colleen answered that so gosh-darn well that there's not much I can add. Uh, the castle is also located in Grimslade, the capital city of Pinnland. There, I co-wrote this answer.
DF: What can you tell us about Lydia Riverthane?
Colleen Coover: Lydia desperately wants to be trained as a wrassler at Wrassle Castle, and she is bursting with innate wrasslin' talent, but her parents figure that Lydia's older brother John is a wrassler already, so they want her to follow a career path of their choosing and forbid her from pursuing her wrasslin' dreams. So with the help of her friends, Lydia trains in secret, sometimes with John, sometimes in the forest against woodland creatures like wolves and bears. As a result, she has developed her own non-standard style of wrasslin', unrecognized by the formal wrasslin' codes of Wrassle Castle.
Paul Tobin: Colleen mentions Lydia's friends, and they're a HUGE part of these books. There's a group of four friends, Lydia, Chelsea, Nyle, and Dee, who together form the Underground Alibi Network: four friends who provide alibis to each other's parents as needed. It's this group, and their friendship, which is the core aspect of Wrassle Castle, in my heart.
DF: Tell us about her brother, John Gator-Chomp, and a little about their relationship.
Colleen Coover: Lydia adores him, and he's very supportive of both her desire to be a wrassler, and of her decision to train without their parents' knowledge. John is the top instructor at Wrassle Castle, and he's a wrasslin' super-star throughout the land. Everybody loves him, so when he is arrested for committing a terrible crime, everyone goes into absolute shock.
Paul Tobin: Beyond what Colleen has said, beating John at wrasslin' is one of THE goals in Lydia's life. She measures herself by his shadow, so having to step out of that shadow in order to help John… that's a huge moment in Lydia's life.
DF: How BIG in this MG world is the Grand Wrasslin Tournament?
Colleen Coover: It's like trying to win every possible Olympic gold medal in order to gain admittance to Oxford, West Point, and Hogwarts, all at once. It's a very big deal.
Paul Tobin: It would be like joining the Avengers, but without the fear of a reboot.
DF: What are the joys/challenges of expressly writing a book for this target readership?
Colleen Coover: Our target audience, as always, is us. Satisfying ourselves as readers is the hardest and most rewarding part; all you need to do to target an age group is to have a basic understanding of what is and isn't appropriate for them to read, and apply that to the story you've written to please yourself.
Paul Tobin: Colleen has exposed one of my secrets! I never write for an audience. I always write for myself. In everything I've enjoyed in my life, whether it's reading comics, watching television or movies, listening to music… what I'm always drawn to are projects where it's clear that the creators enjoyed what they were doing. If the audience went away, the song would remain the same. It's that pure love that I think brings energy to a creation, and as long as I'm doing that, I'll let my editors / publishers / caretakers worry about the rest.
DF: Paul and Colleen, tell us a little about some other projects, current or future, in which you may be involved. (Another round of Banana Sunday, anyone?)
Colleen Coover: We're still working on Bandette, and probably will continue on that for the foreseeable future! We do have other co-writing projects in our heads, but it is way too early to mention them.
Paul Tobin: I'm also writing at least four Plants vs. Zombies graphic novels a year. And I have my weekly Messenger comic on Webtoons. There's my Genius Factor series of novels for middle grade readers. I'm currently working on both another young readers novel series, and a second novel for older readers, one that will expand the world I explored in my Prepare To Die! novel. I'm also working on an unannounced series where I'll get to play with science fiction, which I'm tickled about, as it's not a genre where I've really delved. There's also a couple of other surprises brewing, in addition to what Colleen mentioned!
Dynamic Forces would like to thank Paul Tobin & Colleen Coover for taking time out of their busy schedules to answer our questions. Keep watching DF News for more on Wrassle Castle from Vault Comics!
For more news and up-to-date announcements, join us here at Dynamic Forces, www.dynamicforces.com/htmlfiles/, "LIKE" us on Facebook, www.facebook.com/dynamicforcesinc, and follow us on Twitter, www.twitter.com/dynamicforces.
MARVEL ADVENTURES SPIDER-MAN #59 - SIGNED BY PAUL TOBIN
THE KING COLLECTION TRADE PAPERBACK
TUROK: DINOSAUR HUNTER VOL. 3 TRADE PAPERBACK
THE BIONIC WOMAN VOL 1: MISSION CONTROL TPB
---
NEW! 1. 11/25/2020 - STEVE SKROCE
4. 11/16/2020 - RYAN O'SULLIVAN
5. 11/16/2020 - RYAN O'SULLIVAN