MD MARIE

SEND THIS TO A FRIEND!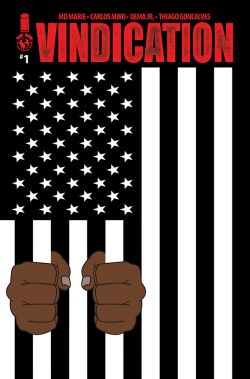 DF Interview: MD Marie looks at racism, justice through a lens of optimism in 'Vindication'
By Byron Brewer
In turbulent times, when police officers are often portrayed as the enemy of the people, Detective Chip Christopher maneuvers the blurred blue line between racism and due diligence in order to do his job. And right now it's his job to investigate Turn, a young Black man with a sketchy past – who was previously exonerated of a similar murder.
From Top Cow and Image Comics comes Vindication, a new miniseries from writer MD Marie and artist Carlos Miko. DF was very interested in this look at racism in the justice system focused through an optimistic lens, and so spoke with scribe MD Marie about the book.
Dynamic Forces: MD, you've written a novel, poetry, short stories, plays and screenplays. What brought you to comic books?
MD Marie: That's actually kind of a funny story. Back in 2008, I wrote a book called Cinders of Angels and I was quite proud of that book. People would come up to me and tell me they bought it and then I'd ask them how they liked the story. That's when they'd confess that they hadn't finished reading it; and my brother was one of those people. He said, "It would be easier to get through if it was a comic book or had a lot of pictures that told the story."
When I repeated what my brother said to other people, they agreed.
When I wrote Saints of Winter Valley, I really wanted people to read it because it's about four women of color and their mentor saving America from a crooked magnate who's trying to control the fragile presidential administration for his own gains. I thought this would be better articulated as a comic book and more people would be willing to give it a chance in graphic novel format. And that was my ingress into comics.
DF: Vindication, your new miniseries, has not even hit stores yet and I love it already. Although wrapped in the issues of racism and others of our turbulent times, it seems there is an effort here to tell an old-fashioned crime story with a little bit of optimism. (Love your quote: "So many beautiful colors are dimmed by myopia. I want to provide a lens that lets in a little light.")
MD Marie: This is a correct assessment! Vindication is a murder mystery that incorporates an observation of our current climate. It's a classic crime drama that takes place in a current and hostile social environment.
I'm glad you like my quote. It is sincerely my intention to entertain and provide a slightly different perspective that may make people see things differently.
DF: Tell us about the miniseries' storyline.
MD Marie: Basically, the story takes place in LA and there are many characters invested in Turn Washington's fate. A lot of characters have pinned their futures on Turn's freedom or potential incarceration and that's why this murder investigation is so important.
DF: Tell us about the chief protagonists, Detective Chip Christopher and Turn. What can you say about them as individuals and about their character chemistry, their relationship with one another?
MD Marie: The chemistry between Chip and Turn is a projection of their individual experiences with other races and the LAPD. A lot of Chip and Turn's relationship with each other is based on their myopic perceptions of one another and each feeling like they've been victimized by the other.
Chip is struggling with how other people (his former partner and his father) have conditioned him to interpret what he experiences on the job and what he wants to believe is the truth. His other big struggle is fighting the stigma of all the news stories about racist cops across the country.
Turn spent his youth in prison and is receiving a second chance at freedom. He's resentful about burning up a decade of his life incarcerated and he wants payback from those who put him there.
At first, Turn is reactive to his situation because he hadn't had time to get his bearings before his newly-found freedom was threatened; but he knows he has to learn quickly and get a plan if he wants to stay out and reclaim his life.
DF: Back in the 1970s, a lot of the "villains" in stories were Vietnam veterans. These days, the police are often portrayed as enemies of the people. How did you decide to use this framework?
MD Marie: The media is painting the same picture over and over (i.e., police brutality and no justice for their victims). Because of this, people can be blinded to other plausibilities. I took advantage of that gap. I believe this provided the opportunity to create a unique perspective.
DF: What can you say about the art of Carlos Miko and Dema Jr.?
MD Marie: Seeing the story brought to life by the art team was rewarding because they drew what I saw in my mind.
What I loved most about their work was how much they invested themselves into it; the artist even included his image in one of the issues. I was flattered and honored.
DF: MD, what other projects of yours, inside or outside comics, can you tell readers about?
MD Marie: Currently my focus is on the release of Vindication, but I'll be sure to herald from the rooftops as soon as my next project is greenlit!
Dynamic Forces would like to thank MD Marie for taking time out of her busy schedule to answer our questions. Vindication #1 from Top Cow/Image Comics hits stores Feb. 6th!
For more news and up-to-date announcements, join us here at Dynamic Forces, www.dynamicforces.com/htmlfiles/, "LIKE" us on Facebook, www.facebook.com/dynamicforcesinc, and follow us on Twitter, www.twitter.com/dynamicforces.
---
NEW! 1. 11/25/2020 - STEVE SKROCE
4. 11/16/2020 - RYAN O'SULLIVAN
5. 11/16/2020 - RYAN O'SULLIVAN