JOHNNIE CHRISTMAS

SEND THIS TO A FRIEND!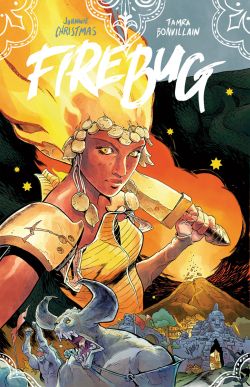 DF Interview: Johnnie Christmas brings a pyre of passion with Firebug TPB
By Byron Brewer
A volcano goddess named Keegan is loose in the world, and the prophecies are unclear whether her coming will bring humanity's destruction or salvation.
In the shadow of a sacred volcano, from which Keegan derives her powers, lies the ancient city of Azar. Holding the key to the mysteries of her past, Keegan and her friends must get to Azar before it is overrun by a horde of forest monsters. Meanwhile, the nefarious Cult of the Goddess has plans to summon forces as old as time to extinguish Keegan's flame permanently.
From New York Times bestselling cartoonist Johnnie Christmas (Angel Catbird, Sheltered) and colorist Tamra Bonvillain (Doom Patrol, Moon Girl & Devil Dinosaur) comes a fiery tale you're not soon to forget.
DF wanted to find out more about this bountiful blaze, so we sat down with creator Johnnie Christmas.
Dynamic Forces: Johnnie, what is it like to see the full Firebug saga that began in Island magazine collected into this new trade – AND with some new material, to boot?
Johnnie Christmas: Very excited! Like you said, we have the first chapter that ran in Island plus more than twice as much new story here. Making for a nice big reading experience! Larger in scope than was originally envisioned for Island.
DF: Your art is absolutely gorgeous! It really captures the raw adventure of this volcano goddess and her environs. Can you give readers a little background on your art training?
Johnnie Christmas: Sure. I went to an arts high school, then followed that up with a BFA from Pratt Institute in Brooklyn, New York. I had a lot of great illustration teachers. Their goal was to get us to create "outside of the box," push past only the aesthetic until you find a place of real meaning in hopes that we'd discover what was unique about our "voice" and then start to telling stories from that place.
DF: Give me the elevator pitch for Firebug.
Johnnie Christmas: Firebug is about a volcano goddess trying to save her city from being overrun by monsters. That city sits at the foot of a volcano that the goddess gets her powers from. The goddess is the volcano, the volcano is the goddess.

Problem is, the closer she gets to it, the more likely the thing will go "BOOM!" thereby destroying the city she's desperate to save. Meanwhile, a cult that once worshipped the idea of the goddess gets freaked out when the actual goddess appears. They make dark plans for a swift and brutal return to the status quo.


DF: Introduce us to Keegan. Who is she as a character, what are her powers and what challenges does she face in this tale?
Johnnie Christmas: Keegan is a young goddess. She's very new to it, trying to figure the whole thing out. We see her get her powers and grow into them over the course of the story. And those powers? The power to control fire. The volcano starts acting strangely as she gets closer and the doomsday prophecies are looking more likely … birds flying backwards, stars shining in the daytime. Her challenge becomes internal as she tries to figure out whether she's destined to save or to destroy.
DF: Who are the Cult of the Goddess? What are they plotting here?
Johnnie Christmas: The Cult of the Goddess sprang up when the goddesses disappeared hundreds of years ago. They are effectively the church and the state in the Golden Capitol. When Keegan arrives, her mere existence is a threat to their primacy, to their authority. It also doesn't help that Keegan teams up with a bunch of rowdy anarchists who were rearing to tear down the Cult of the Goddess anyway. So their goal is to stop Keegan, and her friends, before they're undone.
DF: Any other characters we need to know about to read this great TPB?
Johnnie Christmas: All of the characters are introduced during the course of the book so readers can dive right on in. We've got Griffin, who is Keegan's love interest; and Adria, who is a leader of the anarchist group devoted to the goddess. But Adria is also her romantic rival, so things start to get a little dicey. Plus a bunch more! Really fun characters to write.


DF: Johnnie, do you prefer to work solo as in Firebug rather than in a collaborative situation? What are the advantages/disadvantages of each, in your mind?
Johnnie Christmas: When writing and drawing, I work in a much more intuitive manner. Since I'm in my own head, I know what I mean, I can create more instinctually.

However, on other projects, it can be a lot of fun to collaborate with someone else. So it really depends on the project. With more personal projects, sometimes you just need to say it, directly. On other projects, if you've got a collaborator that you like throwing things back and forth with, together you might come up with what neither one of you would have ever dreamed up on your own.
DF: Talk a little about the beautiful hues of color artist Tamra Bonvillain. You being writer AND artist, did you and Tamra discuss the palette for this story?
Johnnie Christmas: Tamra is an amazing colorist, isn't she? At times, there was talk about the palette for characters: Certain characters and the general feeling for the entire series; using certain Chinese brush techniques and pallet as our True North. But as the book progressed, it became its own thing.


DF: Is Keegan a character about whom you'd like to do further adventures? Any thread of this story you'd like to pick up for another series?
Johnnie Christmas: I hope so. I already have some ideas of where I wanna go with it, if readers want more. As for wanting to use a thread from here elsewhere, no, not intentionally. However, in the future, with the benefit of a little hindsight, we'll ultimately see if any of these seeds get planted elsewhere.
DF: Johnnie, aside from this trade from Image, what other projects can you tell readers about?
Johnnie Christmas: I wish I could tell you! What I can say is 2018 has more surprises in store, so stay tuned!
Dynamic Forces would like to thank Johnnie Christmas for taking time out of his busy schedule to answer our questions. The Firebug TPB from Image Comics hits stores March 7th!
For more news and up-to-date announcements, join us here at Dynamic Forces, www.dynamicforces.com/htmlfiles/, "LIKE" us on Facebook, www.facebook.com/dynamicforcesinc, and follow us on Twitter, www.twitter.com/dynamicforces.
---
NEW! 1. 11/25/2020 - STEVE SKROCE
4. 11/16/2020 - RYAN O'SULLIVAN
5. 11/16/2020 - RYAN O'SULLIVAN