HEATHER ANTOS

SEND THIS TO A FRIEND!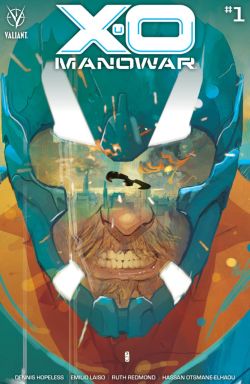 DF Interview: Heather Antos talks your friendly neighborhood 'X-O Manowar', and how no good deed goes unpunished
By Byron Brewer
Aric of Dacia, a 5th century warrior catapulted into the modern day, has been bonded with the sentient alien armor, Shanhara. Together, they are the most powerful weapon in the world: X-O Manowar. As a mysterious new villain arises to threaten the world, will this ancient warrior evolve into the superhero we need today?
From Valiant comes a new ongoing featuring the iconic VU staple, written by Dennis Hallum with art by Emilio Laiso. DF is so excited about this new start for X-O Manowar that, like cream, we rose straight to the top and chatted about the new mag with editor Heather Antos.
Dynamic Forces: Heather, I understand you're bringing a lot of "new" to the life of Aric of Dacia. Tell us some of the exciting aspects readers can expect when picking up the new X-O Manowar book from Valiant.
Heather Antos: What I find the most fascinating about Aric is not that he's a Visigoth warrior thrust into the role of superhero in the 21st century, but rather his relationship with Shanhara. She's a sentient alien that forms the X-O Manowar armor. Both isolated beings from their origins -- Shanhara an alien from another galaxy, Aric a warrior from the 5th Century -- their longest and most intimate relationship has been with each other. Whether they like it or not, they're family. And I think there's something very interesting to explore there -- Shanhara isn't an A.I. that Tony Stark hooked up to his Iron Man suit. In more aspects than one, she is alive. There's a lot left to uncover between their relationship because of that.

DF: Following up, tell us a little about the "new friends and community" in the series.
Heather Antos: We've seen Aric deal with other superheroes, other Visigoths, other aliens, and other militaries...but we've never really explored how his actions and exploits impact US -- the normal people living in the Valiant Universe. In the first issue, we see Aric in a new community -- a New York City neighborhood, where a previous altercation caused massive destruction. Though he saved the city, the people still hold him responsible for the damage. The world may see him as a hero, but the average Joe does not.
DF: Give us the take on X-O Manowar, the character and the man. What changes may be coming, if you can respond without being too spoilery?
Heather Antos: Aric is a hero at heart -- he's a fierce warrior and will be the first to stand up for someone in need, that isn't changing. But tact goes a long way in modern discourse, something Aric has struggled with in his time. Our biggest changes will be elsewhere, though...

DF: New villains?
Heather Antos: Of course! But I can't spoil those here...

DF: Any new characters coming our way? If so, can you introduce a few here?
Heather Antos: Tina and Desmond -- A mother and son just trying to make ends meet who Aric's exploits impact directly
Troy Whittaker -- A Silicon Valley-esque tech genius who tries to befriend Aric in order to bring him to the 21st century. We imagine him being voiced by Matthew McConaughey
DF: What is the overall storyline for the first arc?
Heather Antos: Well, if I did that I'd be giving everything away! What I WILL say is our first arc is exploring the different levels of impact one small superhero event can spur upon a family, a community, a city, a country, and the world. What looks like a miracle to one might look like terrorism to another, and may set Aric down a path he never quite expected. In issue #1, we see Aric in a brand-new community trying to help people from the ground-level up, but in a modern day society there will always be someone trying to exploit the good deeds of others.

DF: Talk about the art of Emilio Laiso and the palette of colorist Ruth Redmond.
Heather Antos: Both Ruth and Emilio are some of the most talented young talents in the industry today. I've explored every corner of the Marvel and Star Wars Universes with them, and I could not be more thrilled to be collaborating with their talents in the Valiant Universe as well!
Dynamic Forces would like to thank Heather Antos for taking time out of her busy editorial schedule to answer our questions. X-O Manowar #1 from Valiant hits stores on March 25th!
For more news and up-to-date announcements, join us here at Dynamic Forces, www.dynamicforces.com/htmlfiles/, "LIKE" us on Facebook, www.facebook.com/dynamicforcesinc, and follow us on Twitter, www.twitter.com/dynamicforces.
VALIANT COMICS X-O MANOWAR HIGH-END LITHOGRAPH
UNITY #1 BLANK VARIANT SIGNED & REMARKED WITH A X-O MANOWAR SKETCH BY KEN HAESER!
---
NEW! 1. 11/23/2020 - CHUCK BROWN
3. 11/16/2020 - RYAN O'SULLIVAN
4. 11/16/2020 - RYAN O'SULLIVAN