MIKE CAREY & ARVIND ETHAN DAVID

SEND THIS TO A FRIEND!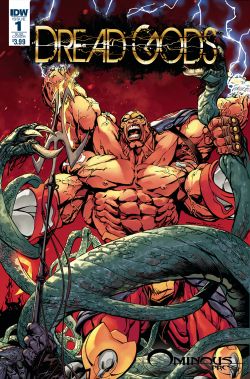 DF Interview: Mike Carey & Arvind Ethan David unleash demons, parental angst, more in Darkness Visible
By Byron Brewer
From bestselling author and screenwriter Mike Carey (Unwritten, Lucifer, Girl with All the Gifts) and Arvind Ethan David (Dirk Gently's Holistic Detective Agency) comes an all-new, original world of darkness and demons, Darkness Visible.
When the demons came, humanity reluctantly learned to share the world with another sentient race. Eighty years later, this uneasy co-existence has spawned an endless terrorist conflict. Detective Daniel Aston, charged with being the thin blue line between the two sides, is tested to the limit when a demon sets up house inside his soul. But to save his daughter, he'll pay any price -- including genocide.
To learn more on this stunning series from IDW, Dynamic Forces sat down with writers Mike Carey and Arvind Ethan David.
Dynamic Forces: Mike and Arvind, the concept for Darkness Visible has been floating around between you guys for almost a decade. Tell our readers how you guys originally met, when this story began to gel (at first as a movie, I believe?), and how it wound up as a coming miniseries from IDW Publishing.
Arvind Ethan David: We met because I was - and am! - a massive Mike Carey fan. I had been reading Mike's run on Lucifer since the start, foolishly never realizing that he was British and lived in London, two things we had in common at the time (I've since moved to LA). A friend gave me Mike's novel The Devil You Know and I saw it was dedicated to an agent called Meg Davis, who I knew. I asked her to introduce us, she did — and our collaboration and friendship started that day. At least I think it did! I'll hand over to Mike to continue the story….
Mike Carey: At that time Arvind was heading up a company called Slingshot Pictures, and I got an invite to come in and meet him. We brainstormed a load of ideas – which was a really fun and exciting process – but the one that stuck was a supernatural crime thriller called (at first) Trinity. At that time, it wasn't about demons. The featured monsters were vampires, who were going through their early noughties renaissance. In all its versions, though, the story focused on the meeting of two cultures, one human and one non-human. Our vampires were a nation, and a force in the world. So this was a creature feature with a political dimension to it, and it has been in all its various incarnations since.
We came close to getting the movie off the ground, but the vampire wave passed us by while we were in development. "Suppose we change out the monsters but keep the architecture?" Arvind said. And I said "demons!" Or it may have been the other way around.
DF: Tell us about the Shaitan and their importance to the history of this world, and to this story.
AED: The Shaitan are the real version, of what we have come to talk about as "demons" — every story you've ever heard about deals with the devil, possession, summonings, Beelzebub: they were all really about the Shaitan. A powerful, shape-shifting race from an ancient universe, now on the brink of energy death. They've been trying to leave, to find a new world that can sustain them for the longest time, for millennia. And 70 years ago, they found a -- limited -- opening, a passage to Earth. They've lived amongst us since. Well, actually, they've lived IN us since, because the Shaitan are creatures of energy, not flesh. But to exist on Earth, they need flesh: so they need a willing "host", a human willing to be "possessed" to make a pact, and merge with them, body and soul. We call these people Skinwalkers, Shaitan-Human hybrids. And now our population is divided — and that dynamic, between two peoples, each deeply suspicious of the other, drives our world and our story.
MC: What was most important, we felt, was to take the clash between human and non-human into a wider arena. This is about a whole society coming to terms with the presence of monsters in their midst, and the consequences of that as they feed through into policing, lawmaking, sexual morals and pretty much every other kind of human interaction. We were interested in tracking those changes, and the tensions they bring with them – the world adjusting to a new normal.
DF: Detective Daniel Aston stands between two populations, two sides of a dark coin when things heat up. What are Aston's duties, and who is the man beyond those responsibilities?
AED: I love Aston so much, writing him is one of the most fun things about the book: he starts as a man of total certainty. Absolutely clear about his place in the world and his responsibilities as a father and as a police officer. Hunt the bad guy. Protect London. Shaitan bad. Humans good. But then, inch by bloody inch we rob Aston of his certainties and he's left spinning in the wind. Until he finds a new compass. That journey is the spine of our story: of a man who loses certainty in an even more complex world. And has to become a more complex person to survive. Not an irrelevant story for today's ever more confusing world, perhaps.
DF: Despite solicits, Maggie seems an awfully important part of this mini. Tell us about her. Is there anyone from your own lives after which she might be modeled?
MC: Not that I'm aware of, although when I'm writing father-daughter relationships I inevitably import bits and pieces of my own experience. In this case, though, the dynamic of the relationship has been changed because at some point in the past it became just the two of them. Aston's intense protectiveness towards Maggie arises from a sense that he's her only bulwark against the world – that it's all on him. Even in the opening scenes, before any real crisis arises, we can see that he obsesses about this. We can also see that she's a pretty smart and resourceful kid and probably needs less protection than he realizes.
Her arc is a really interesting one. She doesn't get much to do in the first half of the story, in fact she's in a coma for most of the time, but when she wakes up we're going to find her in the thick of the action, not on the sidelines with her dad making all the decisions for her.
DF: We know Aston is the man in the middle, but surely he has allies in such a big responsibility. Who are Daniel's allies, and who are some of the supporting cast on the "other side"?
MC: Inevitably there are other cops who he's come to lean on and trust over the years, and one of them – Michaels – comes very much to the fore as the series goes on. There are also two Shaitan who in different ways will have his back. One is the Vivicos, the leader of the Shaitan on Earth, who is manipulating events to avert what she sees as a looming disaster. Aston is only a piece in the game she's playing, but he's a vital piece and she doesn't want to lose him too soon. The other is… well, less of a political player and more of a winged, fanged, clawed, armored killing machine. With a dry sense of humour.
The other side is harder to define because allegiances will shift as the story gets into gear. Some of the people who offer Aston help may not really have his best interests at heart, and he will have to make temporary alliances with people he doesn't like or trust at all – while betraying people he loves and respects. Who you see as the real villain depends a lot on your perspective, and we're aiming to mess with your perspective willfully.
DF: Guys, in Darkness Visible you have the obvious supernatural aspects but also a lot of crime noir. Are these genres you enjoy, and how do you mix them to tell such a complex tale?
AED: Noir and horror are obvious bedfellows — not least because they both revel in the relationship between darkness and light! Showing a tiny part of the mystery or monster and then very slowly revealing the iceberg of secrets and horror beneath is how all the best noir and many of the best horrors work. We're happy to fall in that tradition. The crime Detective Aston thinks he is solving may not be the mystery that consumes him. And the monsters he is hunting may have more to teach him than he realizes.
DF: Knowing Mike's work well, there is always some undercurrent in a series, something that applies to the here and now even those cloaked as a horror saga. What is the "message(s)" here, Mike? And Arvind, how do you share the writing duties among you?
MC: We live in a society that's truly multicultural, a de facto melting pot. But we're also living through an era of reaction against that. With the UK barring its doors to Syrian refugees (denying that they are refugees, and even in many cases that they're Syrian), with European nationals being threatened with deportation even if they're married to Brits and have lived their whole lives here, you don't have to do more than open a paper to see demons. And as always, the people who are quickest with the labels are often the ones who are quickest to let their own inner demons out.
AED: I'll add to that: What would Donald Trump do in a world with Demon Immigration? Walls don't work with these guys.
As to how we co-write: this story unquestionably started in Mike's head, but we've been working on it for so long, and he's been such a generous collaborator that I feel quite comfortable and welcome in the world now. He's King, but perhaps I'm a minor Duke or Lord.
When we started the process of reimagining it as a comic series, we spent several weeks going back and forth in a series of long emails and documents and broke out the whole first years arc. Now that's done, we handle the actual writing in quite an unusual way: we solo write alternate issues, and we act as each other's sounding board and editor, giving notes and suggestions, but not rewriting each other. It's been a really mutually satisfying and empowering process, and I've learnt a huge amount about crafting comics from Mike.
DF: Talk about what Brendan Cahill and Livio Ramondelli bring to the DV table as the art team.
AED: Brendan draws the main story line and Livio does the "historical" episodes — 1 in every 3 — which give us a chance to tell stories of the past and deepen our mythology and fill out back-story. World and character design is crucial to this one. It's our world, but not as you know it and the Shaitan introduce a bewildering array of physical forms. Livio and Brandon are very different artists, but what they have in common is that they are both painstakingly detailed and very research oriented. We wanted this to be recognizable as our real world, but one with a twist, and both of them excel at that -- painstakingly recreating the streets and buildings of London that our characters inhabit.
MC: Yeah, absolutely. It's been wonderful seeing the world take shape under their hands. Or rather worlds, plural, because each time period we visit effectively brings in a new cast and new settings. We've got a great art team, and they almost never get ticked off with us. Except when Arvind says "draw this" and I say "draw that". In which case Brendan will very politely point out the contradiction and we'll toss a coin!
DF: Finally, gentlemen, are there any projects current or near-future – comics or other media – you have that you would like to mention?
AED: Dirk Gently's Holistic Detective Agency takes up a lot of my life, in many media: the the current comic miniseries The Salmon of Doubt ties together the original books and our TV series, which is now just gearing up to shoot its second season for BBC America and Netflix and will be on air before the end of 2017. I think our first season fulfilled our self-imposed mandate of being the weirdest thing on television, so all I can tell you about season 2 is that it's going to be even stranger!
MC: I can't wait for that. Dirk is every kind of awesome. As for me, the movie version of my novel The Girl With All the Gifts is about to hit American screens, streaming on DirecTV in late January and in selected theatres in February. And the prequel to the novel, The Boy On the Bridge, is published in May. Oh, and I'm also writing a comic series for French publisher Glenat, Highest House, with Peter Gross doing the art (so, so beautifully!). That will come to the U.S. later this year, we hope.
Dynamic Forces would like to thank Mike Carey and Arvind Ethan David
for taking time out of their busy schedules to answer our questions. Darkness Visible #1 from IDW hits stores Feb. 15th!
For more news and up-to-date announcements, join us here at Dynamic Forces, www.dynamicforces.com/htmlfiles/, "LIKE" us on Facebook, www.facebook.com/dynamicforcesinc, and follow us on Twitter, www.twitter.com/dynamicforces
RED SONJA: SHE-DEVIL WITH A SWORD VOLUME 1 TPB BY OEMING, CAREY AND RUBI!
VAMPIRELLA MASTERS SERIES VOL. 8: MIKE CAREY WITH JOSHUA HALE FIALKOV TPB
ULTIMATE FANTASTIC FOUR VOL. 2 HC By Mike Carey, others
TORCH #6 DF EXCLUSIVE "VIRGIN ART" COVER SIGNED BY ALEX ROSS By Mike Carey, more
---
NEW! 1. 11/25/2020 - STEVE SKROCE
4. 11/16/2020 - RYAN O'SULLIVAN
5. 11/16/2020 - RYAN O'SULLIVAN