DANIEL H. WILSON

SEND THIS TO A FRIEND!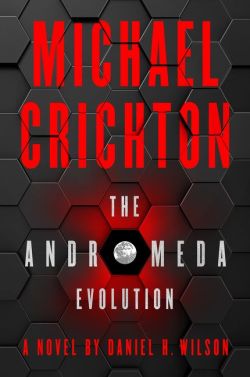 DF Interview: Daniel H. Wilson explores the world of Crichton a half-century later in 'The Andromeda Evolution'
By Byron Brewer
Robotics engineer Daniel H. Wilson is also a New York Times bestselling author, having written Robopocalypse and its sequel Robogenesis, as well as How to Survive a Robot Uprising, The Clockwork Dynasty, and Amped. His latest novel is an authorized stand-alone sequel to Michael Crichton's literary classic, The Andromeda Strain, called The Andromeda Evolution.
The book celebrates both Michael Crichton and the 50th anniversary of The Andromeda Strain. DF is honored to have had the opportunity to talk with Daniel as he discusses writing a sequel to someone else's book, maintaining another author's voice while also putting your stamp on the work, and other fascinating aspects of this celebratory sequel, The Andromeda Evolution.
Dynamic Forces: Daniel, were you a fan of the late Michael Crichton's 1969 techno-thriller novel The Andromeda Strain, which tells of a team of scientists investigating the outbreak of a deadly extraterrestrial microorganism in Arizona?
Daniel H. Wilson: I discovered Michael Crichton as a teenager and sped through as many of his novels as I could find. The Andromeda Strain has remained one of my absolute favorites, as the first and purest incarnation of the "scientists save the world" theme that Crichton explored so successfully.
DF: How did you come to write The Andromeda Evolution, the "sequel" to Crichton's book? I heard that the author's family were instrumental in you being the writer?
Daniel H. Wilson: I didn't know this, but Sherri Crichton had been on a long search for an author who could tell another story set in the world of The Andromeda Strain. A friend of mine mentioned me to her, and thus began a tentative discussion that quickly bloomed into a successful collaboration. Before I knew it, I was in the surreal position of spending every day writing a novel that had both my name on the cover and Michael Crichton's!
DF: Give readers, if you will, a summation, an extended elevator pitch, if you will, of the main storyline of the book.
Daniel H. Wilson: The story is set fifty years after an extraterrestrial microparticle called the Andromeda Strain infected and wiped out the town of Piedmont, Arizona. It begins again when the long-ignored Project Eternal Vigilance detects the Andromeda signature outgassing from a mysterious structure in the middle of the Amazon jungle. A team of top scientists is sent to investigate, study the new anomaly, and before it's over—save the world.
DF: This past year is the 50th anniversary of the original novel. Interestingly, your novel takes place 50 years following Strain's chronology. Why the half-century jump in time, other than true time's passage?
Daniel H. Wilson: The book was created to celebrate Michael Crichton and the 50th anniversary of The Andromeda Strain. In the new novel, everything relayed in The Andromeda Strain is treated as gospel truth—meaning that until now there has been very little publicly released about the aftermath of the events of those five days. To honor the timeline and respect the facts, the new novel needed to allow fifty years to elapse.
DF: You've said it was important to you to capture Crichton's "voice". How did you, in your perception, do that and also have your own voice in the work?
Daniel H. Wilson: My first novel Robopocalypse was written with a similar narrative structure—an after-the-fact reconstruction from interviews, video, and audio data. Beyond the narrative, it was just a matter of letting Crichton's voice into my head. I also attended to thematic elements I find important—like playing with how science can't control nature, and how human beings are fundamentally similar regardless of the technological baubles we flatter ourselves with.
DF: You have a PhD from the Robotics Institute of Carnegie Mellon University, so let me take this rare opportunity to ask your opinion on the growth of/usage of tech in our society now, especially AI and where that might be headed. Will we be amending the Bill of Rights for androids in the near-future?
Daniel H. Wilson: I believe our machines will someday embody our moral beliefs in both their innate design and ethical actions. I expect that humankind will be very focused on how the machines will treat us, and much less so on how we treat them.
DF: Daniel, tell readers how they might purchase your book, The Andromeda Evolution, and also what new is coming from your creative back-burner?
Daniel H. Wilson: The Andromeda Evolution is available wherever books are sold, in hardcover, e-reader, and a very beautiful audiobook—as well as most libraries! I hope everyone who is a fan of Michael Crichton has a chance to enjoy it. Meanwhile, I'm back in the creative phase to craft a new novel set back in a Daniel H. Wilson universe.
Dynamic Forces would like to thank Daniel H. Wilson for taking time out of his busy schedule to answer our questions. As the author said, The Andromeda Evolution is available wherever books are sold!
---
NEW! 1. 12/04/2020 - JOSH BLAYLOCK
3. 11/30/2020 - SKYLAR PATRIDGE