Ales Kot

SEND THIS TO A FRIEND!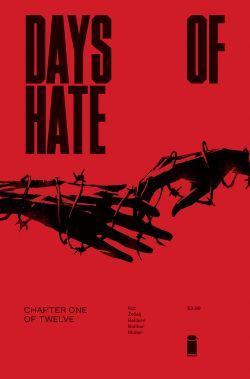 DF Interview: Aleš Kot brings a story of war (and more) in Days of Hate
By Byron Brewer
The United States of America, 2022: The loss that ripped them apart drove one into the arms of the police state and the other towards a guerrilla war against the white supremacy. Now they meet again.
From Image Comics comes Days of Hate, a 12-part story of war brought to life by writer Aleš Kot, artist Danijel Zezelj and colorist Jordie Bellaire. DF wanted to get the full 411 so we caught up with the scribe.
Dynamic Forces: First, Aleš, if you don't mind the question, when last we talked (Wolf), you had suffered from a debilitating bout of Lyme disease. How are you doing these days?
Aleš Kot: I'm great, Byron, thanks for asking! I'm alone in the mountains for a few months, writing, reading, processing the past, being present, getting ready for the future.
DF: Great! … Tell us about the world you are creating in your new limited series, Days of Hate.
AK: Not really much of a world I'm creating – more like the world we're getting unless we change the way we're conducting ourselves and our society. Do you know how Children of Men feels like a documentary now, just slightly heightened? I'm taking a similar approach with Days of Hate. Five years into the future, a couple of years from another rigged election, the government using SNPU, its own version of Gestapo, which used to be, during World War II, the German Secret Police. I can't believe I have to spell that out, but it feels like we're in times when people seem to forget the past.
DF: What can you tell us about your main protagonists?
AK: Huian is an architect who gets brought in for questioning by the SNPU. Amanda used to work in publishing and now kills Nazis. Arvid used to be a steel worker, then temporarily left his family to help Amanda. Freeman runs the domestic terrorism sector of the SNPU. Huian and Amanda were married. Their relationship is the reason Huian gets brought in to be interrogated by Freeman, and things escalate from there.
DF: Are there any supporting characters that readers should take special notice of, who may become important later on?
AK: I wouldn't dare spoil things this way.
DF: The title of the comic certainly is reflective of our world today, it seems. Are there any aspects of your life that are reflected in the book, even in subtext? Can you share those?
AK: We live in a society that is still ran by the white supremacy and the patriarchy. Until that society is gone and something truly equal for all stands in its place, the work will continue.
DF: How has it been working with artist Danijel Zezelj and color artist Jordie Bellaire?
AK: Incredible. I emailed Danijel in 2010 or so, before I even got published, to tell him I adored his work and that I hoped one day we'd work together. About five years later, he added me on Facebook and told me he liked Zero a lot. About two years later … we found a project.
As for Jordie, she's one of my all-time favorite collaborators. We share influences, have great communication, and respect each other. The collaboration is very instinctive and yields even better results than I imagine when creating the pages.
DF: Speaking of Zero, any urges to bring back your very surreal espionage comic? Any news about it as a TV series, which was discussed at one point?
AK: Days of Hate is the spiritual sequel to Zero, actually! So in that sense, yes. As far as continuing the original Zero series … never say never, but if, it would have to feel 100 percent right, and it would probably be a limited comics series or a graphic novel.
As for the TV series, I would love to tell you if it felt right to speak about it already, but right now I can't say anything but it's being worked on and I'm happy with how it's going.
DF: Aleš, can you tell us what other projects, current or near-future, you might be working on?
AK: Another one of my projects, James Bond: The Body, drops in January. It's a six-issue mini-series, each chapter drawn by a different artist, and it's a pretty raw exploration of how Bond's job affects him.
In February, Bloodborne: Death of Sleep comes out, and that's my first time working within a world of one of my favorite video games. Bloodborne is an unholy merger of the works of H.P. Lovecraft, Mary Shelley, Bram Stoker, mangas like Berserk, and so much more … it's beautiful, strange and endlessly fascinating, so the opportunity to create more stories in that universe is something I'm enjoying immensely. And then there's The New World with Tradd Moore later in 2018, and and and …
Dynamic Forces would like to thank Aleš Kot for taking time out of his busy schedule to answer our questions. Days of Hate #1 from Image Comics hits stores Jan. 17th!
For more news and up-to-date announcements, join us here at Dynamic Forces, www.dynamicforces.com/htmlfiles/, "LIKE" us on Facebook, www.facebook.com/dynamicforcesinc, and follow us on Twitter, www.twitter.com/dynamicforces.
---
NEW! 1. 05/24/2023 - DOUG WAGNER
3. 02/10/2022 - SIMON SPURRIER