WALT FLANAGAN INTERVIEW BY BRANDON JERWA

SEND THIS TO A FRIEND!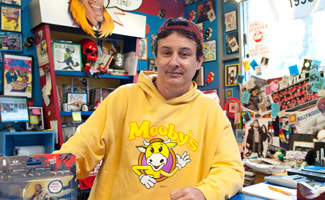 1. I'd like to start by asking you to pretend that it's sometime in the early 90s, before Clerks started production. If someone had told you that the movie would be a huge indie sensation spawning several sequels, you would go on to draw mainstream and indie comics (including a couple of BATMAN books), and eventually you'd have a TV series about your life running a comic shop…how would you have reacted?

I imagine my younger self being would be a bit skeptical of any one of the things you listed let alone all of them.


2. I left out "award-winning podcaster" in the first question, because telling you that part of the future would involve explaining what the internet would be, and what a podcast is. That would probably be a little bit like Marty McFly pretending to be an alien when he visited his dad in the 1950s. Even with a love of comics and science fiction, would you have had a big enough imagination to accept ideas like that when you were younger?

It's pretty wild I admit but maybe not from a tech point of view with the concept of the internet and all that but more so because I'm a person who isn't all that comfortable talking and interacting with people, so it is a bit of a head scratcher that I'm on a podcast let alone one that has won awards.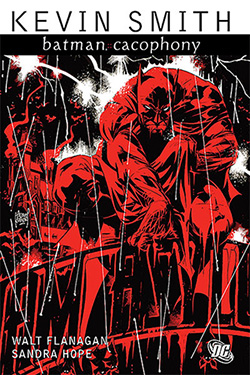 3. After you and Kevin Smith teamed up for BATMAN: CACOPHONY, you returned for THE WIDENING GYRE. That series needed a break after six issues, but it's scheduled to return as BELLICOSITY in 2014. How's that coming along?

The series is half done so we are just waiting for Kevin to clear some space on his schedule to finish it up...but I'm very excited for people to see how it wraps up.


4. Sometimes, a break can be a good thing from a creative standpoint. Has the overall story changed much from what the two of you originally intended?
I can say that I get to draw my all-time favorite DC villain in Trigon and it was almost like an out of body experience!


5. I think every comic geek has their One Favorite Batman Artist. Who do you love, and how does it feel to know that there are readers out there who would answer that question with YOUR name?

Yea, well, I'm not too sure if my name would pop up but as far as my favorite, there's a virtual hall of fame line of artists who have worked on batman from Neal Adams, Marshall Rogers, Frank Miller, Alan Davis, Kelly Jones, Greg Capullo and I am leaving off many other great artists who have done batman over the years. However, my personal fave is Jim Aparo...he personifies the Batman I grew up with...and I love his style.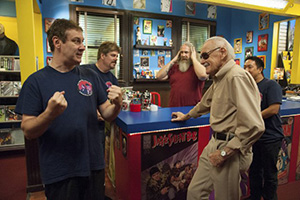 6. I'm guessing you've probably been asked this question a lot over the last few months, but I can't help asking: How do you feel about this "Ben Affleck" kid they've cast as Batman? I think he was in a movie with you, right? Is he any good?

That's right. I was actually in a scene with Ben affleck in Chasing Amy that got cut. So I can say this cause I've worked with the man....he's gonna knock it outta the park...easy.


7. The always-reliable Wikipedia refers to you as "the lead star" in COMIC BOOK MEN. That puts you on a level with names like Kiefer Sutherland, Bryan Cranston, and…uh…Honey Boo Boo. Do your fellow Comic Book Men (Bryan, Ming, and Mike) accept your star power, and treat you accordingly?

From the reactions I get from people who watch the show is that Ming is they're favorite cast member and is the star of the show...imagine that?


8. You recently launched CRYPTOZOIC MAN at Dynamite, with Bryan writing, and Ming and Mike getting credit for character work. Having read it, I have to say – and I mean this as a compliment – that I found it genuinely weird, and a little disturbing. How would you explain the book to someone who's never heard of it?

Thank you! I think I would describe it as a concept and character design so wild and a tad retro you might have thought it came out of the seventies...and that's what I was going for...just a weird, David lynch like vibe ...a comic filled with strange monsters and bizarre characters on every page.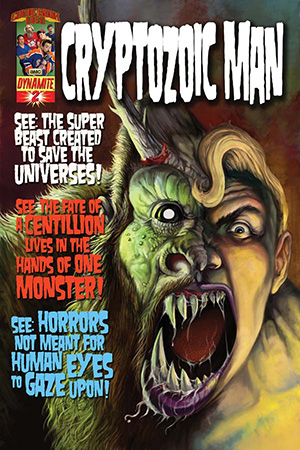 9. You've built yourself quite a resume: Movies, TV, comics, podcasting, and even good old-fashioned entertainment retail management. Is there a secret, unfulfilled desire that you have yet to unleash upon the world?

I've always wanted to be a tap dancer.


10. Secret desires aside, what can we definitely expect from Walt Flanagan in 2014?

Hmmmmm, I'm not sure...I'd be ecstatic with status quo!
---
NEW! 1. 11/25/2020 - STEVE SKROCE
4. 11/16/2020 - RYAN O'SULLIVAN
5. 11/16/2020 - RYAN O'SULLIVAN