BENJAMIN PERCY

SEND THIS TO A FRIEND!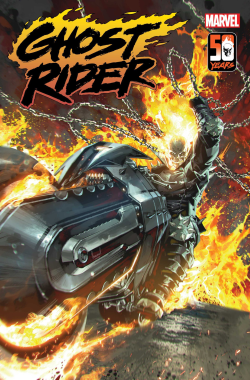 DF Interview: Benjamin Percy celebrates 50 years of 'Ghost Rider' with an all-new ongoing comics series
By Byron Brewer
Johnny Blaze has the perfect life: a wife and two kids, a job at an auto repair shop and a small-town community that supports him. But Johnny isn't doing well. He has nightmares of monsters when he sleeps. And he sees bloody visions when he's awake. This life is beginning to feel like a prison. And there's a spirit in him that's begging to break out!
Benjamin Percy (Wolverine, X-Force) and Cory Smith (Conan the Barbarian, Captain Marvel) are going back to basics with the Spirit of Vengeance in this extra-sized first issue celebrating 50 years of the dark rider. I got in touch with my friend Ben and off we went talking about Ghost Rider, one of Marvel's finest creations IMHO from its 1970s supernatural/monster era.
Byron Brewer: Ben, as a self-proclaimed "horror head", how does it feel to be writing a new iteration of Ghost Rider? Or should I say the ORIGINAL iteration of the character as you bring back my man, Johnny Blaze? AND doing so on the 50th anniversary of the character? (OMG, does it tell my age to say I still think of GR as a relatively NEW character? Eep.)
Ben Percy: I grew up on Stephen King and John Carpenter and Universal Monsters and Tales from the Crypt and Tomb of Dracula and Hellblazer and Swamp Thing and Man-Thing and Ghost Rider. Lots and lots of Ghost Rider. I read and I write across all mediums and genres, but horror has always had a live-wire appeal to me. I love to play chicken with nightmares, I guess.
I'm thrilled, of course. It would be badass to be writing Ghost Rider at any point, but during the 50th anniversary? That's the extra nitro boost I need to write a story for the ages.
Byron: Admittedly the last time I saw Johnny, he had been serving as a rather malicious King of Hell, battling the Avengers and getting exorcised by the late (?) Doctor Strange. How came he to where we find him in issue #1 of your title coming in February?
Ben Percy: Well…I'm not telling.
Byron: Dang!
Ben Percy: Seriously. Because that's one of the mysteries that will be playing out over the first five issues: where the hell has Johnny Blaze been?
A darkness is rising, because Ghost Rider has been off road. And there's a deeply upsetting reason for this that will unfold partially in the first over-sized nightmare-packed issue.
Byron: … And the wife and two kids?
Ben Percy: Also not telling. You'll have to read the first issue. I'm not just being coy. If I say anything, I'll literally spoil the story. And it's one I put a lot of thought and poison into.
Byron: The welcome return of Blaze! Does that mean the return of Zarathos as well?
Ben Percy: You'll see some familiar characters—(of course, I need to honor legacy)—but I'm also going to introduce some new baddies. Because I don't want to simply karaoke an okay imitation of the legendary creators who came before me. I want to put a signature track of burnt rubber on the blacktop.
Byron: My favorite Blaze was him wandering alone and battling eerie supernatural beings and odd entities like Orb. But we have a family here. Will they be a big part of the saga, and are there any supporting characters readers need to know about? If so, can you spotlight a few here please?
Ben Percy: I'll just give you a tonal pitch for the first issue. You ever see Blue Velvet? The David Lynch movie? There's a sequence early on, when we're getting introduced to this gauzy suburban world, and we see perfectly manicured lawns and white picket fences and waxed cars gleaming and sprinklers kicking out rainbows as dreamy music plays, but then the camera zooms in on the lush, green grass and hidden in its shadows is a severed ear swarming with ants.
Yeah. When it comes to the life Johnny has supposedly built for himself…something very similar is going on. Nothing is as it seems. Darkness licks at the sunshine.
This is a horror story, folks. Some seriously unsettling things are going to happen. Get ready for dark atmospherics and nail-biting scares and the wormy, sulfurous taste of the uncanny.
Byron: I love all of Johnny's powers. Anything new in the demonic power set coming for this former original Champion?
Ben Percy: Some new powers, and some new…injuries, shall we say?
I'm not going to say much here, but one big paradigm shift—and yes, this will be contextualized for the reader—is that Johnny doesn't have any control when the Spirit of Vengeance takes over.
In fact, he doesn't remember the experience at all. Which makes the division in the character that much more intense. A curse.
Byron: I believe this is an ongoing, so can you at least give readers the storyline for the first arc? An expanded elevator pitch, if you will?
Ben Percy: I'll say that it's back-to-basics in a way. When we start off, all of my focus is on Blaze. That's not to say I'm disregarding the excellent work others have done. I just think it's time—especially given that this is the 50th anniversary of the title—to really sink my fangs into the road hog who started it all. Character first. We'll expand from there.
And maybe—one more hint—after the first issue, we'll spend some time on the road. Chasing the horizon. Like a wandering ronin or frontier cowboy.
Byron: Love THAT! … Talk about the pulse-pounding art of Cory Smith.
Ben Percy: Cory is killing it. His art is thick with emotion and shadows. Perfectly paced and staged. There's a grittiness to the way he's drawing this series that gives it a '70s crime vibe. I can't wait for you to see what he's up to.
Byron: Ben, what else from you will be popping onto stands in the next few months? … At least that you can talk about?
Ben Percy: Over at Marvel, I've got a big hairy event launching this January. The X Lives of Wolverine / X Deaths of Wolverine, which is a ten-issue weekly series that follows a time-shredding mystery. It's my ultimate Wolverine story.
I also have a novel releasing in January called The Unfamilar Garden. I hope my comics readers will check out what I'm doing in prose. This book is part of what I'm calling the Comet Cycle, and it's a shared universe I'm building.
Dynamic Forces would like to thank Benjamin Percy for taking time out of his busy schedule to answer our questions. Ghost Rider #1 from Marvel Comics is slated to be on sale February 9th!
For more news and up-to-date announcements, join us here at Dynamic Forces, www.dynamicforces.com/htmlfiles/, "LIKE" us on Facebook, www.facebook.com/dynamicforcesinc, and follow us on Twitter, www.twitter.com/dynamicforces.
GHOST RIDER #1 WRAPAROUND VARIANT SIGNED BY BEN PERCY
GHOST RIDER #1 WRAPAROUND VARIANT SIGNED BY RYAN STEGMAN
GHOST RIDER #1 PEACH MOMOKO VARIANT SIGNED BY BEN PERCY
GHOST RIDER #1 ELITE GHOST RIDER GOLD SIGNATURE SERIES SIGNED BY BEN PERCY
GHOST RIDER #1 SIGNED BY BEN PERCY PLUS 1
GHOST RIDER #1 SIGNED BY BEN PERCY
JAMES BOND IN "REFLECTIONS OF DEATH" OGN HARDCOVER - SIGNED BY BEN PERCY
ALIENS AFTERMATH #1 CGC GRADED
ALIENS AFTERMATH #1 ELITE GOLD SIGNATURE SERIES SIGNED BY BEN PERCY
WOLVERINE #1 ALEX ROSS VARIANT SILVER SIGNATURE SERIES - SIGNED BY BENJAMIN PERCY
WOLVERINE #1 MIDTOWN COMICS EXCLUSIVE VARIANT BY GABRIELE DELL'OTTO SIGNED BY BENJAMIN PERCY
X-FORCE #1 SIGNED BY BENJAMIN PERCY!
---
NEW! 1. 02/10/2022 - SIMON SPURRIER
4. 01/31/2022 - TIM SEELEY & AARON CAMPBELL
5. 01/27/2022 - TYLER BURTON SMITH