BRYAN HILL

SEND THIS TO A FRIEND!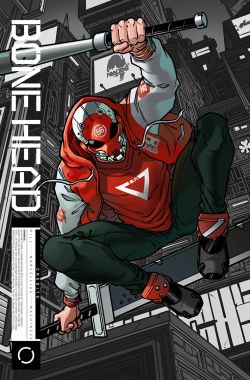 DF Interview: Bryan Hill plunges readers into a megalithic super-city in Bonehead
By Byron Brewer
In a near future, a sprawling megalopolis sees the rise of "Boneheads," parkour-gangs that use neuro-linked helmets to augment their abilities and live for the thrill of physical risk. As a gang war threatens to tear the city apart, a mysterious Bonehead rises, a man with no past that might be the key to saving the city's future.
From writer Bryan Hill (Postal) and artist/creator Rhoald Marcellius (Contest of Champions) comes to Image Comics a story about technological and human revolution.
DF wanted to secure the full 411 for you, of course, so we sat down with scribe Bryan Hill.
Dynamic Forces: Bryan, before we begin and since it will be a part of the discussion, define for our readers exactly what parkour is.
Bryan Hill: As I understand, it's the art of "free running" that began in Paris as an athletic and spiritual response to the oppressive nature of low income environments. It's traveling across the city, but it's also an act of organic rebellion against the machinery of urban development.
But that's just my understanding. I'm probably wrong, LOL.
DF: Is parkour something you or Rhoald Marcellius have an interest in? What was the genesis of this new series, Bonehead?
Bryan Hill: Well, this is really Rhoald Marcellius' brainchild. He had a story about a dystopian future where gangs of people have stemmed from the creation of "Boneheads," helmets that augment the users' abilities.
His story is about a city suffering from inequity and a class war that rises from that struggle. It's really his vision. I'm just helping him script it, but it's his plan through and through. I don't want to eclipse his creativity. Because he's not a native English speaker, he needed someone that could help him with a script and I was happy to do it.
DF: Tell us about the world you are helping Rhoald convey here.
Bryan Hill: The world is reminiscent of Ghost in the Shell or Dark Minds (if people want to go back that far, LOL). It's a world of technological advancement, but the advancements haven't helped everyone. The working class has been left behind and that's an element of the story.
DF: Without spoilers, can you introduce us to the enigmatic main protagonist, the rogue Bonehead?
Bryan Hill: There's a mystery around him, but all I can say is that in a world that needs a hero, he might be the hero that responds to the call.
DF: Other characters of import?
Bryan Hill: I'm fond of Detective Hideki. Rhoald imagined him in the vein of a Rick Deckard and it was fun to travel a little in the world of cyberpunk.
DF: Bryan Hill series usually are swimming in subtext. I suspect this one is no different. While I know the desire is to let the reader separate the wheat from the chaff, I would like to ask you about some of the subtleties and your view on them (technological and human revolution, for example).
Bryan Hill: I try not to drown stories in "meaning," but there's a lot said here about how technology changes humanity (and empathy) and how tribalism will still exist in an advanced world … it will just be empowered by new technology.
DF: Tell us about working with Rhoald on his story concept.
Bryan Hill: As I said, I'm really a third wheel on this. Rhoald and Sunny Gho bring a cohesive vision, passion for the genre and a real sense of design and style [to Bonehead].
DF: Bryan, I know you have a lot of pots on the Image backburner. Can you tell our readers a few of the projects to be on the lookout for in the near-future?
Bryan Hill: Postal is wrapping up, but there's still a little more from me on that. Aphrodite V comes in 2018. And Cyberforce returns in 2018 from me, Matt Hawkins and Marc Silvestri.
Dynamic Forces would like to thank Bryan Hill for taking time out of his busy schedule to answer our questions. Bonehead #1 from Image Comics is in stores now!
---
NEW! 1. 11/30/2020 - SKYLAR PATRIDGE
5. 11/16/2020 - RYAN O'SULLIVAN