NICK PARISI

SEND THIS TO A FRIEND!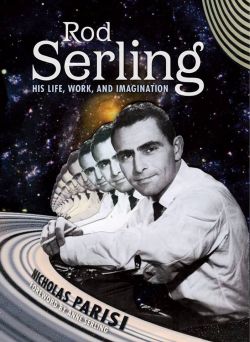 DF Interview: Nicholas Parisi presents a chronological study of a legend's entire body of work in 'Rod Serling: His Life, Work and Imagination'
By Byron Brewer
Submitted for your approval: A musician who finds as much power in the written word as in the played note. One aspect of the man took him to such bands as Arioch, while another took him beyond light and shadow to an admiration of same and of the man who created said magic in a tiny box in his home.
Nicholas Parisi, a former staff writer and editor for Good Times magazine, serves on the Board of Directors of the Rod Serling Memorial Foundation, a charitable organization dedicated to preserving and promoting the late writer and early television pioneer's legacy.
Nick has shared his story, and his love of Rod Serling, in a book titled Rod Serling: His Life, Work and Imagination. He is about to share it with DF – and with you – right here.
Dynamic Forces: Nick, what first led you to be a devotee of Rod Serling?
Nicholas Parisi: The Twilight Zone mesmerized me from the time I first saw it, when I was nine or ten years old. Over time I became aware of all the other great things that Rod Serling had written and I became interested in tracking down information about his lesser known work. Serling has such a distinctive voice, and that voice is consistent throughout his work – in and out of The Twilight Zone.
DF: Tell us how your book – Rod Serling: His Life, Work and Imagination – came about and a sampling of what readers will discover between its covers.
Nicholas Parisi: When I began writing, I had relatively modest goals. I wanted, first, to compile a truly complete list of every teleplay and screenplay that Serling had written and that had been produced. I was surprised that this had not yet been done. Every list that I consulted had gaps or errors, and in terms of one particular series – The Storm, which was performed live and aired only in the Cincinnati area in 1951 and 1952 – there was virtually no available information about what scripts Serling had written for it. So, in this book you will get the first truly complete list of every Serling script that was produced. After compiling that information, I wanted to then provide a clear, complete synopsis of every one of these shows – not just one-line descriptions that might be found in TV Guide, but synopses that allow the reader to come as close as possible to feeling as if they have seen the actual show. And then, the more ambitious part, was I wanted to present Serling's career in a way that puts his work into the context of his own biography and the time in which he worked. The book is a strictly chronological study of Serling's entire body of work.
DF: In researching Serling – and obviously you knew much, even as you set out to do the book – what were some of the most surprising discoveries you made about the man and his life?
Nicholas Parisi: I am very proud to say that the book contains a wealth of information – not trivial but substantial information – that has never been revealed. The most surprising thing that I discovered relates to Serling's infamous script, "Noon on Doomsday," which was Serling's first attempt to tell some version of the Emmett Till story. Emmett Till was a fourteen-year-old African-American kid who was tortured and lynched in Mississippi in 1955 for allegedly whistling at a white woman. Serling's attempt to dramatize that story involved his most legendary battles with television censorship. There have been several, in-depth studies of the evolution of Serling's script from what he wanted to say to what actually aired, but none of these studies had access to Serling's actual first draft. I very luckily stumbled upon the first draft, and I guarantee that the version of the "Noon on Doomsday" censorship battle that is in this book is entirely different from anything previously published.
DF: A hard one: Favorite episodes of Twilight Zone, and why?
Nicholas Parisi: Ironically, for several years I would have said that my favorite Twilight Zone episode was one that Serling had not written: Charles Beaumont's "The Howling Man." I still love that one, as well as Beaumont's "Shadow Play," but as I've grown older Serling's "Walking Distance" has gone from being one of my favorites to being my favorite.
DF: I liked Night Gallery, but it never reached the interest Twilight Zone had in my life or imagination. Can you compare and contrast the shows?
Nicholas Parisi: I have a feeling that Night Gallery fans are going to hate me after reading this book – even though I think I give Night Gallery its due; there are plenty of really great episodes of Night Gallery, and I think Serling did some of his best writing for the series. Both Twilight Zone and Night Gallery had their highs and lows, but in my opinion, The Twilight Zone's highs were higher and Night Gallery's lows were much, much lower.
Serling wrote 38 of the show's 99 segments and, contrary to common perception, the vast majority of these were not significantly rewritten. But the fact that Serling had no control over the productions themselves – the casting, the choice of director, etc., was a big disadvantage for the series. Night Gallery frequently showed poor judgment in terms of casting, and I would agree with Serling that the short, comedic "blackout" sketches were pointless and annoying.
DF: What are your thoughts on director Jordan Peele rebooting Twilight Zone for CBS All Access?
Nicholas Parisi: Here's a story that I did not use in the book: When CBS rebooted The Twilight Zone in 1985, the show included a brief glimpse of Serling during its opening montage. Well, one of the producers of that series fought to keep that image of Serling out of that montage. He was adamant that this was not Rod Serling's Twilight Zone, and he did not want any association with the original series.
I am cautiously optimistic about Jordan Peele's reboot, partially because the first trailer for the series prominently features Serling's voice. It makes no effort to conceal its heritage. And now there is news that the series plans to remake "Nightmare at 20,000 Feet." While remaking stories from the original series might not be the greatest idea, at least it again shows that they are not afraid to go to that well when it makes sense to do so. My fingers are crossed – I hope it will be great.
DF: Does your book touch upon Serling's involvement with the original Planet of the Apes film? Maybe you could talk about that a little here for the uninitiated?
Nicholas Parisi: I dedicate a chapter to Serling's involvement with Planet of the Apes because there has been a lot of misinformation about it over the years. BOOM Studios recently released a graphic novel that is based on Serling's version of the screenplay and it gives a really good picture of what Serling's version might have looked like. Serling was the first screenwriter on the film. He wrote several drafts over a span of about two and half years, but no studio had yet signed on to produce the movie, and it became clear that one way to make it more attractive to studios was to reduce the potential budget. This would have required another major rewrite of Serling's script. Given that the producers were still not satisfied with Serling's version, and he admitted that he had basically "written himself out" on it, he stepped aside and was replaced by Michael Wilson. Wilson's version retains several of Serling's plot points (including the ending), and a lot of Serling's imagery, and keeps the same basic structure, but almost all of the dialogue was rewritten. Serling and Wilson shared screenwriting credit on the final film.
DF: Finally, Nick, tell our readers where your book is available.
Nicholas Parisi: The book is available, as they say, wherever books are sold. It's published by the University Press of Mississippi, which did a fantastic job with the artwork and layout – it's well over 500 pages and includes around 75 photos, and is available at Amazon, and should be on the shelves at most bookstores.
Dynamic Forces would like to thank Nicholas Parisi for taking time out of his busy schedule to answer our questions. Rod Serling: His Life, Work and Imagination is available "wherever books are sold"!
For more news and up-to-date announcements, join us here at Dynamic Forces, www.dynamicforces.com/htmlfiles/, "LIKE" us on Facebook, www.facebook.com/dynamicforcesinc, and follow us on Twitter, www.twitter.com/dynamicforces.
TWILIGHT ZONE #1 DYNAMIC FAT JACK'S COMICRYPT ULTRA-LIMITED BLACK AND WHITE LINE ART EDITION!
TWILIGHT ZONE #1 DYNAMIC FAT JACK'S COMICRYPT LIMITED EDITION COVER!
TWILIGHT ZONE #1 - (1:25) "VIRGIN ART " RETAILER INCENTIVE COVER BY FRANCESO FRANCAVILLA!
TWILIGHT ZONE VOL. 3: THE WAY BACK TRADE PAPERBACK
THE TWILIGHT ZONE/THE SHADOW TRADE PAPERBACK
THE TWILIGHT ZONE: SHADOW & SUBSTANCE TRADE PAPERBACK
---
NEW! 1. 11/25/2020 - STEVE SKROCE
4. 11/16/2020 - RYAN O'SULLIVAN
5. 11/16/2020 - RYAN O'SULLIVAN