Ultimate X-Men artist auctions himself off to retailers for charity signing to coincide with 'X-Men 2' movie and Free Comic Book Day
March, 2003, Runnemede, NJ -- Adam Kubert would go anywhere or do anything for the right cause. On Saturday, May 3, the fan-favorite artist will get his chance.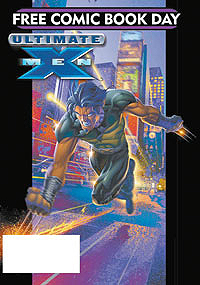 Marvel Comics (http://www.marvel.com) X-men artist Kubert will auction off his services for a three hour comic book store signing anywhere in the continental U. S. on May 3, 2003. The appearance coincides with the release of the "X-Men 2" film May 2nd and Free Comic Book Day May 3rd.
The Marvel exclusive artist will donate all proceeds raised from the auction to the National Childhood Cancer Foundation. The event will be co-sponsored by Wizard and Dynamic Forces.
The 10-day auction kicks off on ebay.com Friday, March 28 and runs through April 6 (beginning and ending at 11 p.m. EST).
Interested retailers can find the auction here:
http://cgi.ebay.com/ws/eBayISAPI.dll?ViewItem&item=2167336799
This event is co-sponsored by Dynamic Forces and Wizard Magazine.
"With the X-Men sequel and Free Comic Day weekend, this seemed like a great opportunity to create a little more awareness for the comics industry and raise money for charity in the process," said Kubert, a mainstay on Wizard's Top 10 Artists list and teacher at the Joe Kubert School of Cartoon and Graphic Art in Dover, New Jersey (http://www.kubertsworld.com/). "No problem, I'll hop on a plane and go anywhere in the U.S. for this event." Adam has been illustrating the top selling Ultimate X-Men title for Marvel Comics for three years.
"Adam is literally full of energy," added Dynamic Forces President Nick Barrucci. "All of the fans who are enjoying the phenomenal work on Ultimate X-Men can see that energy spill onto every page. And when he mentioned that he was going to channel some of that energy into raising money for the National Childhood Cancer Foundation, we jumped on board to help raise as much money as possible."
The Free Comic Book Day giveaway will include a version of Kubert and Mark Millar's popular Ultimate X-Men #1, which Kubert will sign, in addition to the Wizard X-Men special which features artwork by both Adam and Andy Kubert.
To help boost the charitable donation, Dynamic Forces will be offering signed editions of the Ultimate X-Men Free Comic Book Day #1 for $10 with all proceeds to be included in the NCCF donation. These signed editions are also available on the Dynamic Forces website for $10 (plus shipping and handling).
__________________
DYNAMIC FORCES
is the comic book and collectible industry's top producer of limited edition comic books, lithographs, and more.
A licensee of DC Comics, Marvel Comics, Top Cow Comics, Dark Horse Comics, Universal Studios, Paramount Studios, Pressman Film's classic film "The Crow", T2, Sandy Frank Productions "Battle of the Planets (G-Force)" and many other industry giants, DF continues to set the pace in the comic collector and comic memorabilia markets.
For updated information on Dynamic Forces specialty merchandise, product
art, exclusive creator interviews, columns and upcoming product releases, please visit the Dynamic Forces website at www.dynamicforces.com.
__________________________
WIZARD ENTERTAINMENT
Wizard Entertainment is the leader in collectible-oriented publications, including Wizard: The Comics Magazine, InQuest Gamer focusing on collectible card games, role-playing games and computer gaming, ToyFare: The Toy Magazine, Anime Insider and Toy Wishes. Wizard also runs collectible/pop culture conventions in Philadelphia, Chicago and Dallas. For more information on Wizard Entertainment and Wizard related products, visit www.wizarduniverse.com.