DF REVEALS CLASSIC WOLVERINE IMAGE AS NEW DIORAMA STATUE!
Sneak Peak of New Project Now Available
February 11, 2004, Runnemede, NJ – In the not-to-distant future, mutants fight a losing battle for their very survival. Among the freedom fighters battling for control of the North American continent against the dread Sentinels, the X-Men take their last stand in the Days of Future Past!
Inspired by the classic tale from the legendary creative team of Chris Claremont and John Byrne, this brand-new collectible takes its inspiration from Bryne's powerful cover to Uncanny X-Men #141 -- recreated here for the first time ever as a Diorama!
"I don't think there's a comic fan alive that doesn't recognize this image," said Nick Barrucci, President of Dynamic Forces. "It's one of my personal favorite stories of all time, and one that took us years to release to make sure it was perfect! And now, it's been even further immortalized, and fans can make a special place for it in their collection! I can honestly say this is the one piece that all fans have been waiting for"
The Wolverine: Days Of Future Past Diorama Statue will be appearing for order in the next issue of Diamond's Previews, and will be available for pre-order on the DF site later this month.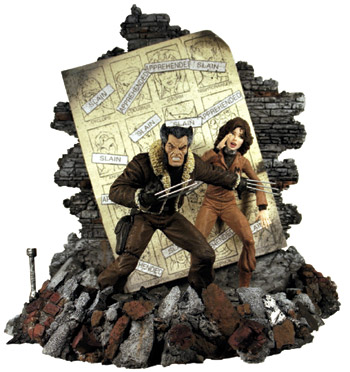 · WOLVERINE: DAYS OF FUTURE PAST DIORAMA STATUE!
Sculpted and painted by the Kucharak Brothers, the Days of Future Past Diorama stands 11" tall at the back, 11" wide, and 8" front-to-back. Logan, standing close to 6 and 1/2" tall, with his claws extended and protecting the adult Kitty Pryde, who stands close to 6" tall.
$295.00 Suggested Retail Price
Retailer Note: Special Ordering incentives will be available, please contact Dynamic Forces for more details.
For more information on Dynamic Forces specialty merchandise, product art, exclusive creator interviews and upcoming releases - including more Marvel Comics Product, please visit the Dynamic Forces website at www.dynamicforces.com
------------------------