VISIT DYNAMIC FORCES AND DYNAMITE ENTERTAINMENT IN CHICAGO!
Stop By For Convention Exclusives, Creator Signings and More!
August 10, 2004, Runnemede, NJ -- Look for Dynamic Forces and Dynamite Entertainment -- producer of this year's Red-Hot smash new Army of Darkness and Cosmic Guard Comics -- at this year's Chicago Con (booth #629).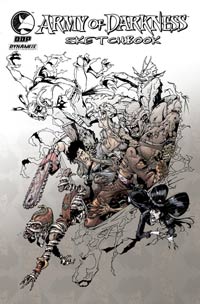 Exclusive Convention Editions of Army of Darkness #1, Cosmic Guard #1 and more will be available along with previews of upcoming projects from both Dynamite and good friends Dynamic Forces!
Also, DF and DE are bringing in AOD creators Andy (Danger Girl) Hartnell and Nick Bradshaw in their only major US convention appearances - with Nick signing all weekend and Andy signing from 11AM till 1PM and then again beginning at 3PM for two hours on Saturday! Copies of the Army of Darkness Sketchbook will be premiering at the convention as well. Also on-hand will be legendary creator Jim Starlin, writer/artist of Dynamite's Cosmic Guard, for special signings throughout the show all 3 days -- and a few more surprise guests may stop by!
Dynamic Forces will also be on-hand with first-look editions of their Definitive Dreadstar Hardcover and Softcover collections (all due in stores later this month) and previews of upcoming projects!
For more information on the WizardWorld Convention in Chicago, IL, please visit: http://www.wizarduniverse.com/conventions/chicago.cfm
For more information on Dynamic Forces specialty merchandise, product art, exclusive creator interviews and upcoming releases, please visit the Dynamic Forces website at www.dynamicforces.com
------------------------