November 8, 2002, Runnemede, NJ
– Top Cow Comics wasn't the first company to produce a Battle of the Planets comic! The first series hit way back in 1979 and 1980 from Gold Key and Dynamic Forces brings them to the world in collected form for the first time.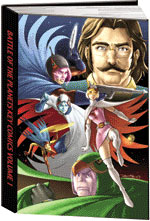 Almost impossible to find, these back issues are long sought-after fan-favorites. According to Wizard "Gold Key's nine issue run (which was actually 10 issues, but who's counting? Oh, that's right, we are!) has been one of the hot tickets throughout this past summer's convention season." With issue #1 being an easy $20.00 item, and the rest of the issues solid $10.00 items, what's a budget conscious comics fan to do?
DF aims to please! In honor of the upcoming 25th Anniversary of Battle of the Planets, we're collecting these out of print and impossible to get back issues, and bringing them to you in this complete collected edition! Re-Mastered in glorious black and white, the beauty and rarity of these issues will be treasured for years to come. And this baby boasts a beautifully drawn cover by none other than George Tuska and painted by Alex Ross! All this for an MSRP of $19.99.
As an extra added bonus, Munier Sharrieff and Udon Studios have created and DF has added in an exclusive 12-page Battle of the Planets story! Not only do you get 220 classic pages, but 12 extra pages as well!
All items are scheduled to ship in January 2003.
Attention retailers – special incentives and discounts are available! Please call Dynamic Forces or visit our website for more details.
For more information on Dynamic Forces specialty merchandise, product art, exclusive creator interviews and upcoming releases – including more Battle of the Planets merchandise, please visit the Dynamic Forces website at www.dynamicforces.com.