NEW DYNAMIC FORCES X-MEN LITHOGRAPH!
First-Ever Jim Lee DF Offering Features Wolverine!
August 28, 2003, Runnemede, NJ – For the first time, this incredible piece of X-Men art by Jim Lee is being produced as a Dynamic Forces high-end, limited edition Lithograph!
Scheduled for release in November, this image depicts Marvel's Most Famous Mutant, as interpreted by one of the industry's true artistic giants –Jim Lee!
• WOLVERINE UNLEASHED – By Jim Lee!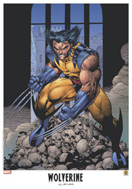 http://www.dynamicforces.com/htmlfiles/p-C98598.html
DF brings you Wolverine – the best there is at what he does – by one of the best artists in comics today – Jim Lee! This cool image features the feral Wolverine as he has been unleashed upon his enemies! Depicted on a mound of skulls, this image shows what happens when you cross paths with Wolverine! Claws unleashed, this image is just plain AWESOME!
Measuring 18" by 24" and printed on archival 80lbs. Stock this masterpiece by Lee will be a treasured addition to your collection!
$19.99 Suggested Retail Price.
For more information on Dynamic Forces specialty merchandise, product art, exclusive creator interviews and upcoming releases - including more Marvel Comics Product, please visit the Dynamic Forces website at www.dynamicforces.com
------------------------
Dynamic Forces is the comic book and collectible industry's top producer of limited edition comic books, lithographs, and more.
A licensee of DC Comics, Marvel Comics, Top Cow Comics, Dark Horse Comics, Universal Studios, Paramount Studios, Pressman Film's classic film "The Crow", Sony Pictures "Underworld", T2, Sandy Frank Productions "Battle of the Planets (G-Force)", Jim Starlin's "Dreadstar" and many other industry giants, DF continues to set the pace in the comic collector and comic memorabilia markets. Recent product line expansions includes: action figures, vinyl and poly resin statues, lunchboxes, trading cards, lithographs, giclees, apparel and much more!