EXCLUSIVE TRANSFORMERS VS. G.I. JOE COVER ART REVEALED!
Artist Jae Lee Provides Incredible New Image For Issue #1
August 20, 2003, Runnemede, NJ – An incredible image, depicting two of the greatest teams of characters ever assembled, and illustrated buy one of the top artists in the comics field, has finally been revealed!
Artist Jae Lee has created this powerful new image of Scarlet and Snake Eyes -- standing against the back-drop of the glowing eye of the dread Decepticon Megatron -- in this exclusive piece of art that will only be found on the Dynamic Forces variant cover edition of the Transformers vs. G.I.Joe (to issue #1) cross-over from Dreamwave Productions!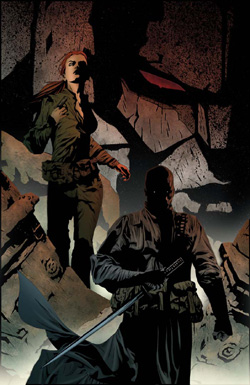 • THE TRANSFORMERS VS. G.I. JOE #1 DF EXCLUSIVE COVER
http://www.dynamicforces.com/htmlfiles/p-C97702.html
They met once before, but that was close to 20 years ago. Now the two premiere toy and comic book lines of the '80s meet in the 21st Century to face off in their ultimate battle!
That's right fans, it's The Transformers vs. G.I.Joe and DF has an exclusive alternate cover to complete your collection! Illustrated by the incomparable Jae Lee, these two toy titans have never looked better!
$6.99 Suggested Retail Price!
ALSO AVAILABLE AS A SIGNED EDITION BY ARTIST JAE LEE!
ALSO AVAILABLE AS A CGC-GRADED 9.6 EDITION SIGNED BY ARTIST JAE LEE!
ALSO AVAILABLE AS A CGC-GRADED 9.6 AND 9.8 UNSIGNED EDITION!
Retailer Note: Special Ordering incentives are available, please contact Dynamic Forces for more details.
For more information on Dynamic Forces specialty merchandise, product art, exclusive creator interviews and upcoming releases - including more Transformers and G.I.Joe Product, please visit the Dynamic Forces website at www.dynamicforces.com
------------------------
Dynamic Forces is the comic book and collectible industry's top producer of limited edition comic books, lithographs, and more.
A licensee of DC Comics, Marvel Comics, Top Cow Comics, Dark Horse Comics, Universal Studios, Paramount Studios, Pressman Film's classic film "The Crow", Sony Pictures "Underworld", T2, Sandy Frank Productions "Battle of the Planets (G-Force)", Jim Starlin's "Dreadstar" and many other industry giants, DF continues to set the pace in the comic collector and comic memorabilia markets. Recent product line expansions includes: action figures, vinyl and poly resin statues, lunchboxes, trading cards, lithographs, giclees, apparel and much more!