DYNAMIC FORCES AND QVCUK HEAT UP THE SUMMER!
Anniversary Shows to Air July 16 and 17.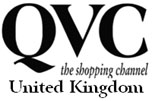 July 9, 2003, Runnemede, NJ -- July heats up across the pond and the most incredible character of all time appears on the air! That's right ladies and gentlemen - Nick Barrucci from Dynamic Forces brings you the most incredible and electrifying show with the Dynamic Forces 8th Anniversary Spectacular on QVCUK! Both Wednesday, July 16 beginning at 6:00 PM and Thursday, July 17 beginning at 7:00PM!
Nick waited until this special milestone – 8 years of bringing the best limited edition comics and collectible to QVCUK -- to pack his bag full more-so full of goodies than usual! And that bag is full of more goodies than Buffy can swing her stake at! The bag is bursting with everything from Buffy the Vampire Slayer Comics Signed by Sci-Fi great Christopher Golden, Batman #612 Signed by Jeph Loeb -- for the first ever on QVC UK, Marquee Packages featuring the DF authenticated signatures of Jeph Loeb, Ed McGuiness, Kevin Nolan, Jerry Robinson, Stan Lee, John Cassaday, Frank Miller, Alex Ross, Paul Dini, Sheldon Moldoff, Gil Kane and so much more!
For the fine-art lovers in the family, we are featuring the Spider-Man vs. Green Goblin Lithograph AP Edition -- Signed and Double Re-Marked with a Green Goblin and Spider-Man Head Sketch by none other than painter John Watson! This amazing piece has to be seen to be believed! And If you like multiple signatures, Dynamic Forces will be bringing you DF signed and authenticated comics signed by Darick Robertson, Herb Trimpe, Bill Jemas, Frank Tieri, Jae Lee, Mark Texiera, Fabian Nicieza, Jimmy Palmiotti, Jose Villarrubia, Dave Cockrum, Mark Millar, Bruce Jones, Stan Lee, Marv Wolfman, and more! All this and a host who could present these comics like no other! Matter of fact, Nick is flying from the DF offices to the UK before heading over to the San Diego Comic Con (this in and of itself is a feat not to be missed!)
Don't miss out on the biggest and best, the most incredible show of the year! Featuring Dynamic Forces on Wednesday, July 16th beginning at 6:00 pm for 2 hours of comics and limited edition collectibles, and also on Thursday, July 17th beginning at 7PM for an Incredible hour of Hulk collectibles! This is Dynamic's only visit to QVCUK for the summer – so catch it now!
For more information on Dynamic Forces specialty merchandise, product art, exclusive creator interviews and upcoming releases, please visit the Dynamic Forces website at www.dynamicforces.com
------------------------
Dynamic Forces is the comic book and collectible industry's top producer of limited edition comic books, lithographs, and more.
A licensee of DC Comics, Marvel Comics, Top Cow Comics, Dark Horse Comics, Universal Studios, Paramount Studios, Pressman Film's classic film "The Crow", Sony Pictures "Underworld", T2, Sandy Frank Productions "Battle of the Planets (G-Force)" and many other industry giants, DF continues to set the pace in the comic collector and comic memorabilia markets. Recent product line expansions includes: action figures, vinyl and poly resin statues, lunchboxes, trading cards, lithographs, giclees, apparel and much more!