IRON MAN 40TH ANNIVERSARY FULL-SIZE HEAD BUST!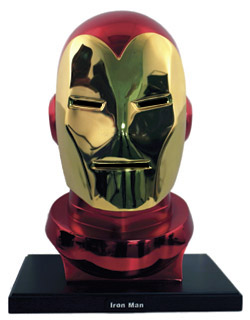 PRICE:


$495.00
It'S Marvel'S 40th Anniversary and DF is celebrating in style with the greatest Iron Man collectible of all time!

Presenting the Iron Man Full Size Head Bust (which in our opinion is the greatest Iron Man ever done) the next DF Exclusive Head Bust in the Marvel line (and these have been selling out upon release don't be caught short on this one)!

This baby has been cast in resin and vacuplated for this special release! Looking exactly as if it stepped right off the comic book page designers and sculptors Alex Ross and Edward Endres (of Fyberdyne Laboratories) have crafted a true masterpiece that captured Tony Stark'S armored alter-ego!


Standing close to 15" tall and almost 12" wide this life-sized bust is one of the pinnacles of the DF Head Bust Collection and released in time to celebrate Iron Man's 40th anniversary!