LUCIFER VOLUME 3 TPB: A DALLIANCE WITH THE DAMNED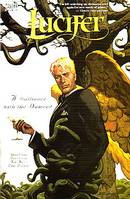 PRICE:


$11.96 MSRP: $14.95 YOU SAVE 20%
Cast out of Heaven thrown down to rule in Hell Lucifer Morningstar has
resigned his post and abandoned his kingdom for the mortal city of Los
Angeles. Emerging from the pages of writer Neil Gaiman's award-winning
series THE SANDMAN the Prince of Darkness continues hie adventures.

Now as Lucifer labors in his new-formed garden of Eden schemes and plots
are growing amoung those left behind in the old world particularly in Hell
where the minor lords of the damned play at a human masquerade hoping to
further their own infernal ends. The pity is how few among them can envision
the power they are gambling with or just how high the stakes are going to
get.

Highly Recommended for mature readers.
Note: Please allow at least two weeks for processing (not including delivery time) from time of order.