SPIDER-MAN'S DEADLIEST DOZEN LITHOGRAPHS! - SIGNED VERSION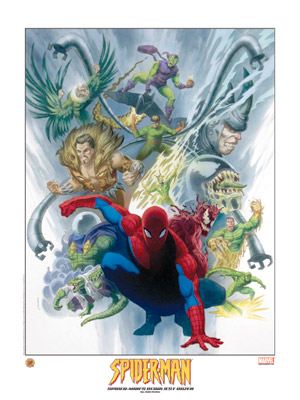 PRICE:


$49.99
Signed By John Estes. Spider-Man Spider-Man does whatever a spider can! Spins a web any size catches thieves just like flies! Watch out! Here comes the Spider-Man!

But what happens when 12 of Spider-Man's most dastardly and deadly villains get together to attack Spider-Man? What happens when the Spider is caught in the middle of the web and he is the prey? not the predator? Well this image was created and painted by John Estes exclusively for DYNAMIC FORCES Inc. and here's your chance to get this amazing new piece featuring everyone from Spider-Man's current main baddy Venom to all the classics: Green Goblin Doctor Octopus the Lizard Carnage Vulture Sandman Electro Kraven the Hunter the Scorpion and the Rhino!

Printed on 80 Lbs. Gallerie Silk Stock and measuring a perfect 18 x 24 this limited edition lithograph can be yours if you order now.