DF SPECIAL - PURPLE PARTY MIX WEDNESDAY!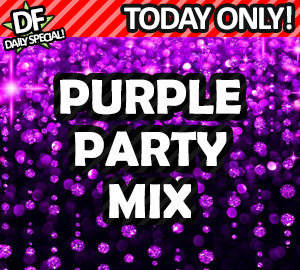 PRICE:


$65.00
Today, we celebrate the life and legacy of Prince with an encore edition of a fan favorite DF Daily Special in honor of Prince's birthday today!!! We've got one amazing deal for YOU our greatest FANS EVER!!! Some may say we have a strange relationship, but we simply adore our fans because nothing compares 2 U. We've even been known to refer to you as the beautiful ones because we love you all out there so much. This package is JAM PACKED with 14 unbelievable randomly chosen items, but these aren't just any randomly chosen items!!! These will be chosen from a PREMIUM selection of awesome collectibles!!!! This should be automatic, but if you're not convinced, here's the breakdown! First, you'll receive one randomly chosen ultra-limited comic, signed in PURPLE and this is one gem that's not flying solo!!! Next up, we've got SIX randomly chosen out of print VARIANT edition comics including ONE RARE RETAILER VARIANT 1:25 OR ABOVE and ONE ULTRA-LIMITED SIGNED Batman COMIC!!! Perhaps, one signed in gold?? Oh, we've got a live one here!!! Delirious yet? Don't fret, because rounding out this already amazing package, we've got SEVEN, that's right, 7 unbelievable out of print LIMITED EDITION COMICS including ONE ULTRA-LIMITED "ROYAL PURPLE" variant edition!!! We don't want to create unnecessary controversy, but with a combined value of close to $300, this set is an absolute steal at $65 in honor of what would have been Prince's 65th birthday! But hurry! Only 7 lucky sets are available today! If you're willing and able, grab yours now while they last! Don't be shy.

* ONE RANDOMLY CHOSEN ULTRA-LIMITED Marvel OR DC COMIC SIGNED IN PURPLE INK! (Regular MSRP $49.99 or higher!)

* SIX RANDOMLY CHOSEN OUT OF PRINT VARIANT EDITION Marvel OR DC COMICS INCLUDING ONE ULTRA-LIMITED SIGNED Batman ISSUE AND ONE RARE RETAILER VARIANT 1:25 OR ABOVE!!! (Combined regular MSRP value of $79.99 or higher!)

* SEVEN RANDOMLY CHOSEN OUT OF PRINT LIMITED EDITION COMICS INCLUDING ONE ULTRA-RARE "ROYAL PURPLE" VARIANT EDITION!!! (Combined regular MSRP value of $159.99 or higher!)

* Please note: Sets are picked at random. Multiple orders may receive duplicate books.