DF SPECIAL - FANTASTIC FRIDAY FAN FEST!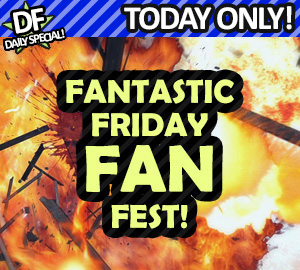 PRICE:


$124.99
Today's FRIDAY special features a package that is PERFECT for the ultimate collector of RARE, SIGNED and CGC graded comics!!! Spoiler alert!!! There's even a REMARKED comic tucked in there!!! We can't keep a secret when we're giving deals this awesome!!! Can you tell we're EXCITED?!?!?! YYYEEEAAAHHH!!! And it keeps on going!!! An AMAZING VALUE of well over $350 of great signed and graded collectibles for just $124.99!!! We only have 5 of these FANTASTIC FRIDAY FAN FEST COLLECTORS SETS to offer today so don't delay!!! GET READY, BECAUSE HERE IT COMES!!!

* ONE ULTRA-RARE INCENTIVE OR EXCLUSIVE VARIANT CGC GRADED AT A HIGH 9.9!!! Yes, you read right!!! You will receive a CGC Graded 9.9 VARIANT comic book!!! Each of these CGC Graded comics carries a regular MSRP of $149.99 or higher!!!

* TWO RETAILER EXCLUSIVE ALTERNATE EDITION COMICS!!! A pair of rare Retailer Exclusive alternate variant edition comics!!! The prized possession of any awesome collection!!! (Regular MSRP $29.99 each or higher!!!)

* THREE SIGNED COMICS!!! A premium mix of Marvel, DC, and independent publisher comics, each signed and DF certified!!! Each comic is signed by one of today's great writers or artists, or a classic creator!!! Includes a DF Certificate of Authenticity!!! BUT WAIT!!! We're taking it a step further and transforming ONE of these SIGNED comics into a HAND-DRAWN REMARKED EDITION COMIC!!! So you get ONE REMARKED and TWO SIGNED!!! (Combined regular MSRP $150!!!)

* Please note, items are chosen at random, multiple orders may receive duplicate books.